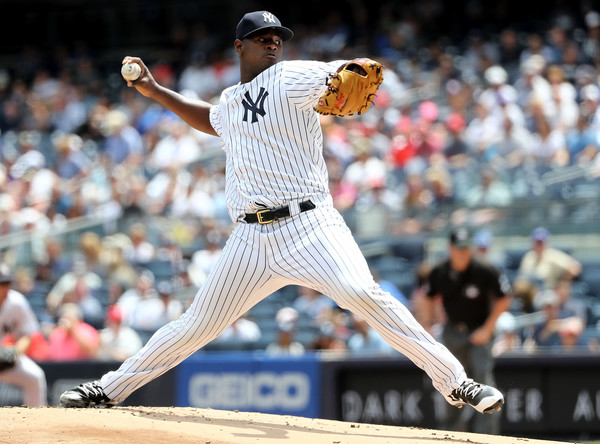 I wanted to open this with some sort of joke about the Yankees making a big splash by dealing Yefry Ramirez to the Orioles for international bonus pool money, but I'm simply too excited to bury the lede. The Yankees went all-in on the 2017 season today, acquiring the 27-year-old Sonny Gray in exchange for James Kaprielian, Dustin Fowler, and Jorge Mateo. And saying "all-in on 2017" is a bit of lede burying in and of itself, as Gray is under team control through 2019, meaning he'll be in pinstripes for the next two-plus years. This was a move made with an eye towards the future, even as it improves today's roster.
There's a great deal to say about the deal itself, and more is sure to be said in the coming days, but these factors are what made me buy into Gray completely:  he has no real platoon splits (.659 OPS vs. RHP, .637 vs. LHP), he isn't one of those guys that benefited significantly from playing in Oakland (3.50 ERA at home, 3.33 ERA on the road), and he's a big-time groundball pitcher (54.4% for his career, 56.7% this year). You can quibble about him being a "true ace," but there's no denying that Gray has been an absolute stud when healthy.
Tonight's match-up seems almost secondary to the trade deadline splash, but Luis Severino is taking the mound, and he's always a treat to watch. Here's the Yankees lineup:
Jacoby Ellsbury, CF
Clint Frazier, LF
Aaron Judge, RF
Gary Sanchez, C
Matt Holliday, DH
Chase Headley, 1B
Todd Frazier, 3B
Ronald Torreyes, SS
Tyler Wade, 2B
And here is the Tigers lineup.
You can catch tonight's game on YES, with the first pitch scheduled for 7:05 PM EST.
Roster Update: The Yankees sent down Luis Cessa following yesterday's game and called up Jonathan Holder prior to today's game. Neither Jaime Garcia nor Sonny Gray have reported yet, so the Yankees don't need to clear roster space for them. Gray's first start will come later this week, and no decision about Garcia's role has been made yet.