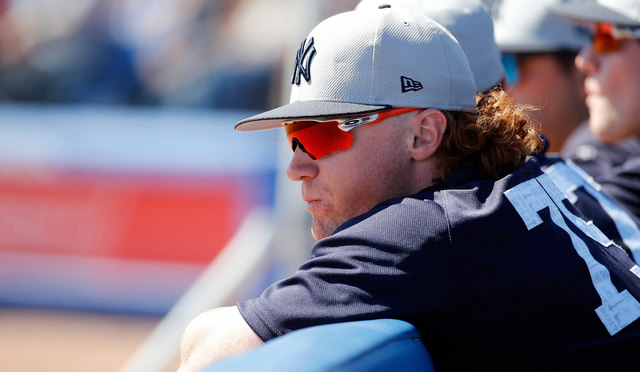 Another day, another big league debut for one of the Yankees' top prospects. It was Tyler Wade on Tuesday, Miguel Andujar on Wednesday, Dustin Fowler on Thursday, and now Clint Frazier on Saturday. Frazier will make his MLB debut this evening, largely because Fowler suffered that truly awful injury the other day. I don't think Frazier is here if Fowler is healthy.
More important the Frazier's debut is tonight's game itself. The Yankees made a great comeback last night to earn the blowout win, and now they're trying to win back-to-back games for the first time in more than two weeks. They haven't won two straight since that bloodbath series against the Orioles. Win it for Dustin. That's the motto the rest of the season. Here is the Astros' lineup and here is the Yankees' lineup:
LF Brett Gardner
CF Jacoby Ellsbury
DH Gary Sanchez
SS Didi Gregorius
3B Chase Headley
2B Ronald Torreyes
C Austin Romine
1B Chris Carter
RF Clint Frazier
LHP Jordan Montgomery
It's another hot and humid day in Houston, which means the Minute Maid Park roof will be closed. Tonight's game will begin at 7:15pm ET and FOX will have the broadcast. Enjoy the game.
Injury Updates: CC Sabathia (hamstring) is tentatively scheduled to rejoin the rotation Tuesday. That's the plan as long as the hamstring doesn't act up again … Adam Warren (shoulder) will throw a simulated game tomorrow. If that goes well, he'll be activated next week. I guess neither he nor Sabathia will go out on a minor league rehab assignment … Aaron Judge is fine. Joe Girardi is trying to give him some rest because he's played right field basically every day so far this season. Judge is available to pinch-hit and will play the outfield tomorrow.
Roster Moves: Andujar was sent down to Triple-A Scranton to clear a 25-man roster spot for Frazier and Fowler was transferred over to the 60-day DL to clear a 40-man roster spot. Andujar needs to play every day and that's not going to happen in the big leagues.