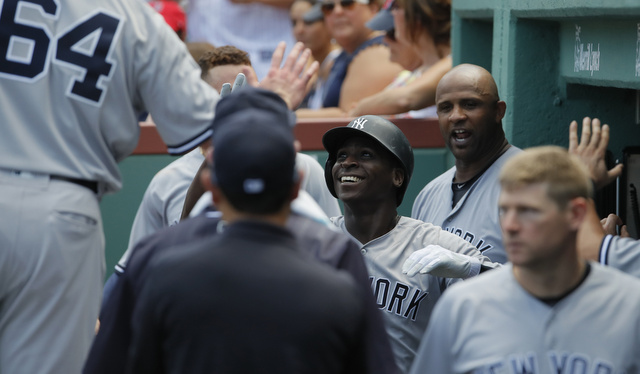 Things are looking up. The Yankees already have one win today and they've won back-to-back games for the first time in more than a month. They've also held the Red Sox scoreless in their last 22 innings. In fact, the Yankees have already shut the BoSox out three times this season, and that doesn't include nine shutout innings from the bullpen in last night's 16-inning affair. The Yankees had shut the Red Sox out only twice in the previous seven years and 130 games. Geez.
Anyway, it's time to get greedy. The Yankees have already secured a split of this four-game series, which was basically the bare minimum coming in, and now they have a chance to win three of four. A win tonight keeps the AL East title very much in reach. A loss … keeps the AL East title within reach. But still, the closer the better. You know what I mean. Here is the Red Sox's lineup and here is the Yankees' lineup for Game Two:
CF Jacoby Ellsbury
C Gary Sanchez
RF Aaron Judge
DH Matt Holliday
2B Starlin Castro
SS Didi Gregorius
LF Clint Frazier
1B Garrett Cooper
3B Ronald Torreyes
RHP Masahiro Tanaka
No change in the weather from this afternoon other than the fact the sun has gone down. It's a nice clear night in Boston. Tonight's game will begin a little after 8pm and ESPN will have the broadcast. Enjoy the game.