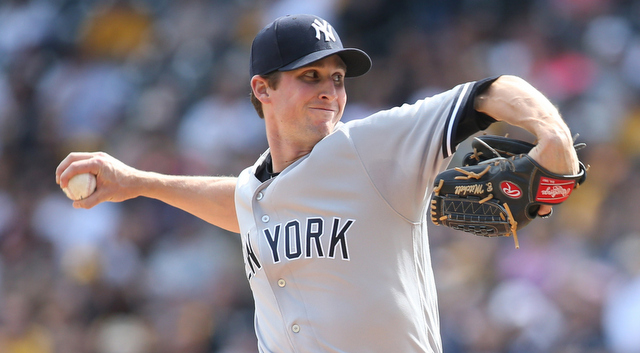 Tonight is day four of an eleven games in ten days road trip through three different time zones. Not the most fun way to begin the second half, huh? The Yankees managed to split four games with the Red Sox over the weekend, which is fine but also kinda disappointing because they blew a ninth inning lead in the first game. Tonight they open a three-game set with the Twins, one of the teams chasing them for a wildcard spot.
Thanks to Saturday's marathon game and Sunday's doubleheader (and Michael Pineda's injury), the Yankees have to turn to spot starter Bryan Mitchell tonight. He was excellent in his last Triple-A start (7 IP, 5 H, 1 R, 0 BB, 3 K) plus he picked up a three-inning save in his last big league appearance, so maybe he's figuring some things out. If not, well, the offense is going to have to pick him up. This is a pretty important series. It would be nice to start with a win. Here is the Twins' lineup and here is the Yankees' lineup:
CF Jacoby Ellsbury
LF Clint Frazier
RF Aaron Judge
DH Matt Holliday
2B Starlin Castro
SS Didi Gregorius
3B Chase Headley
1B Garrett Cooper
C Austin Romine
RHP Bryan Mitchell
It is a lovely night for baseball in the Twin Cities. Clear skies with temperatures in the mid-80s. Tonight's series opener will begin at 8:10pm ET and you'll be able to watch on YES. Enjoy the game.
Injury Update: In case you missed it earlier, both Pineda and Greg Bird will have surgery tomorrow. Pineda is having Tommy Pineda surgery after getting a second opinion today, and Bird will have ankle surgery after seeing yet another specialist. Sucks. Bird could return in September.
Roster Move: The Yankees returned Domingo German to Triple-A Scranton following yesterday's doubleheader, the team announced. Mitchell was technically the 26th man for the doubleheader, but he remains on the roster and German goes back down. Caleb Smith is still around as a long man.
Protest Update: Remember that weird play Saturday when Holliday slid back into first base on a potential 3-6-3 double play? Here's the play if you don't. The Red Sox protested the game over that play, and earlier today MLB announced the protest has been denied. No surprise there. The play had no impact on the final outcome of the game and the interference rule is too (intentionally) vague to say Holliday clearly broke the rule. Red Sox skipper John Farrell said he went forward with the protest because he doesn't want the Yankees to try that again. Hah.