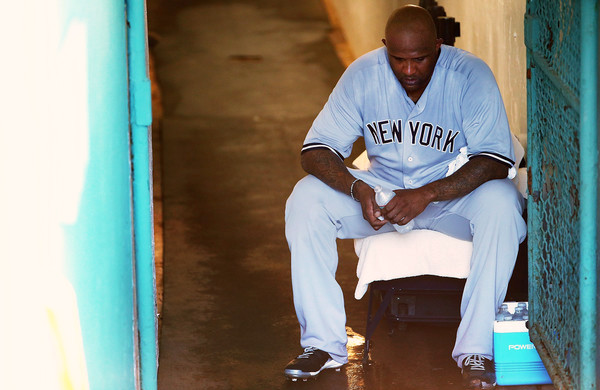 The Yankees opened this four-game series with the Mariners with a nice win last night. Luis Severino outpitched Felix Hernandez and the offense put just enough runs on the board. The Yankees are 4-4 so far on this eleven-game road trip, so they still need two more wins to clinch a winning trip. That would also clinch their first series win in more than a month. Remember series wins?
Anyway, CC Sabathia will be on the mound tonight, and today is his 37th birthday. Happy birthday, big guy. It really snuck up, huh? Seems like just yesterday the Yankees were trying to sign 28-year-old Sabathia as a free agent. Sabathia pitched very well last time out and he's been pretty darn good all season. I'm so glad he's reinvented himself late in his career. Those three bad years from 2013-15 were no fun. Here is the Mariners' lineup and here is the Yankees' lineup:
CF Brett Gardner
C Gary Sanchez
RF Aaron Judge
DH Matt Holliday
2B Starlin Castro
SS Didi Gregorius
3B Todd Frazier
1B Chase Headley
LF Clint Frazier
LHP CC Sabathia
It is cool and cloudy again in Seattle tonight. I'm not sure whether the Safeco Field roof is open. Tonight's game will begin at 10:10pm ET and you can watch on YES. Enjoy the game.