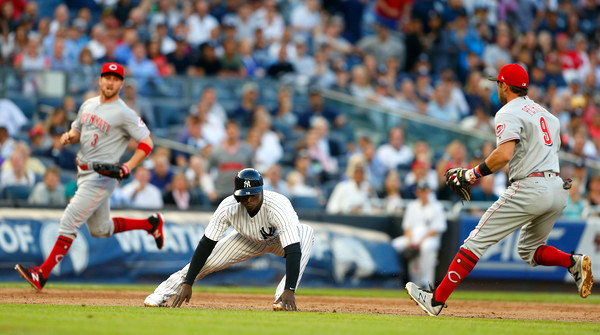 The Yankees have won four of their last five games and they're starting to snap out of their month long funk. Hooray for that. You know what's crazy too? As terrible as the Yankees played during those few weeks, they're still only one game back of the Red Sox in the AL East. They're actually a game up in the loss column. The division is right there for the taking.
Anyway, the Yankees will have their best starting pitcher on the mound this afternoon as they look to wrap up a quick little two-game sweep against the rebuilding Reds. The Rays are coming to town for a pretty important four-game series this weekend. It would be cool to pick up another win and create some more distance in the standings. Here is the Reds' lineup and here is the Yankees' lineup:
LF Brett Gardner
RF Clint Frazier
C Gary Sanchez
DH Matt Holliday
SS Didi Gregorius
1B Chase Headley
3B Todd Frazier
CF Jacoby Ellsbury
2B Ronald Torreyes
RHP Luis Severino
Just a perfect day for baseball in New York. The sun is out, there are only a few puffy clouds in the sky, and the temperatures are in the mid-70s. Couldn't ask for a better day. This afternoon's game will begin a little after 1pm ET, and you'll be able to watch on YES locally and MLB Network nationally. Enjoy.