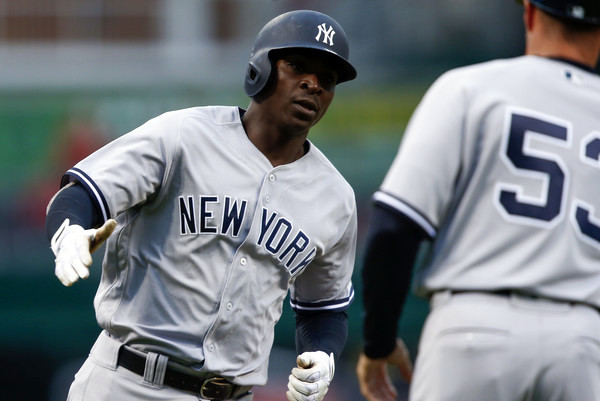 For the first time since 2011, the Yankees are sending five players to the All-Star Game this year. It could be six too. Didi Gregorius is on the Final Vote ballot. He's up against Elvis Andrus, Xander Bogaerts, Logan Morrison, and Mike Moustakas. It'll be tough to beat out Moose Tacos given how Royals fans stuff every ballot known to baseball. Here's the Final Vote ballot. Go vote for Didi a few hundred times.
"It would be an honor for me to go at least one time in my career," said Gregorius to Bryan Hoch when asked about the All-Star Game following Sunday's Final Vote announcement. "I think I'd be happy with that. That's what I tell everybody, if I go put up numbers and I can go once, I'll be happy with that."
Gregorius does not need to be voted into the All-Star Game to have his value and importance to the Yankees validated, however. We see his two-way impact every game. Didi is a threat at the plate and an asset in the field. Is he an undisciplined hitter? Sure. But he's hitting .307/.336/.485 (115 wRC+) while providing contact (13.1 K%) and power (.178 ISO). And if runners in scoring position is your thing, he's hitting .318 in those spots too.
Last year there was some statistical weirdness regarding Gregorius' defense. The eye test told me — and still tells me — he's an excellent defender. For whatever reason both DRS (-9) and UZR (-2.9) rated Didi as a below-average gloveman in 2016. This year Gregorius currently leads all shortstops in UZR (+4.9) despite missing a month, and he's rated above-average by DRS (+3). We don't need stats to tell us Didi is good in the field though, do we? I don't think so.
There's also this: Gregorius is incredibly likeable. He has fun on the field, he's full of energy, and every time they show him being interviewed, he makes you laugh. And there are the postgame tweets too. The Yankees brought Gregorius into a difficult situation. He was unproven at the MLB level and they asked him to replace a legend in Derek Jeter. In 2014, Didi's first year in New York, the Yankees were an older team and kinda dull. He was a breath of fresh air.
Way back before the late-1990s dynasty and the Core Four, it was Bernie Williams who first arrived and marked the beginning of a new era for the Yankees. Gregorius is playing the role of Williams for the current Yankees as they move forward with their youth movement. He was the first young player to arrive. The first young kid thrust into everyday duty on a team of veterans. Luis Severino, Gary Sanchez, and Aaron Judge all came later.
The Yankees traded for Gregorius knowing he would save them runs in the field and hoping he would develop into a solid hitter. He's become even more than that. He's great in the field, he's very productive at the plate, and he's part of this new core of young, likeable Yankees. Gregorius is not a franchise player. There aren't many of those guys around. But he's everything the Yankees hoped their Jeter replacement would be.