We've got 14 questions in the mailbag this week. Use the RABmailbag (at) gmail (dot) com email address to send us anything. We're getting more questions than ever these days, so apologies in advance if I don't get to yours.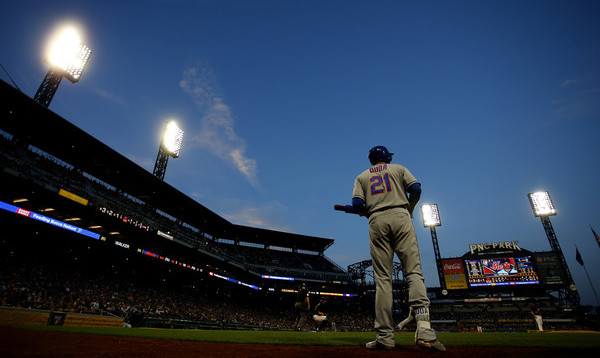 Glen asks: What would it cost the Yanks to get Duda (assuming the Mets would deal across town)? There are a lot of available first basemen and while Duda is having a typically nice year, he's got a bad injury history. Does Austin and a lower level, high ceiling arm (Abreu?) get it done?
Tyler Austin doesn't have much trade value at all — see what the Yankees gave up to get Garrett Cooper yesterday? that's basically Austin's trade value — and I don't think the Mets would want him either with Dom Smith waiting to take over at first base next year. Here are two trades involving similar rental sluggers from last year:
Jay Bruce: Traded for an up-and-down depth infielder (Dilson Herrera) and one organizational top 20 prospect (Max Wotell). (Bruce's contract included a club option for another year.)
Carlos Beltran: Traded for a preseason top 50-75 global prospect (Dillon Tate) and two non-top 30 organizational prospects (Erik Swanson, Nick Green).
Beltran was in demand whereas the Reds were looking to unload Bruce and his salary, and the different circumstances led to very different trade packages. Duda is closer to Beltran than Bruce in my opinion, so the Mets wouldn't be wrong to ask for a pretty darn good prospect in return. Albert Abreu is currently on the disabled list with a shoulder injury, which complicates things, though he wouldn't be an unreasonable request by the Mets.
Duda, 31, is hitting .238/.351/.524 (129 wRC+) with 14 homers in 62 games around an elbow issue, plus he's had some pretty serious back problems in the past. His big left-handed power would fit very well in Yankee Stadium, and picking him up in the second half would serve as a nice audition for next year. The Yankees will need a designated hitter in 2018, after all. I prefer Yonder Alonso personally, though Duda would be a fine stopgap as well. He probably won't come cheap though. The Yankees would likely have to give up a pretty nice prospect to make it happen.
John asks: If the Yanks go say 4-12 over their next 16 games and sit at 47-53 and 4 GB (or so) of a WC spot on July 26, do they sell? Should they?
Yes they should sell and yes I think they would sell in that situation, even though they don't have nearly as much to sell as last year, when they put Beltran and two elite relievers on the market. This year they could trade, uh, Matt Holliday? Michael Pineda? That's maybe it. They fired their best "seller" bullets last year. Then again, if they go 4-12 over their next 16 games to fall to 11-30 in their last 41 games, they'll have much bigger problems than not enough players to sell.
Erick asks: How many top ten, top twenty and overall first round draft picks do the Yankees currently have in their system and major leagues?
Fun question! I've always been a sucker for how teams are built. For CBS last year I put together posts on the Cubs and Indians roster construction prior to the World Series for that reason. Fun fact: the Cubs drafted and developed only four players on their postseason roster last year. Anyway, here's the breakdown Erick requested:
Top 10: Dillon Tate (4th, 2015), Clint Frazier (5th, 2013)
Top 20: Aaron Hicks (14th, 2008), James Kaprielian (16th, 2015), Blake Rutherford (18th, 2016), CC Sabathia (20th overall, 1998)
Other First Rounders: Jacoby Ellsbury (23rd, 2005), Billy McKinney (24th, 2013), Kyle Holder (30th, 2015), Justus Sheffield (31st, 2014), Cito Culver (32nd, 2010), Aaron Judge (32nd, 2013), Ian Clarkin (33rd, 2013), Dante Bichette Jr. (51st, 2010)
I do believe that's all of them. Holder (David Robertson), Judge (Nick Swisher), Clarkin (Rafael Soriano), Sheffield (Ubaldo Jimenez), and Bichette (Javier Vazquez) were all drafted with compensation picks gained for losing free agents. That's the supplemental first round. Technically it counts as the first round, but it's not the true "here's your pick based on last year's record" first round.
Not included in that list is Masahiro Tanaka, who was selected by four different teams (Rakuten Golden Eagles, Nippon Ham Fighters, Orix Buffaloes, Yokohoma BayStars) in the first round of the 2006 Nippon Pro Baseball draft. The teams then drew straws and Rakuten won his rights. The NPB draft is weird.
Rob asks: If Tanaka continues to improve and the Yankees fall out of the wild card race, does Tanaka become a trade chip for prospects? Would teams be willing to trade prospects for a rental? Keep in mind that Masahiro can opt out at the end of the season.
Tanaka's trade value is very complicated because of the opt out, and it was complicated even before his overall poor season. Trade for him and he pitches well, and he's going to opt out. Trade for him and he pitches poorly, then he's going to stick around. Limited upside, ton of downside for the team that gets him. If the Yankees do continue to slip in the standings, of course they should listen to offers to Tanaka. My guess is the offers will be pretty underwhelming at this point. Maybe it's worthwhile to unload Tanaka and his contract for whatever. Probably not, but maybe it is. I have no idea how to value him right now. His performance and the opt-out make him too undesirable.
Al asks: Yulieski Gurriel would look pretty good at first base right now. Think the Yankees regret not outbidding the Astros (5 years at $47.5 M) for him? Even if they were expecting Bird to play first, they could have had him ticketed for DH. Thanks.
Probably not. I wanted the Yankees to sign Gurriel, but taking on the age 32-36 seasons of a guy who projects to be a +1.5 WAR player in his age 33 season isn't all that great for a team trying to get younger. Not when it comes with a $9.5M hit against the luxury tax. The Yankees would have had to out-bid the Astros too, so his actual luxury tax hit would have been more than $9.5M. Gurriel is hitting .297/.321/.491 (115 wRC+) this year and sure, the Yankees could use him at first base, but this isn't a short-term question. What about next year and the year after and the year after that? Locking down the decline years of a player whose best position is DH isn't all that appealing to me.
Ian asks: How about moving Pineda to the bullpen? His stuff might play really well in that role and this way you might get a bit of value before he mercifully leaves via free agency. Obviously you create a hole in the rotation, but there you at least have options. Running Pineda out there every fifth day got old several starts ago. Thoughts?
I guess it depends who replaces him in the rotation, right? If you go out and trade for someone like, say, Jose Quintana Sonny Gray, it's worthwhile. If you're just going to replace him with Luis Cessa or Chance Adams, then probably not, and I say that as a Cessa fan. Pineda in the rotation and Adams in the bullpen is the best arrangement in my opinion. Pineda would probably dominate in relief given his strikeouts, especially if he adds a tick or two to the bullpen, but the Yankees aren't exactly swimming in replacement starters. Serious question: would you trust Pineda on the mound in the late innings of a close game?
Adam asks: Does Jordan Montgomery's recent option to Scranton manipulate his service time enough to control him another year? Thanks.
Nope. It doesn't change anything. Assuming Montgomery comes back the first day he's eligible, he will be retroactively credited with service time even while in the minors. It'll be like he was on the MLB roster the entire time. A player has to spend eleven days or more in the minors to lose that service time. I suppose the Yankees could call Montgomery back up after eleven days, which would be enough to delay his service time, though his agent might make a stink about that. I'm normally not one to care about service time with non-elite young players (especially pitchers), but if we're talking about one extra day here, why not?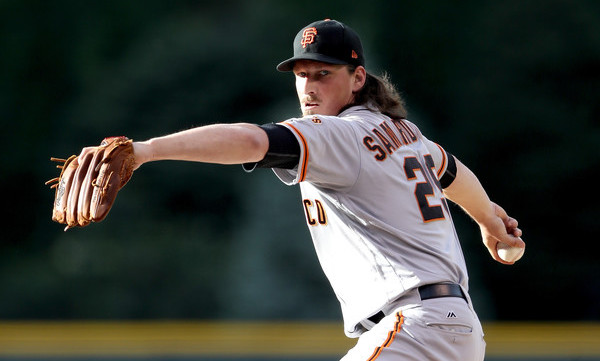 Francis asks: Would a Jeff Samardzija for Jacoby Ellsbury trade make sense for the Yankees and Giants in terms of money owed and years left? I know that there are issues with no trade clauses etc but Ellsbury will eventually get squeezed out of a job, SF will likely rebound next year and and California is closer to Oregon than NY. Just seems like a perfect match for two bad contracts as the Yankees need pitching and SF needs OF help!
Hmmm, interesting. Ellsbury is owed $68.4M from 2018-20 while Samardzija is owed $59.4M from 2018-20. The money is close enough that it shouldn't be an obstacle. The Giants are in desperate need of outfield help — their left fielders have hit .224/.281/.329 (63 OPS+) this year — and Ellsbury would fit well in their ballpark given his defense. They could slide Denard Span, who has lost a step or three, to left field and put Ellsbury in center.
So far this season Samardzija has a 4.58 ERA (3.44 FIP) in 118 innings. That's after throwing 203.1 innings with a 3.81 ERA (3.85 FIP) last year, and 214 innings with a 4.96 ERA (4.23 FIP) the year before that. The one thing you can count on from Samardzija is innings. He's thrown at least 200 innings every year since 2013. Samardzija, Quintana, Max Scherzer, Jon Lester, Cole Hamels, Madison Bumgarner. They're the only six guys to throw 200+ innings every year since 2013, and neither Bumgarner nor Hamels will make it there this year.
If I'm the Yankees, yes, I'm trading Ellsbury for Samardzija. It clears up the outfield logjam and it gives the team a back-end innings guy, if nothing else. They could use one of those. Certainly moreso than another speedy outfielder. Would the Giants do it? Eh, they kinda need pitching too, and there are always plenty of decent outfielders sitting in free agency. My guess is the Giants would pass and keep the pitching, and look for outfield help elsewhere. I don't see the Yankees being able to move Ellsbury without eating a ton of money.
Conor asks: What are your thoughts on allowing managers to make unlimited substitutions for positions players (not pitchers obviously) during the ASG? It's always a bummer to see reserves not get in the game.
I am a fan. The All-Star Game doesn't count for anything anymore. It's not tied to home field advantage in the World Series. Why not bend the rules? They allowed teams to move players in and out of the DH spot without penalty during the Futures Game, after all. I mentioned this to someone during the All-Star Game: after Yadier Molina drew his leadoff walk in the ninth inning, when the game was tied 1-1, the NL should have been able to pinch-run for him, then reinsert Molina at catcher. I can't think of a good reason not to do it. I suppose you have to put some kind of limit on it so the AL doesn't pinch-hit Judge every bat, but that's workable. That said, many of the players don't hang around for the whole game. The starters come out of the game, get showered, talk to the media, then leave. No one is going to want to hang around in case they're needed later in the game.
Brent asks: CC has been one of my favorites, I irrationally get excited when he pitches. He's been not bad this year for a his age. If hes able to get to 3k SO and 250 W's and a high 3 Era any chance he gets into the hof? And are there any players in the org or on the roster you think could eventually be HOF's, hypothetically?
CC Sabathia was on the Hall of Fame track before those three disastrous years from 2013-15. He currently has 230 wins, a 3.70 ERA (117 ERA+), and 2,789 strikeouts to his credit. Getting to 250 wins and 3,000 strikeouts is doable, though it'll take at least one more year beyond this one, probably two more years. Even then, 250 wins and 3,000 strikeouts doesn't guarantee a Hall of Fame selection.
For what it's worth, Jay Jaffe's JAWS system says Sabathia falls comfortably short of the established Hall of Fame standards for starting pitchers in terms of both overall career value and peak value. Sabathia is more Chuck Finley and Orel Hershiser than John Smoltz and Randy Johnson. And that's fine. Sabathia's had an amazing career and he's accomplished a ton. No shame in settling for the Hall of Very Good.
As for other potential Hall of Famers in the organization … I don't see one. Matt Holliday will fall short and he's probably the best candidate. Projecting out Judge and Gary Sanchez so far into the future is impossible. I love those guys. But they are a long, long, long, long way from the Hall of Fame conversation. Sabathia is the best shot at a Hall of Famer among the current Yankees with Holliday a distant second. No one else is even close right now. (Because they're just now starting their careers, which is awesome.)
Zachary asks: If they juiced the balls a year earlier, is A-Rod still playing major league baseball? Is he past 714?
The ball was probably juiced last year too. Last season was the second most home run happy season in baseball history. The top three:
2017: 1.26 homers per team per game
2000: 1.17
2016: 1.16
As much as I love A-Rod, he looked pretty done last year. He struggled to make contact, and even when he did get the bat on the ball, he wasn't able to drive it much. His bat had slowed noticeably. I don't think even the juiced ball would have saved Alex Rodriguez.
Jon asks: In his Futures write up, Keith Law said he doesn't see how Domingo Acevedo could have fringe average command but his walk rate in the minors is very reasonable. What am I missing?
Walk rate is a control stat, not a command stat. There isn't a reliable way to measure command right now. (Baseball Prospectus tried it.) Control is strike-throwing ability. Getting the ball over the plate. Acevedo and lots of other guys can do that. Command is throwing quality strikes. The ability to paint the corners and dot the knees. Not as many guys can do that. Acevedo has a very good walk rate (5.6% this year), especially for a dude his size. But if you watched the Futures Game, you saw that everything was basically middle-middle. That works in High-A and Double-A when you're throwing 97-98. It won't work at the upper levels. I think Acevedo could get by in relief right now as a grip it and rip it guy. His command absolutely needs to improve to remain a starter.
Ryan asks: My gut tells me the Yankees will send down Clint Frazier to make room for Holiday, but should they send Frazier down? I think Clint could aptly fill the original Hicks role as the 4th OF. Gardner, Ellsbury and Holiday could all use extra rest, and Frazier could play 3-4x week and keep the vets fresh. Would it be better for Frazier's development to play a few times a week until Hicks is healthy or play everyday in the minors?
I thought they would send Frazier down when Holliday returns, but then he started socking dingers last weekend. It's a little hard to send him down now. Frazier is not your run of the mill prospect. He's a special talent and when a guy like that has some success at the MLB level, I think you have to let him run with it, and I think the Yankees will. They are committed to this youth movement.
I expect Frazier to stay when Holliday returns — I guess that means Rob Refsnyder goes down? — and the Yankees to reevaluate the outfield situation when Aaron Hicks returns in a few weeks. Maybe Frazier will play himself back to Triple-A by then. Until then, move Frazier around the outfield like Hicks earlier this year. This kid has more than 400 Triple-A plate appearances to his credit and he has a chance to be a core piece going forward. When he comes up and starts mashing taters, you keep him up.
Thomas asks: Any idea why MLB decided to have no games on Thursday after the ASG this year? I would think both teams would prefer to play Thursday instead of playing a doubleheader on Sunday.
Two things. One, the Thursday off-day after the All-Star Game was negotiated into the last Collective Bargaining Agreement. In the past some teams played Thursday. There are no games that day now. And two, I am very sure the players would rather play a doubleheader on Sunday than give up the fourth day of the All-Star break. Off-days are like Christmas to these guys. Back-to-back off-days is a like a week's vacation. They don't want to cut short their All-Star break.