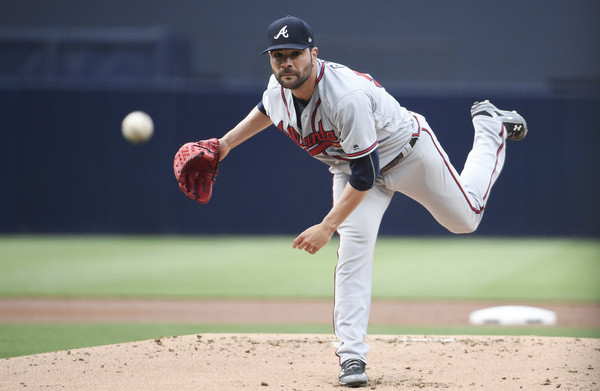 The trade deadline is roughly a week and a half away now, and already the big pitching trade candidate has been moved. Jose Quintana is a Chicago Cub and the focus has now turned to Sonny Gray. There are plenty of other pitchers on the market too. None have the track record of Quintana or the upside of Gray, but there are pitchers out there ready to be dealt.
Among them is Braves southpaw Jaime Garcia, an impending free agent having an okay season (4.33 ERA and 4.25 FIP in 106 innings). The Braves are not absolutely miserable this season — they came into today 45-46 with a -35 run differential — though they are still rebuilding, and a free agent-to-be like Garcia is a prime piece of trade bait. Does he make any sense for the Yankees? Let's break it down.
Current Stuff
The just turned 31-year-old Garcia is pitching like his usual self this season in that he's getting a ton of ground balls (54.7%) and an average-ish number of strikeouts (18.2%). His walk rate (9.0%) is a tad high, though remove the intentional walks and it's a more manageable 8.1%. That's right in line with last season (7.7%). Garcia wasn't very good last year (4.67 ERA and 4.49 FIP) but he was great the year before (2.43 ERA and 3.00 FIP).
Generally speaking, Garcia is a true five-pitch pitcher with two low-90s fastballs (four-seamer and sinker). His go-to secondary pitch is a fading low-to-mid-80s changeup. He also throws a low-80s slider and a loopy mid-70s curveball. The curveball is his least used pitch at 6.4% this year. Garcia throws everything else at least 11% of the time. Here's some video:
There really has been very little change in Garcia's stuff since Opening Day 2015. He's averaging 91.5 mph and topping out at 94.3 mph with his fastballs, he's throwing the same number of breaking balls and changeups, and his grounder and swing and miss rates are all holding steady. That's good. Garcia has been same guy for three years now. His performance has fluctuated wildly, though that's more location relation than stuff related.
Injury History
Garcia's injury history is very ugly. He's had Tommy John surgery (September 2008), rotator cuff surgery (May 2013), and surgery to treat Thoracic Outlet Syndrome (July 2014) among all sorts of other nagging issues. Garcia threw only 220.2 innings total from 2012-14 while with the Cardinals. (Weirdly, Cardinals GM John Mozeliak ripped Garcia in 2014 for having his Thoracic Outlet Syndrome surgery.)
The injury history is very scary but, to Garcia's credit, he has been completely healthy since returning from the Thoracic Outlet Syndrome surgery in May 2015. He hasn't missed a start since. That said, the best predictor of future injury is past injury, and Garcia has had several major arm problems and major arm surgeries in his career. Every pitcher is an injury risk. Garcia is much riskier than most given his injury history.
What Would It Take?
Garcia is a rental and I suppose the Braves could argue he's a qualifying offer candidate likely to sign a free agent contract in excess of $50M, meaning they want something back equal or greater to the supplemental first round pick they would receive in the offseason. That seems like a real stretch though given his performance and injury history.
Mark Feinsand says a dozen teams have expressed interest in Garcia and that doesn't surprise me. Pitching is always in demand and Garcia is solid enough despite the injury risk. Ground ball lefties are always a hot commodity. Here are some rental veteran starters who have been traded in recent years:
Ivan Nova: Traded for two top 20-30 organizational prospects (Tito Polo and Stephen Tarpley).
J.A. Happ: Traded for a top 15 organizational prospect (Adrian Sampson).
Dan Haren: Traded for two non-top 30 organizational prospects (Elliot Soto and Ivan Pineyro).
Mike Leake: Traded for an organizational top ten prospect (Keury Mella) and a young big leaguer (Adam Duvall).
Scott Kazmir: Traded for an organizational top ten prospect (Jacob Nottingham) and an organizational top 20-30 prospect (Daniel Mengden).
The Braves will presumably push for a Leake/Kazmir package while interested teams counter with a Haren package. Leake had a much longer track record of being a league average innings eater. Kazmir had an ugly injury history like Garcia, but also a much better recent performance. Nova and Happ were having terrible seasons at the time of their trades, and Haren was a veteran guy at the end of the line.
The Kazmir trade feels like the best benchmark to me even though he was lights out with the Athletics (2.38 ERA and 3.16 FIP in 109.2 innings) before being traded to the Astros. Kazmir was an injury risk then like Garcia is now, and both offered the potential for above-average performance. And maybe the Kazmir trade is a reason to stay away from Garcia. Kazmir had a 2.38 ERA (3.16 FIP) before the trade and a 4.17 ERA (5.19 FIP) after the trade.
Anyway, using the Kazmir trade as a benchmark, we're talking about a top 10 and a top 30 prospect for Garcia. Not all farm systems are created equal, however. A top ten prospect in the Yankees system is at worst a borderline top 100 guy. The Astros had a very strong farm system at the time of the Kazmir trade, though it wasn't as good as New York's is now. A Yankees equivalent to Nottingham and Mengden is something like Billy McKinney and Ian Clarkin.
As unexciting as Garcia may be, I think there will be enough competition for him that the price gets driven up and the Braves wind up acquiring two pretty nice prospects for him. The Yankees have a lot of nice prospects. So many that they're probably going to end up losing some for nothing in the Rule 5 Draft and on waivers through various other 40-man roster moves in the offseason. Turning some of those guys into a rental starter like Garcia seems worthwhile.
Does He Make Sense For The Yankees?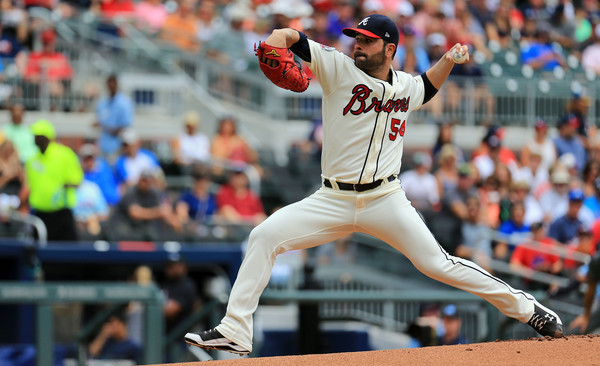 The Yankees have needed another starter pretty much all season even though there was really no way to squeeze another starter into the rotation. Michael Pineda's injury takes care of that. There's an opening in the rotation and Garcia would a fine — albeit unexciting — stopgap. Ground ball heavy lefties will always have a place on the Yankees pitching staff thanks to the Yankee Stadium short porch.
The question is are the Yankees open to trading prospects for a rental when they're slipping out of the race, or would they rather stick in-house with the kids? Bryan Mitchell started last night and Luis Cessa starts tonight. Brian Cashman said Chance Adams could get a shot at some point too. The thing is, those kids have workload limits, and pitching is one of those things you'd rather have too much of than not enough.
There's also this: Garcia would be auditioning for a rotation spot next year. Aside from Luis Severino and Jordan Montgomery, the Yankees have no idea what next season's starting rotation will look like, and Garcia is one of those lower cost free agents they could target to fill out the rotation and stay under the luxury tax threshold. The trade would give the Yankees and their staff a chance to evaluate him up close. That's not nothing.
For me, Garcia makes perfect sense for the Yankees. He shouldn't cost an arm and a leg to acquire, he wouldn't tie up long-term roster or payroll space, and there's at least a chance at excellence. You probably won't get it, but Garcia has had some very good seasons in his career. In a 12-start sample, who knows what'll happen? If the Yankees are going to go after a rental starter rather than a long-term piece like Sonny Gray, Garcia may be the best option.