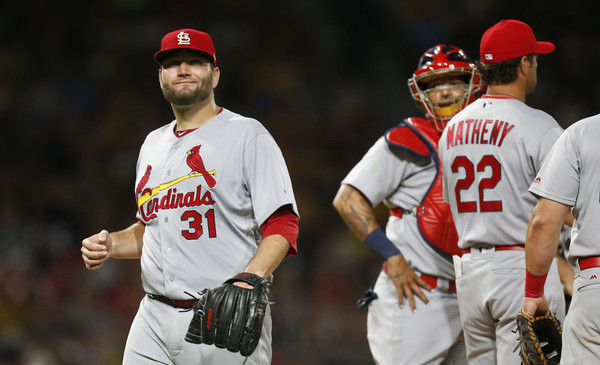 The 2017 non-waiver trade deadline is exactly one week away, and already the Yankees have swung a pretty significant seven-player trade with the White Sox that, more than anything, added high-end depth to the bullpen. I know Todd Frazier is the biggest name, but that trade was about Tommy Kahnle and David Robertson. Adding those two has already paid dividends.
With the bullpen addressed, the single biggest item left on the shopping list is a starting pitcher. Michael Pineda is done for the season and Bryan Mitchell, Luis Cessa, and Caleb Smith have combined to start three of the last seven games. No one wants that to continue. Getting another starter is a top priority. You don't make that trade with the ChiSox only to skimp on the rotation.
One rental starter who could possibly be available prior to the trade deadline is Cardinals righty Lance Lynn. St. Louis isn't have a great season overall (47-51), though they're only 4.5 games back in the NL Central, and I don't think it's in their DNA to throw in the towel and sell. Lynn being available is far from certain. It'll probably take a bad week this week. Let's see whether Lynn is the fit for the Yankees in case the Cardinals do decide trade him away.
Current Stuff
So far this season the 30-year-old Lynn has a 3.30 ERA (4.97 FIP) in 20 starts and 114.2 innings. His strikeout (21.5%) and walk (8.3%) rates are about average, though Lynn has always been fly ball prone (42.9% grounders), and these days that means lots of homers (1.65 HR/9). He's either going to have to start keeping the ball in the park or continue stranding runners at an above-average 82.4% clip, otherwise that ERA is going up.
As a starter Lynn has always been Bartolo Colon-esque in that he lives and dies with his fastball. So far this season 92.2% of his pitches have been some type of fastball. Either a four-seamer, sinker, or cutter. Here is his pitch selection since moving into the rotation full-time in 2012, via Brooks Baseball: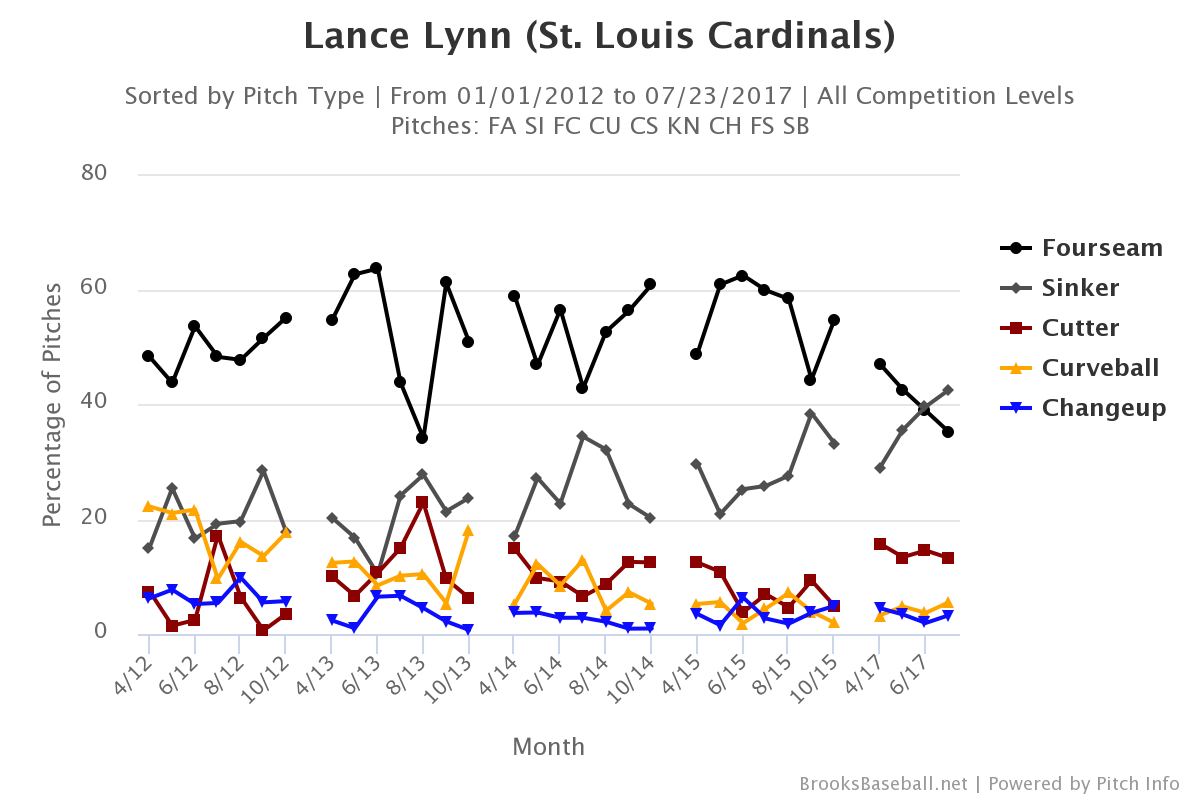 So many fastballs. Sooo many fastballs. And hey, that's fine. Throwing that many fastballs can work. It has for Lynn for years. He has good velocity (low-90s and touches 96), he can locate, and he mixes in enough changeups and curveballs to keep hitters honest.
Also, keep in mind Lynn is not throwing one fastball over and over. It's three different fastballs. A straight four-seamer, a sinker, and a cutter. One stays true, one dives down, and another cuts in. Hitters see a lot of fastballs, though they don't know which direction they're heading. It's not like Lynn is throwing four-seamer after four-seamer, you know?
Here's a pretty good example of how Lynn uses those three different fastballs. The hitters do not look comfortable because those heaters are moving in all different directions.
Lynn missed the entire 2016 season with Tommy John surgery and he's come back this year showing basically the same stuff. His velocity is down about half-a-mile an hour from 2015, though it's not uncommon for a pitcher his age to loss a little something off their fastball over a two-year span, elbow reconstruction or otherwise. Lynn's stuff is fine. He's unconventional because he throws so many fastballs, but it works.
Injury History
Like I said, Lynn missed last season with Tommy John surgery. He also missed two months with an oblique strain way back in 2011, which is no big deal. Lynn averaged 189 innings a year from 2012-15 and maxed out at 203.2 innings in 2014, so before his elbow gave out, he was a workhorse. Acquiring a pitcher so soon after Tommy John surgery is inherently risky. There's no reason to believe Lynn is riskier than any other pitcher in his first full year back from elbow reconstruction.
What Would It Take?
The Cardinals bought out Lynn's arbitration years with a three-year extension worth $22M back in January 2015. This is the final guaranteed year on the contract — he's making $7.5M this season — and Lynn will be a free agent after the season. He's a rental.
I do think the Cardinals would make Lynn the qualifying offer after the season. Getting him back on an expensive one-year deal isn't the worst thing in the world, and besides, Lynn would probably decline it. He could secure more total dollars on a multi-year deal, though the point is the Cardinals are in position to demand a greater return than the draft pick they'd receive after the season.
Last week I ran through other recent rental starter trades, and based on the benchmarks, the Cardinals shouldn't have any trouble getting two good prospects for Lynn. Not top prospects like Gleyber Torres or Clint Frazier, but good prospects. Someone from the Tyler Wade/Chance Adams/Dillon Tate pool. That doesn't seem unreasonable to me. Guys like Lynn don't come that cheap.
Does He Make Sense?
Aside from Yu Darvish, Lynn is probably the best rental available at the trade deadline, assuming he is actually made available at some point. The Cardinals could rip off a bunch of wins this week and decide to keep Lynn and go for it. That's probably what they'd prefer to do. Also, keep in mind the Cardinals traded lefty Marco Gonzales last week, so they're down one layer of rotation depth. They might not want to trade even more pitching.
Two things to consider here. One, the Yankees probably really like Lynn's postseason experience and the fact he was part of the World Series winning team with the Cardinals in 2011. And two, the Yankees don't rely on the fastball, as Tom Verducci recently wrote. Would they acquire a pitcher who lives and dies with his heater when their team philosophy is to pitch backwards? Perhaps the different look wouldn't be a bad idea.
Anyway, yes, Lynn makes sense for the Yankees because they have a rotation opening and he's better than the Mitchells and Cessas and Smiths of the world. They have plenty of prospects to trade, so it's not like the trade would cripple their farm system. The biggest issue here is outside the Yankees' control: will the Cardinals sell? I don't think they want too, and they can justify keeping Lynn given their place in the standings.