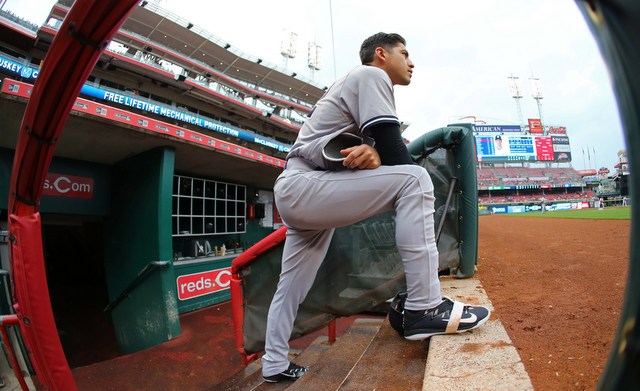 Three and a half years later, I still don't understand what compelled the Yankees to sign Jacoby Ellsbury to a seven-year contract worth $153M. A top Scott Boras client signing the week before the Winter Meetings is never a good sign. The offer was too good to be true for Ellsbury to sign that early. My guess is the Yankees overrated three things: Ellsbury's ability to repeat his monster 2011 season, his durability (many of his injuries with the Red Sox were fluky), and the value of succeeding in a tough market like Boston.
Whatever it was, the Yankees signed Ellsbury to that contract, and three and a half years later, they wish they hadn't. He is no better than the fourth best outfielder on the current 25-man roster, and once Aaron Hicks returns from his oblique strain, Ellsbury will be the fifth best outfielder on the roster. Ellsbury has sat in each of the last three games and six of the last ten games. Clint Frazier has been too good early in his MLB career to take out of the lineup, and Brett Gardner has been better than Ellsbury overall this season.
"I realize the way I started the first two months of the year, played very well, then I had a concussion, hurt my neck and the last three weeks my production hasn't been the same since I ran into the wall," said Ellsbury to Randy Miller over the weekend. "But it's only three weeks, so for the first two months I played very well and I'm looking forward to getting back to what I was the first two months."
As Ellsbury said, he missed a month with a concussion earlier this season and he hasn't hit since returning. He's gone 11-for-62 (.177) with a double and a triple since coming back. He got hurt and he stopped hitting, and it's not the first time this has happened. Ellsbury got off to a tremendous start in 2015, tweaked his knee, missed six weeks, and didn't hit the rest of the year. He did the same thing several times with the Red Sox. This is the reality of Jacoby Ellsbury:
2015: 83 OPS+
2016: 87 OPS+
2017: 80 OPS+
That is three years and nearly 1,400 plate appearances of .258/.324/.361 (84 OPS+) from a player on a $153M contract. Ellsbury derives a lot of value from his defense, there's no doubt about that, but the Yankees did not give him that massive contract simply to run down balls in center field. Mason Williams could do that for the league minimum. The brought in Ellsbury for two-way excellence.
The contract tells us the Yankees believed Ellsbury would be an impact player and he's been anything but. We've seen flashes of it, but that's it. Flashes. And this is on the Yankees. They misevaluated him and they put the contract in front of him. Ellsbury did what anyone in that situation would do. He took the massive payday. Ellsbury is eating up precious luxury tax payroll space and tying up a roster spot because the Yankees screwed up, plain and simple.
The recent benchings suggest the Yankees are beginning to acknowledge that screw up, and won't let it continue to hurt them. The contract is a sunk cost. The Yankees are paying it no matter what. That doesn't mean they have to play him though. Ellsbury is not in the lineup because he doesn't belong in the lineup. The Yankees have better players available. Does Joe Girardi want to sit Ellsbury? No. Of course not. It's an uncomfortable situation. But he's done it before. Ellsbury sat in the winner-take-all Wild Card Game in 2015, remember.
"I am going with the hot hand … Clint is playing well and I will keep using him," said Girardi to George King over the weekend. "It's tough to tell a player who has had a really good career that you are going with someone who is younger and has the hot hand. That is never an easy conversation, but it is part of the game. The big thing is that we aren't saying it's permanent, but when (Ellsbury) gets his chances, it's important he plays well."
Given Ellsbury's recent benchings and the fact the Yankees have two oh so awesome young outfielders in Frazier and Aaron Judge, it's only natural to think this is beginning of the end of Ellsbury's tenure in pinstripes. It's not impossible to come back from this, but it doesn't happen often with players Ellsbury's age. Step one is getting benched. Step two is getting pushed out the door. How will that happen? There are four possibilities, realistically:
Release Ellsbury and eat the $80M or so left on his contract. Not happening. Maybe if there were one year left on his contract, but three? Nope.
Trade Ellsbury in a bad contract for bad contract swap that gives the Yankees a player who better fits their roster, like a starting pitcher.
Eat a bunch of money and trade Ellsbury for fringe prospects. A straight salary dump. Save whatever money you can and go from there.
Attach Ellsbury to a top prospect as a way to get another team to take on a big chunk of his contract in a trade. I don't see this happening.
The Yankees would trade Ellsbury today if it were at all possible. It's not though. Any team looking for an outfielder would presumably turn to a cheap rental like, say, Jay Bruce. The plan to trade Ellsbury figures to begin in earnest in the offseason, when the Yankees will have more time to negotiate and perhaps more financial flexibility. The problem then is that there will lots of other outfielders available as a free agents. Outfielders like Ellsbury aren't hard to find. What can you do? The Yankees put themselves in this situation and they'll deal with the consequences.
As poorly as the last month or so has gone for the Yankees overall, they are very clearly a team on the rise with a lot of exciting young talent. Think about it, how long have we waited for the farm system to produce one difference-maker like Judge? Since Robinson Cano, basically. Now the Yankees have Judge and Frazier and Gary Sanchez and Luis Severino. And there's more coming! There's still a lot of work to be done for the Yankees to make the jump from fringe contender to World Series threat, but man, they are set up really well right now.
Ellsbury is not part of the long-term solution. I mean, I suppose he could make that one mechanical change that turns his entire game around a la Curtis Granderson in 2010, but the chances of that happening are so small. We haven't seen nearly enough of the good Ellsbury over the years, and now that he's approaching his mid-30s, it is increasingly unlikely we will see the good Ellsbury for a meaningful length of time. The Yankees have too many quality young players to keep Ellsbury in the lineup, and his recent benchings are an indication are preparing to move on.