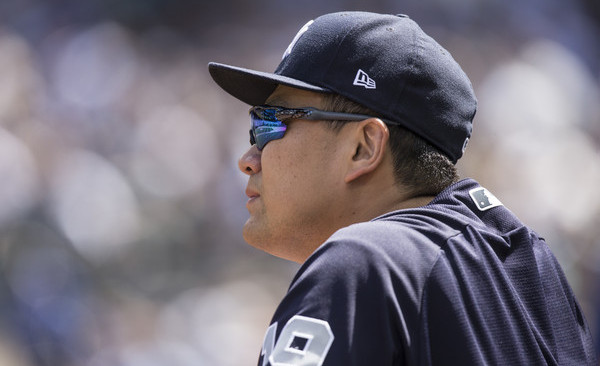 According to Buster Olney, teams have been informed the qualifying offer will be worth approximately $18M this offseason, possibly $18.1M. In that range. The qualifying offer is a one-year deal set at the average of the top 125 salaries in baseball. Make a free agent the qualifying offer, and you get a draft pick when he leaves. Simple as that.
For the Yankees this year, the qualifying offer is essentially meaningless. Not one of their impending free agents is a qualifying offer candidate. Here's the list:
CC Sabathia
Matt Holliday
Todd Frazier (not eligible for the qualifying offer because he was traded at midseason)
Michael Pineda
That's it. Pineda blew out his elbow earlier this month and needed Tommy John surgery, and since he's going to spend just about all of next season rehabbing, there's no reason to make him the qualifying offer. Right now Pineda is looking at a little one or two-year "rehab and prove yourself" contract a la Nathan Eovaldi last year. He'd accept the qualifying offer in a heartbeat. I'm not sure the Yankees would have made Pineda the qualifying offer even before his elbow game out.
The Yankees could very well have interest in retaining Sabathia beyond this season, though not at an $18M salary. Bartolo Colon signed a one-year deal worth $12.5M last winter. That's probably Sabathia's price range. Not $18M. Holliday is on a one-year deal worth $13M this year. Make him the qualifying offer and he'd take it. Frazier and any other rental the Yankees bring aboard isn't eligible for the qualifying offer. All pretty simple, right? Right.
That all said, the Yankees do have one qualifying offer candidate this year: Masahiro Tanaka. If he opts out after the season, the Yankees could and should make him the qualifying offer. Tanaka would be walking away from three years and $67M by opting out. He's not going to accept a one-year deal worth $18M. And you know what? Even if he did take the qualifying offer for some weird reason, good! I'd take him back on a one-year deal in a heartbeat.
The new Collective Bargaining Agreement changed the free agent compensation rules pretty dramatically. All first round picks are protected now, and what you give up to sign a qualified free agent and what you receive when you lose a qualified free agent are tied to your team's payroll. Here's the bucket the Yankees fall into this coming winter:
Sign a qualified free agent: Forfeit second and fifth highest draft picks, plus $1M in international bonus money.
Lose a qualified free agent: Receive a compensation draft pick after the fourth round.
It's pretty straightforward for the Yankees because they're going to pay luxury tax this year. Things are much more complicated for teams that do not pay luxury tax. That's where the Yankees hope to be next season, under the luxury tax threshold. So, if Tanaka does opt-out and reject the qualifying offer, the Yankees would get a dinky draft pick after the fourth round. Not much, but better than nothing.