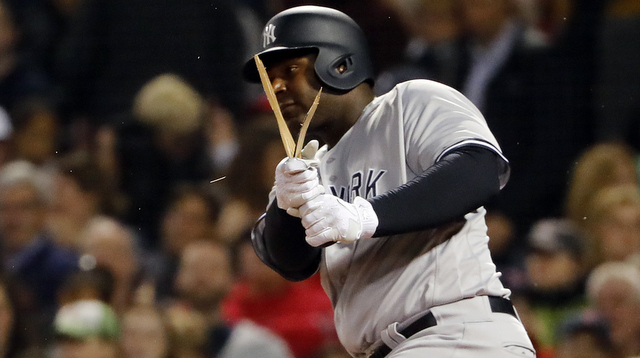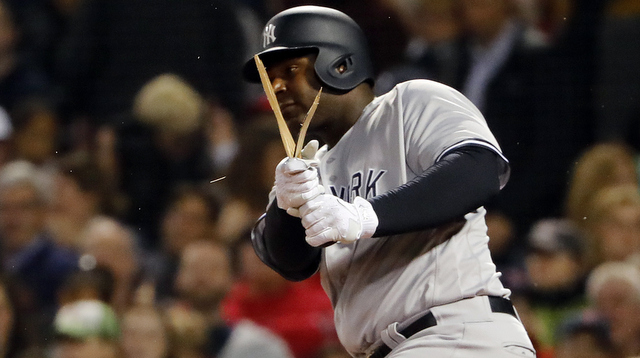 Chris Carter's second stint in pinstripes is over. Following yesterday's loss, the Yankees designated Carter for assignment for the second time this season. Second time in the last two weeks, really. The only reason he was brought back was Tyler Austin's hamstring injury. The Yankees decided enough was enough yesterday.
All told, Carter hit .201/.284/.370 (73 wRC+) with eight homers and a 36.5% strikeout rate in 62 games with the Yankees, including 1-for-12 (.083) with four strikeouts since being brought back. When a guy is in the lineup for his bat and he's being removed for pinch-hitters like Austin Romine and Tyler Wade in the late innings, the writing was on the wall. Joe Girardi's patience ran out weeks ago.
With Austin and Greg Bird still sidelined, the Yankees will now turn the first base reins over to Ji-Man Choi, a 26-year-old journeyman on a minor league contract. Choi has bounced from the Mariners to the Orioles to the Angels to the Yankees over the last 19 months. Last season, in his first and so far only big league stint, Choi hit .170/.271/.339 (67 wRC+) in 54 games with the Halos. If he does that again, he'll be a downgrade from Carter.
The Yankees are turning to Choi for three reasons, basically. One, they've exhausted their patience with Carter. They've given him plenty of chances and he hasn't produced. The Yankees and Girardi would live with the strikeouts if he were hitting the ball out of the park like last season, but he's not. He's not hitting home runs and his defense, which was fine in April and May, has become untenable. Carter has failed to make too many routine plays.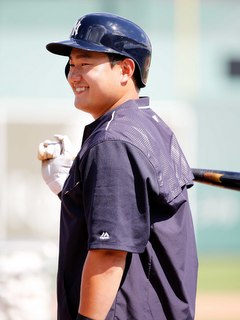 Two, Choi has been hot lately. He's hitting .289/.371/.505 (137 wRC+) in 56 Triple-A games overall this year, and that includes a 14-for-45 (.311) stretch with six home runs in his last 12 games. He has eight home runs on the season overall, and six have come in the last two weeks. If you're going to make a change and bring up someone new to play first base, the guy who is on a hot streak in Triple-A is as good a choice as anyone.
And three, the Yankees simply have nowhere else to turn. Bird is hurt, Austin is hurt, Matt Holliday is hurt, and playing Romine or Rob Refsnyder at first base on an everyday basis is not something anyone wants to see. I know I don't. The trade market has yet to heat up too. Choi is the best option. Once the Yankees decided Carter wasn't their guy, next up on the depth chart was Choi because of injuries.
Make no mistake though, Choi is a band-aid, not a permanent solution. I mean, I suppose he could have an unexpected hot streak and hold things down until Bird and/or Austin return, though I can't imagine the Yankees are expecting Choi to be the guy at first base going forward. Brian Cashman and his staff are surely scouring the trade market for a more permanent solution will Bird's status is unknown.
The Yankees have lost 15 of their last 21 games (!) and the bullpen has been the primary culprit. First base has been a problem all year though — even when Bird was healthy, he stunk — and the Yankees reached the point where it was time to try someone else. Heck, they reached that point with Carter a few weeks ago, but then Austin got hurt. I don't think Choi is the answer and yeah, he can be worse than Carter, but the bar has been set so low. It was time to try someone new. Chances are the Yankees will again be looking to try someone new in a few weeks.