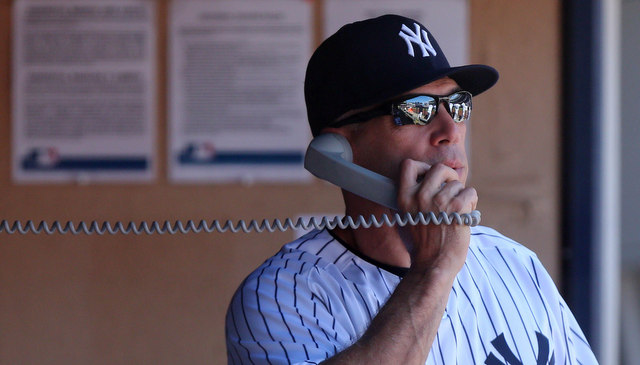 Good gravy do the Yankees stink right now. They've lost 16 of their last 22 games and have gone from four games up in the AL East to barely hanging on to a wild card spot. This is their first 6-16 stretch since May 2003. I guess the good news is that 2003 team won 101 games and went to the World Series? Anyway, I have some thoughts on things, so let's get to 'em.
1. Forgive me for being positive for a moment. As bad as the Yankees have looked the last few weeks, I feel like their biggest problems are almost all fixable. Unlike, say, 2013 and 2014, when they needed basically an entirely new lineup and three or four new starters, this team seems to have most of the necessary pieces in house. They absolutely need Aroldis Chapman and especially Dellin Betances to right the ship, but I feel like that's doable. Betances was awesome up until about two weeks ago. As recently as June 26th — last Monday! — he had a 1.09 ERA (1.41 FIP) and opponents were hitting .140/.282/.151 against him. It's not like he's been bad all year. I'm not ready to declare Betances permanently broken yet. Not close. Same with Chapman. I think he's dealing with a World Series hangover more than anything. Get Betances and Chapman back on track, get Starlin Castro and Matt Holliday (and Aaron Hicks) back from the disabled list, and the Yankees will be in much better shape. This 6-16 stretch is no joke. The Yankees have seen their postseason odds drop from 88.1% to 61.1% during his 22-game stretch, per FanGraphs, so it has been very damaging. But I feel the chances of things improving going forward are much better than the last few years.
2. Speaking of Betances, wow do the Yankees have to get him figured out. That has to be priority No. 1. This isn't a command problem. This is a basic strike-throwing problem. It's not like he's missing just off the plate. He's not getting the ball over the plate all. Betances has a long history of strike-throwing problems, mostly in the minors, though I don't think he's ever gone through a stretch this bad. He's walked eleven of the last 22 batters he's faced, plus he hit another with a pitch. Geez, dude. I'm not a pitching coach but Betances seems to be a mechanical mess — David Cone pointed out yesterday that Dellin is pulling everything to his gloveside, which usually indicates a pitcher's upper and lower halves are out of sync — and at this point I'm sure his confidence has taken a hit. Joe Girardi has to take Betances out of a high-leverage role for the time being and let him work things out in mop-up duty. And who knows, he might figure it out in one or two appearances. Dellin seems to go from falling apart to locked in seemingly overnight (and, sadly, vice versa). The Yankees need Betances to be Betances to win. They can't afford to keep frittering away winnable games.
3. Remember all that stuff earlier in the season about Austin Romine working better with the pitching staff than Gary Sanchez? This season Yankees pitchers have a 3.65 ERA with Sanchez and a 4.41 ERA with Romine. Funny how that worked out, huh? I'm one of those people who thinks catcher's ERA is stupid as hell and that the catcher's impact on the pitching staff is often overrated, but I still found that amusing. I don't doubt that Romine is a better receiver and overall defender than Sanchez. It's not showing up in the runs prevented numbers though. And still, even if the pitching staff works so much better Romine, the solution is not playing him behind the plate more often. The solution is working with Sanchez and teaching him how to do a better job with the pitchers, because that dude is the future of the franchise and he needs to be behind the plate. At the end of the day, it's up to the pitcher to execute. The catcher can call the greatest game in the world and frame every borderline pitch, but if the pitcher doesn't execute, there's nothing the catcher can do. Romine sure as heck didn't call those hanging home run pitches from Michael Pineda yesterday, but Pineda threw them anyway.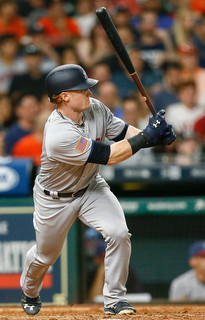 4. First impression of Clint Frazier: Brian Cashman was not kidding around when he said that kid has "legendary" bat speed. I mean, I saw it in Spring Training, but that's not really the same. Just about everything Frazier has put in play since being called up has been a rope. Also, he's putting together quality at-bats. He's seen 69 pitches in 14 plate appearances (4.93 per) and his swing rate on pitches out of the zone is 28.6%, better than the 30.7% league average, and his contact rate on pitches in the zone is 95.7%. The league average is 85.8%. Super duper small sample size and all that, but Frazier so far reminds me of Aaron Judge in the first week or so of the season. Remember that? Judge didn't hit much that first week — he went 2-for-15 (.133) in his first five games this year — but he was on everything and having quality at-bats. Frazier has been the same way. The Yankees are probably going to send him down when Holliday returns and that's fine. Frazier should be getting regular at-bats somewhere, and once Holliday returns, that somewhere figures to be Triple-A. I like what I've seen so far. That kid seems to have a plan and he can get the bat to the ball real quick.
5. The silly narratives are already starting with Judge. The other day, I believe it was the FOX game against the Astros, one of the announcers said he needs to be more aggressive in RBI spots and expand the zone to get the run in, if necessary. (It had to be the FOX game. I don't think anyone on YES would say that.) That's the Joey Votto narrative. He's too happy to take his walks and pass the baton when he should be trying to drive the run in! I had a feeling we would hear something like that at some point given Judge's sky high walk rate (16.8%). The announcers can say whatever they want and us idiot writers can write whatever we want. As long as Judge doesn't actually do that, it's fine. I want him sticking with the same approach, and if that leads to a walk, fine. Take the baserunner. Especially with Sanchez and a healthy Holliday and whoever else hitting behind him. Whatever Judge is doing, it's working. Keep doing it. The guy has been nearly flawless at the plate.
6. For the first time in a long time, I am really excited for the Home Run Derby. Even when Robinson Cano was in it, I wasn't this excited. I've seen both Judge and Sanchez take plenty of batting practice this year and, honestly, I think Sanchez might be the better bet in the Home Run Derby. Judge certainly has more impressive distance and exit velocity on his home runs, but in a batting practice setting, Sanchez hits the ball over the fence (to all fields) more often. And it's not like he's hitting cheapies either. Either way, it's pretty cool two young Yankees stars are in the Home Run Derby. The Yankees have three homegrown All-Stars no older than 25 — and they're all deserving All-Stars too — and that is pretty damn awesome. The recent losing really stinks. It really does. The foundation is in place though. The core of the next great Yankees team has arrived.