The July 31st non-waiver trade deadline is only nine days away now, and already the Yankees have made their most significant midseason trade in several years. Since … the Bobby Abreu deal? Nothing else comes to mind. Anyway, here are the latest rumors and rumblings.
Rangers gauging interest in Darvish
According to Jeff Passan, the Rangers have started reaching out to teams to gauge interest in staff ace Yu Darvish. Texas is slipping in the standings and out of the postseason race, so with Darvish set to become a free agent after the season, it only makes sense to see what teams will offer. Jerry Crasnick says the Rangers plan to wait as long as possible before making a trade. They want to see whether they can climb back into the race first.
The Yankees are said to be in the market for a starter and Darvish would be, by frickin' far, the best available pitcher should the Rangers decide to actually trade him. The rental part is the problem. There's no doubt Darvish would make the Yankees (or any other team) better. I don't think the Yankees are willing to trade their top prospects — it'll no doubt take at least one great prospect to nab Darvish — for a rental. The Yankees want to improve their postseason chances this season. The long-term plan still dominates their activity though.
A's have named their price for Gray
The Athletics have told the Yankees their price for right-hander Sonny Gray, reports Jon Heyman. There's no word on what that price is, but they've named it. The two sides are not close to a deal. Not coincidentally, Matt Kardos says the A's had director of player personnel Billy Owens scouting Double-A Trenton on Thursday night. Jorge Mateo was in the lineup that night and Domingo Acevedo was on the mound. Hmmm.
"We're going to stay engaged (with the A's)," said Brian Cashman to Ethan Sears. Darvish is a better pitcher than Gray on a per-inning basis, though Darvish being a rental and Gray being under team control through 2019 is a huge difference. I think the Yankees would be more willing to trade prospects for the guy they can keep another two seasons, and I don't think that's unreasonable at all. That said, I don't expect the Yankees to budge on their plan to keep their best close-to-MLB prospects. If a Gray deal gets done, it'll be without those guys.
Yankees still open to adding a first baseman
Although Todd Frazier is now a Yankees, they remain open to adding a first baseman, reports Mark Feinsand. They are content to move forward with a Chase Headley/Garrett Cooper platoon at first base (that is one hell of a sentence), though if an opportunity to acquire an upgrade presents itself, they'll pounce. Rentals Yonder Alonso and Lucas Duda are the big first base names out there.
Basically no team in baseball needs a first baseman right now, so the Yankees are in position to sit back, wait for the prices to drop as the deadline approaches, then make a move if something makes sense. More than anything, this is a pretty good indication the Yankees have reached their limit with Headley, who can still get on base a bit, but otherwise doesn't offer enough offensively. He might end up spending the final year of his contract elsewhere next season, even if the Yankees have to pay a chunk of his salary.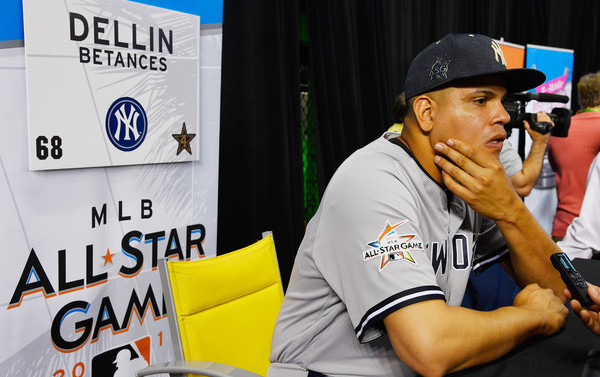 Cashman says Betances is staying put
Even before the Yankees acquired David Robertson and Tommy Kahnle, there was speculation the club could move Dellin Betances at the trade deadline similar to the Andrew Miller and Aroldis Chapman trades. Then once Robertson and Kahnle were brought on board, the speculation only increased. Now the Yankees have replacement setup men. Cashman shot all that down though. Here's what he told MLB Network Radio this week (audio link):
"I have no intention of moving Dellin Betances. He's a four-time All-Star and he's a homegrown local guy. He's as much a part of the solution of where we're going. I've heard the rumblings and speculation out there. I don't like to really address speculation, but I can tell you that Dellin Betances is not going anywhere."
Never say never, right? Cashman says he has no intention of moving Betances … until someone puts a juicy offer in front of him. He'll listen to trade offers for Betances the same way he listens to trade offers for everyone. I truly believe the goal behind the Robertson and Kahnle trade was adding them to Betances in the bullpen, not using them to replace Betances. They want a monster bullpen and, on paper, they have it.
Yankees were in the mix for Garcia
Before the whole non-trade saga with the Twins, the Yankees were pursuing Braves left-hander Jaime Garcia, reports Heyman. No idea if they're still pursuing him. Here's my Scouting The Market post. Garcia is boring and unspectacular, though he's better than Bryan Mitchell and Luis Cessa, and the Yankees presumably could acquire him on the cheap. His injury history and the fact he's a rental drives the price down.
Right now, my hunch is the Yankees are not going to make a significant trade for a starting pitcher like Gray. I think they'll target rentals for the time being, just to get them through the season. They're going to look for 2014 Brandon McCarthy in 2017, basically. That would be the optimal outcome. I can't imagine the Yankees are done. You don't go out and make that trade with the White Sox, then call it a day. The need in the rotation is too great to not get something done.