Sleep is overrated
The Yankees arrived in Houston early Friday morning, bleary-eyed and sleep-deprived, but that didn't stop them from putting together one of their most satisfying wins of the season against the best team in baseball.
The 13-4 rout also capped off one of the most bizarre months for any Yankees team in recent memory. They went 13-15 in June, the 20th best record in the majors last month. Not good. Yet they compiled a run differential of plus-56 that ranked second only to the Dodgers. Very good!
Two stats tell this perplexing story: The Yankees led MLB with nine wins by at least five runs, and tied for the MLB lead with nine losses by exactly one run. It was the first time the Yankees had nine wins by five-or-more runs in a single month since July 2010; and the first time in at least the 15 seasons they had nine one-run losses in a single month.
At the center of the offensive explosion was Brett Gardner, who went 3-for-5 — including his third career grand slam — and a career-high-tying six RBIs. He's just the second Yankee leadoff batter to drive in six runs in a game, along with Hank Bauer on May 10, 1952 against the Red Sox. Gardner is also just the fifth Yankee to have multiple 6-RBI games as a leftfielder; this is a fun list: Alfonso Soriano, Bob Meusel, Charlie Keller and Babe Ruth.
Although Aaron Judge was hitless in four at-bats, he still notched his 29th and 30th walks of the month, etching his name in both the MLB and franchise record books. The ridiculous power and patience he showed in June was nearly unprecedented, especially for such a young player:
Judge is the fourth Yankee with at least 30 walks, 10 homers and five doubles in a calendar month. The rest of the names should be familiar by now: Mickey Mantle (June 1957), Lou Gehrig (twice) and Babe Ruth (seven times).
Among all major-leaguers age 25 or younger, only six others besides Judge walked at least 30 times and had at least 70 total bases in a month: Mantle (June 1957), Eddie Mathews (July 1954), Ted Williams (twice), Mel Ott (June 1929), Keller (August 1939) and The Babe (twice).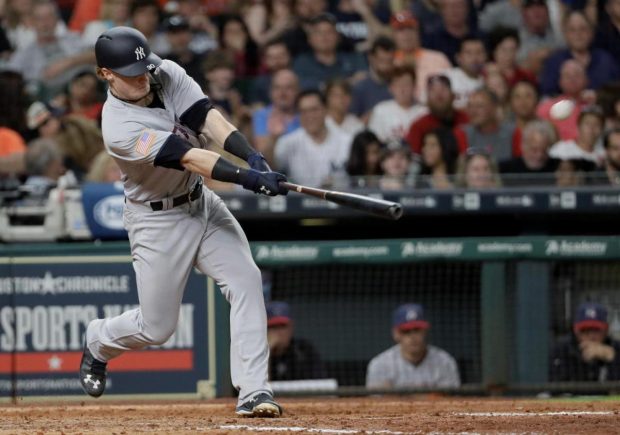 Deja vu all over again
Another series, another candidate for W.L.O.T.S. (Worst Loss Of The Season).
In what has become an all-too-familiar theme for this Yankees team, they followed up one of their most impressive wins of the season with one of their most brutal losses, and the bullpen flames were raging again on Saturday night. Dellin Betances and Aroldis Chapman self-destructed in the eighth inning, blowing a three-run lead as the Yankees suffered another horrible come-from-ahead loss, 7-6.
Here are some of the gory details behind the Yankees recent string of late-inning meltdowns:
Stat
Notes
15 Blown Saves
– 10(!) more than they had at this point in the season last year (in just four more save opportunities);
– Yeah, they had 16 all of last year
16 One-Run Losses
– Four more than they had through 79 games last year;
– 10 of them have come since June 1, tied with the Phillies for the most in that span
5 losses when leading by at least three runs
– Matches the same number they had in all of 2016;
– At this point last year, they had one such loss
10 losses with at least five runs scored
– One fewer than they had all of last year;
– Through 79 games in 2016, had six such losses;
– 7 of the 10 losses have come since June 1, the most in MLB
Dellin Betances was the biggest culprit in the eighth inning, getting only two outs while allowing three stolen bases, four earned runs, three walks and a homer. Yikes.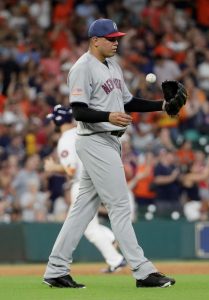 He is just the third Yankee pitcher to allow at least three stolen bases in an outing of fewer than one inning pitched, and he's the only one of those three to also allow an earned run.
But its the rest of his ugly pitching line that earns Betances of our Obscure Yankeemetric of the Series:
He's just the second Yankee ever to give up at least four earned runs, walk at least three guys, allow a homer while facing no more than six batters. The other was Hank Johnson on June 17, 1925 against the Tigers, a 19-1 loss that included a 13-run sixth-inning implosion by Yankee pitchers.
The story of the game should have been about the historic and dazzling major-league debut of Clint Frazier, who went 2-for-3 with a double and homer. His six total bases were the most by a Yankee his first career game over the last 100 years, and he also became the first player in franchise history to hit a home run and a double in his big-league debt.
Perhaps even more impressive … at 22 years and 298 days old, he was the youngest Yankee rightfielder with a homer and a double in any game since Mickey Mantle on May 30, 1952.
Didi Gregorius also took his turn in the spotlight, crushing his first career grand slam. The only other Yankee shortstops in the last three decades with a grand slam were Starlin Castro (August 5 last year) and Derek Jeter (June 18, 2005).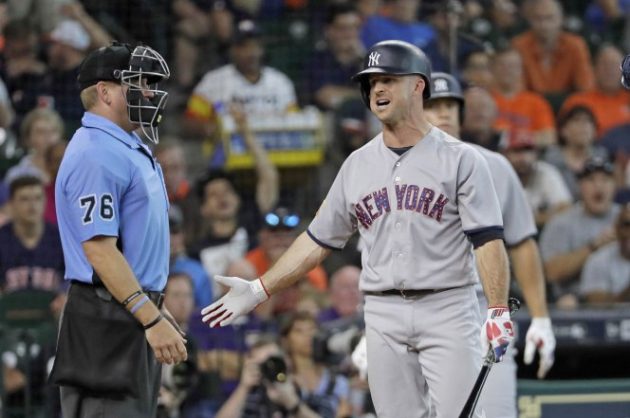 At least they scored a run
The Yankees early-summer slide deepened with another listless defeat on Sunday afternoon, as the bats went cold and the arms were lit up by the Astros powerful lineup in an 8-1 loss. They've now gone winless in six straight series, their longest such streak since an eight-series winless streak spanning July and August of 2013.
Luis Severino had one of his worst performances of the season, getting tattooed for nine hits — six doubles, a homer and two singles — and six runs in 5⅓ innings pitched. Yet he still flashed dominance with his fastball-slider combo, striking out a quarter of the batters he faced (7 of 28).
That pitching line gives us an unfortunate statistical connection for Severino …. The only other Yankee in the last 100 seasons to pitch fewer than six innings while surrendering at least seven extra-base hits and getting at least seven strikeouts in a game was Michael Pineda on April 24, 2016 against the Rays. #SmallSevy
The only other notable number to come out of this game was One — the number of runs they scored in the ninth inning to avoid being shutout for the first time this season. This is the sixth time in franchise history they've gone at least 80 games into the season without being blanked and the first time since 1988.
The franchise record? That would be held by the 1932 team, which scored at least one run in every game that season. In related news, the 1932 Yankees went 107-47 and swept the Cubs in the World Series. Oh, and a man named Babe Ruth hit a sorta famous home run in Game 3 of that series: