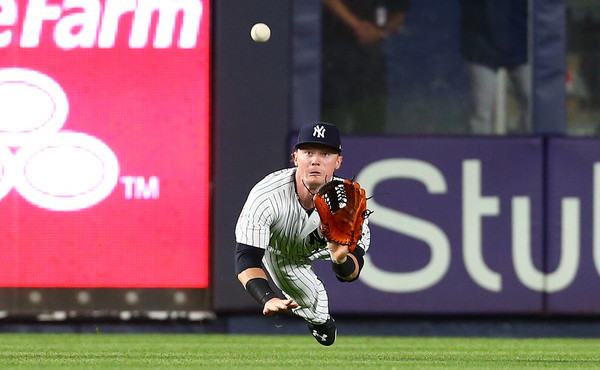 Each year, soon after the draft signing deadline, I update my top 30 Yankees prospects list to welcome in all the new draftees. This year the signing deadline fell on a Friday, so I decided to wait until the next Friday to release the post-draft top 30 prospects list. Then the Yankees went out and made the big trade with the White Sox, so I decided to hold off until after the trade deadline because it felt like some stuff was about to go down.
Sure enough, it did. In addition to that big trade with the White Sox, the Yankees also used top 30 prospects to acquire Jaime Garcia and Sonny Gray in the days and hours leading up to Monday's trade deadline. Six potential top 30 prospects were traded away in those deals. Eight of my preseason top 30 prospects are no longer eligible for the list, either because they've been traded away or graduated to MLB. Stunning turnover in just a few months.
And yet, the Yankees still have one of the better farm systems in baseball. They came into the season with arguably the best system — the consensus ranking was No. 2 behind the Braves — and just yesterday MLB.com ranked New York's system the third best in baseball. Baseball America had them seventh. That's even after all the trades and graduations. They still have some high-end talent, plus tons of depth. There are players who project to be everyday big leaguers outside of my top 30.
So, now that the trade deadline has passed and the dust has settled, it's time to update my top 30 Yankees prospects. I've included each player's pre-draft ranking for reference, and for fun, I included where each of the traded prospects would have slotted in had they not been traded. I get a lot of "where would this guy rank if he were still in the system?" questions, so I figured I'd answer those right in the list. Here's my latest top 30. Feel free to make fun of it.
The Top Tier
1. SS Gleyber Torres, Triple-A (Pre-draft: No. 1)
2. OF Clint Frazier, MLB (Pre-draft: No. 2)
OF Blake Rutherford, Traded (Pre-draft: No. 3)
3. LHP Justus Sheffield, Double-A (Pre-draft: No. 4)
Frazier is about two weeks away from losing his prospect status. He's at 98 big league at-bats right now and the rookie limit is 130. Once he graduates, the top tier will be down to two prospects. Lame! Then again, it'll be down to two prospects because Frazier and Aaron Judge are in MLB, and Rutherford was traded for pieces who are helping the Yankees try to win the division, so I can't complain.
Torres is still the undisputed the best prospect in the system right now, even after Tommy John surgery to his non-throwing arm. Everyone seems to expect him to come back just fine next year and that's good enough for me. Every surgery has risks. This one seems to carry less than most elbow reconstructions. Sheffield is out with an oblique strain himself, which stinks, but at least it's not his arm. He's pretty clearly the best pitching prospect in the system in my opinion. Three-pitch lefty with swing-and-miss stuff? Sign me up.
The Other Top Prospects
SS/OF Jorge Mateo, Traded (Pre-draft: No. 5)
4. 3B Miguel Andujar, Triple-A (Pre-draft: No. 6)
5. OF Estevan Florial, High-A (Pre-draft: No. 14)
6. RHP Albert Abreu, High-A (Pre-draft: No. 7)
7. SS/OF Tyler Wade, MLB (Pre-draft: No. 8)
OF Dustin Fowler, Traded (Pre-draft: No. 9)
8. RHP Chance Adams, Triple-A (Pre-draft: No. 10)
9. RHP Dillon Tate, High-A (Pre-draft: No. 12)
This is where I think the depth of the farm system really shines. I'm the low man on Adams but Baseball America (56th) and MLB.com (61st) just ranked him as a top 50-ish prospect in their midseason top 100 lists. I have him eighth in the system. Both Abreu (82nd) and Wade (101st) snuck onto Baseball Prospectus' top 101 prospects list before the season. Tate was the fourth overall pick — and first pitcher taken — in the draft just two years ago. That's the kind of talent we're talking about here.
Andujar is my dude and has been for a while, and he's making me look smart this year, so thanks Miguel. I get the feeling that, in a year or two, lots of people are going to wonder why he never made a top 100 list. Florial is the biggest riser in the farm system this year. His strikeout rate is a red flag but the tools and athleticism are off the charts, and so is the performance, really. He hit .297/.372/.483 (145 wRC+) with eleven homers and 17 steals in 91 Low-A games as a 19-year-old before being promoted earlier this week. For a while there it looked like Florial would get traded at the deadline, but nope. He remains and Fowler went instead.
The Upside Arms
RHP James Kaprielian, Traded (Pre-draft: No. 11)
10. RHP Matt Sauer, Rookie (Pre-draft: Not eligible)
11. RHP Domingo Acevedo, High-A (Pre-draft: No. 13)
12. RHP Domingo German, Triple-A (Pre-draft: No. 15)
13. RHP Clarke Schmidt, Rehab (Pre-draft: Not eligible)
14. RHP Jorge Guzman, Short Season (Pre-draft: Unranked)
Things just kinda fell into place here. A bunch of power arms with upside and also some risk were bunched together in my rankings. Sauer, Acevedo, and Guzman all throw heat but come with command questions. German is in his first full year back from Tommy John surgery and Schmidt is rehabbing from elbow construction right now. A healthy Schmidt would have ranked higher, though not much. Probably ahead of German and that's about it.
The big riser here is Guzman, who came over from the Astros with Abreu in the Brian McCann trade. He did not make my pre-draft top 30 list, which was an oversight on my part. I should have had him in the top 30. Guzman has been electric with Short Season Staten Island so far this year, throwing 42.2 innings with a 2.53 ERA (3.03 FIP) and a 56/13 K/BB ratio. Fastball that routinely touches 100 mph, promising secondary stuff, and improving control? Guzman is someone who will really shoot up the rankings over the next year.
The Mid-Range Bats
15. 3B Dermis Garcia, Low-A (Pre-draft: No. 21)
16. SS Thairo Estrada, Double-A (Pre-draft: No. 18)
17. SS Hoy Jun Park, Low-A (Pre-draft: No. 16)
18. C Donny Sands, Low-A (Pre-draft: No. 24)
RHP Zack Littell, Traded (Pre-draft: No. 29)
LHP Ian Clarkin, Traded (Pre-draft: No. 19)
19. SS Wilkerman Garcia, Short Season (Pre-draft: No. 17)
20. 2B Nick Solak, Double-A (Pre-draft: Unranked)
Even considering that last pitcher tier, this might be the riskiest prospect tier in my rankings. Garcia — Dermis, not Wilkerman — has easily the most power in the system, but he's also swing-and-miss prone and not that great defensively. The other Garcia has solid all-around tools but has struggled to put it all together and stay healthy the last 18 months. Sands is a third baseman learning to catch, and a high-contact hitter without much power. His prospect stock is really riding on the whole catching thing working out.
Estrada and Solak are the "safest" bets among the players in this tier — I say "safest" because there's no such thing as a safe prospect — because they're both all-fields hitters who have the uncanny ability to get the fat part of the bat on the ball, and they'll both take their walks too. Thairo is a better defender and capable of playing shortstop, which is why he's higher in my rankings. I see similar offensive upside and more defensive value. And he's a full year younger too.
The Bottom Ten
21. OF Jake Cave, Triple-A (Pre-draft: Unranked)
22. OF Billy McKinney, Triple-A (Pre-draft: No. 27)
23. 1B Tyler Austin, MLB (Pre-draft: No. 20)
24. RHP Freicer Perez, Low-A (Pre-draft: Unranked)
25. RHP Nolan Martinez, Rookie (Pre-draft: No. 26)
26. RHP Drew Finley, Short Season (Pre-draft: No. 25)
27. SS Kyle Holder, High-A (Pre-draft: No. 23)
28. LHP Josh Rogers, Double-A (Pre-draft: No. 22)
29. RHP Ben Heller, Triple-A (Pre-draft: Unranked)
30. RHP Trevor Stephan (Pre-draft: Not eligible)
Lots and lots and lots of candidates for the back of the top 30, so it comes down to personal preference. Among those who were considered: SS Oswaldo Cabrera, RHP Cody Carroll, SS Diego Castillo, RHP J.P. Feyereisen, OF Isiah Gilliam, RHP Nick Green, RHP Ronald Herrera, RHP Jonathan Holder, OF Leonardo Molina, OF Pablo Olivares, RHP Erik Swanson, C Saul Torres, RHP Taylor Widener, and RHP Alex Vargas.
Cave and McKinney were two of the hardest players to rank. I feel like I'm going out on a limb a bit with Cave. He's always had ability and he's been in my top 30 lists before, but now the performance has been so great that it's hard to ignore. Even if he's a platoon left-handed bat long-term — Cave is hitting .358/.405/.672 against righties and .250/.315/.440 against lefties this year — Cave can play center field and run. He does a lot of things.
McKinney, on the other hand, is basically all bat. He's not much of a defender and he's relegated to an outfield corner. McKinney might also be a platoon left-handed bat — he's hitting .289/.365/.532 against righties and .252/.319/.437 against lefties — except you're not getting the defense and baserunning. I know he's a former first round pick and all that, but I feel like the end game here is … Seth Smith? Seth Smith is a good player! He's been in the league a decade. But that feels like McKinney's upside to me.
I really like Martinez and Finley and just wish they'd get healthy, stay healthy, and put together consistently strong performances at some point. That's unfair to Martinez because he was just drafted last year, but you know what I mean. I'm eager to see more from him. With Holder, I'm still betting on the elite defense being a carrying tool. If he can hit enough to be, say, a 90 OPS+ guy who bats ninth long-term, he'll end up a +3 WAR player with his glove. Heller … man I just wish the Yankees would give him a look already. Something more than shuttle call-ups here and there.
* * *
I didn't love the Yankees' draft this year, though I do think the "take the injured guy first and an over-slot guy second" strategy was Plan B. I think they were planning to use their first rounder on a player who came off the board before their pick came around, so they called an audible. In my idiot blogger opinion, there were comparable arms still on the board when the Yankees picked Schmidt, except those guys were healthy. Healthy pitchers are cool.
Last year the Yankees really stocked the system at the trade deadline and this year has been about unpacking the system. Get the guys to the big leagues you plan to build around and trade from the depth before you start losing players for nothing through the Rule 5 Draft or on waivers. Littell and Clarkin were both potential 40-man roster crunch casualties after the season, as were other traded prospects like Dietrich Enns, Yefry Ramirez, and Tito Polo.
The farm system right now is not as strong as it was six months ago, though for the right reasons. The Yankees have graduated players to the big leagues and used others in trades to bolster the MLB roster for a postseason push. And those trades brought in controllable players like Gray and Tommy Kahnle. Not only rentals. New York still has a deep system with upside, and the big league roster is looking better and more exciting than it has in years.