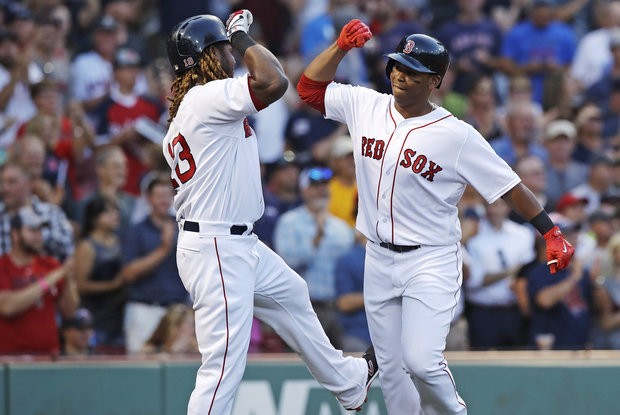 The Last Time They Met
The Yankees opened their second-half by splitting a four-game series in Boston. All four games were decided by three runs or less, including a walk-off walk in game one, and a sixteen-inning affair in game two. And, as per usual, only one game checked-in at under three hours – and that game went two hours and fifty-nine minutes. Some notes:
Poor defense and erratic pitching from Aroldis Chapman cost the Yankees game one. Mookie Betts singled, Dustin Pedroia singled, Xander Bogaerts reached on an error (scoring Betts), Hanley Ramirez was intentionally walked to load the bases, and Andrew Benintendi walked on five pitches to score Pedroia. And I distinctly remember being more angry at the IBB than anything else.
The bullpen (Tyler Clippard, Dellin Betances, Chasen Shreve, Adam Warren, Jonathan Holder, Chapman, Ben Heller) combined for a complete game shutout in game two, pitching to the following line – 9 IP, 4 H, 0 R, 2 BB, 6 K. The Yankees won 4-1 in 16 innings.
By winning the third game, the Yankees won back-to-back games for the first time in over a month. That wasn't a fun stretch.
In the final game of the series, Aaron Judge was robbed of a home run by Jackie Bradley Jr. I would have been impressed if I wasn't so annoyed.
Check out Katie's Yankeemetrics post for more fun facts.
Injury Report
As has been the case throughout the season, the Red Sox simply aren't all that healthy. David Price is back on the DL with left elbow inflammation, Carson Smith is still recovering from last year's Tommy John Surgery, and Tyler Thornburg and Steven Wright are both done for the season. The offense is relatively healthy, though, with only bench players Marco Hernandez and Josh Rutledge currently sidelined with injuries. Though, it is worth noting that Dustin Pedroia is day-to-day with a tweaked knee, just a couple of days after returning from the DL.
Their Story So Far
Boston is currently in first place in the AL East, sitting at 65-49 with a +85 run differential. They've won 8 in a row by a combined score of 50 to 25, so it wouldn't be a stretch to say that they're playing their best baseball right now – which just so happens to coincide with the call-up of top prospect Rafael Devers. The basic sports narrative will credit Devers with the turnaround, which is a bit unfair – but the 20-year-old is hitting .319/.396/.553 (150 wRC+) with 3 HR in 12 games, and has been a key component of a resurgent offense.
And offense has been the problem for the Red Sox this season, even with all of the injuries to their pitching staff. Their 93 wRC+ places them 20th in all of baseball, with Betts, Bogaerts, Bradley, and Benintendi disappointing for the majority of the year. There is a great deal of talent here, of course, and that's why they're back in first place. Ugh.
The Lineup We Might See
Manager John Farrell has been tinkering with the lineup quite a bit of late, due mostly to the call-up of Devers and the acquisition of former Yankee Eduardo Nunez. The recent return Dustin Pedroia has led to some flip-flopping, as well. Nevertheless, I expect that we'll see something like this:
Mookie Betts, RF
Eduardo Nunez, 2B
Andrew Benintendi, LF
Hanley Ramirez, DH
Rafael Devers, 3B
Xander Bogaerts, SS
Mitch Moreland, 1B
Sandy Leon, C / Christian Vazquez, C
Jackie Bradley Jr., CF
Pedroia is the wild card in this situation. If he plays, he'll bat near the top of the order, pushing everyone down. He might also DH, which would push Moreland to the bench and Ramirez to first.
The Starting Pitchers We Will See
Friday (7:05 PM EST): LHP Jaime Garcia vs. LHP Eduardo Rodriguez
Rodriguez was on the disabled list the last time these teams met, with a right knee injury sidelining him from June 2 to July 17. He has been solid when healthy, though, pitching to a 4.08 ERA (112 ERA+) in 81.2 IP, with a well above-average 25.8% strikeout rate. He's a bit walk (3.5 BB/9) and home run (1.3 HR/9) prone, and he's one of the more severe flyball pitches in the league, with just 34.2% of batted balls being on the ground.
The 24-year-old southpaw throws five pitches, but the vast majority of those are his four-seam fastball, which sits right around 93 MPH. His primary off-speed pitch is a solid mid-80s change-up, and he'll mix in a low-90s sinker, a mid-80s cutter, and a low-80s slider.
Last Outing (vs. CHW on 8/4) – 6.0 IP, 4 H, 2 R, 2 BB, 5 K
Saturday (4:05 PM EST): RHP Luis Severino vs. LHP Drew Pomeranz
Pomeranz had a rocky first couple of months, but he has been quite good since the calendar flipped to June, pitching to a 2.71 ERA over 69.2 IP in his last 12 starts. He has a 3.36 ERA (136 ERA+) on the season, and he's currently 10th in the American League in fWAR. The Yankees handed him his worst start in about two months the last time they faced, scoring four runs in 6 innings on July 14.
Last Outing (vs. CHW on 8/5) – 6.1 IP, 7 H, 1 R, 1 BB, 8 K
Sunday (8:05 PM EST): LHP Jordan Montgomery vs. LHP Chris Sale
Sale is currently leading the majors – hitters and pitchers, alike – in FanGraphs' version of WAR. Baseball-Reference paints a much more modest portrait, ranking him third among all pitchers; either way, he has an argument for being the best pitcher in baseball right now. The 28-year-old also leads the majors in IP, K%, K-BB%, and FIP (by nearly half a run), as well as fourth in BB%. He dominated the Yankees the last time they squared-off, going 7.2 scoreless innings, allowing 3 hits and 2 walks, while striking out 13.
Last Outing (vs. TBR on 8/8) – 8.0 IP, 2 H, 0 R, 1 BB, 13 K
The Bullpen
Boston's bullpen has been a strength for the entirety of the season, and they managed to improve it at the deadline by adding Addison Reed. The group leads the majors in park-adjusted ERA and RA9-WAR, and ranks second (behind the Yankees) in fWAR.
The absurdly good Craig Kimbrel is the team's closer, and he's striking out 50% of the batters he faces, while walking just 4.4%. He's tied (with teammate and set-up man Joe Kelly) for third among MLB relievers in park-adjusted ERA, as well. Kelly and the newly acquired Reed handle the set-up duties, and Matt Barnes, Heath Hembree, and Blaine Boyer take the higher-leverage middle inning duties.
Who (Or What) To Watch
Rafael Devers was a consensus top-20 prospect heading into the season, and he has shown why by tearing through Double-A and Triple-A this year, and reaching the majors a few months shy of his 21st birthday. He's worth watching purely in an "I want to see what this guy's all about" way, while also recognizing that he's going to be a big part of the Yankees/Red Sox rivalry for years to come.