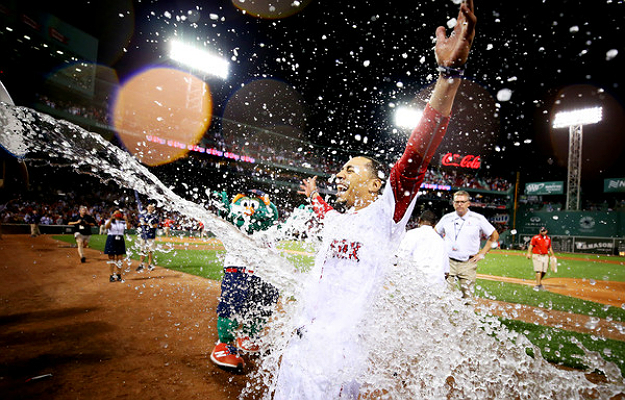 The Last Time They Met
The Bombers squandered an opportunity to inch closer to Boston in the division last weekend, losing two of three after a disastrous outing from Luis Severino and Rafael Devers spoiling Aroldis Chapman's attempt to close out Sunday's humbling defeat. Here's the game-by-game of the series.
Yankees went silent for seven innings vs. Eduardo Rodriguez, then erupted for five runs in the eighth. Aaron Hicks saved the day with a two-run shot off Addison Reed and a key outfield assist to help hold off the Red Sox in the ninth to take the opener.
Things looked good after a two-run shot by Gary Sanchez in the first, but Severino turned in his worst start since last season, giving up 10 runs (eight earned) including a pair of home runs to Andrew Benintendi, prompting this gleeful picture of Mookie Betts by our Sung Min Kim.
On Sunday Night Baseball, Chris Sale and Jordan Montgomery went toe-to-toe, each allowing a run. The Yankees got to Matt Barnes for a run in the 8th. However, Aroldis Chapman squandered the one-run lead by allowing a homer by Devers before giving up a run in the 10th in a 3-2 loss.
For more information, check out Katie's Yankeemetrics post.
Injury Report
Last weekend, Dustin Pedroia (knee) went back on the DL and the team is going to have him be more conservative in his return timeline this go-around. David Price (elbow) has thrown off flat ground but has yet to throw off a mound and we don't know when he will. He won't be starting this series. Meanwhile, RHP Blaine Boyer (neck strain) joined Carson Smith, Ben Taylor, Tyler Thornburg and Robbie Ross among a strong middle relief corps all on the shelf.
Since We Last Met
Since you surely know about the Red Sox, let's go into their games since last weekend instead of a recap of their season.
Doug Fister gave up five runs, including a go-ahead two run homer to Edwin Encarnacion, and failed to make it out of the fifth inning in a 7-3 loss to the Indians, a make-up game of a rainout from two weeks ago. Devers hit two solo shots in the defeat.
An eight-run fifth inning buoyed the Sox to a blowout win over the Cardinals on Tuesday as Rick Porcello improved to 7-14 on the year. The highlight of the game: Devers starting a 5-4-3 triple play. Is there anything he can't do?
The Red Sox grabbed a win from the jaws of defeat, storming back from a two-run ninth inning deficit against a trio of pitchers. It was capped off by Betts' two-run double, the celebration of which you can see at the top of this post.
Lineup We Might See
John Farrell adjusts his lineup based on handedness. Therefore, with two lefties set to take the hill for the Yankees this weekend, the lineup below is the one he's been going with against LHPs. That means a fair amount of Chris Young and maybe a day off for the 20-year-old wunderkind Devers.
1. 2B/3B Eduardo Nunez
2. RF Mookie Betts
3. LF Andrew Benintendi
4. 1B Hanley Ramirez
5. DH Chris Young
6. SS Xander Bogaerts
7. 2B Brock Holt/3B Rafael Devers
8. C Sandy Leon/Christian Vazquez
9. CF Jackie Bradley Jr.
The Starting Pitchers We Will See
Friday (7:10 PM EST): LHP Jordan Montgomery vs. LHP Drew Pomeranz
With Porcello's struggles and Price's elbow, Pomeranz has probably been Boston's second-best starter this season. He's 2-0 against the Yankees after getting 10 runs of support on Saturday, though he's allowed nine runs in 17 2/3 innings, striking out 19 while allowing three homers.
Last Outing (at NYY on Aug. 12) – 6.2 IP, 7 H, 3 R, 2 BB, 5 K
Saturday (7:10 PM EST): LHP CC Sabathia vs. LHP Chris Sale
What is there to say about Chris Sale that hasn't already been said about Pedro Martinez? The guy is a beast. After Sunday night's performance, here's his line vs. the Yankees in 2017: 3 GS, 22.2 IP, 15 H, 4 R, 3 ER, 0 HR, 4 BB, 1 HBP, 35 K. Good news? He has no wins and the Sox are just 1-2 in those games.
Last Outing (at NYY on Aug. 13) – 7 IP, 4 H, 1 R, 2 BB, 12 K
Sunday (1:30 PM EST): RHP Sonny Gray vs. TBD
The Red Sox haven't announced a starter for Sunday, but this writer expects them to skip Fister and start Porcello, who'd be on normal rest. He was solid his last time out and his K-BB% has improved in the second half. However, he's allowed 2.06 HR per nine since the break. For what it's worth, he's 0-3 with a 3.79 ERA against the Yankees this year, allowing four homers in 19 innings.
Last Outing (Porcello vs. STL on Aug. 15) – 7 IP, 8 H, 3 R, 2 BB, 6 K
The Bullpen
Kimbrel dominated the Yankees for four outs on Sunday and is still striking out more than 50 percent of the batters he faces. He has a 46 K-BB%. That's … absurd. The less you see of him, the better.
The Yankees did get to his two setup men last weekend, first Reed and then Barnes. Barnes, however, is much better at home (1.47 ERA at Fenway vs. 5.20 on the road). Joe Kelly and his hard but flat fastball sit in wait in middle relief. Beyond him Robbie Scott and Fernando Abad handle lefties while Heath Hembree, Brandon Workman and potentially Fister sit in middle/long relief.
Who (Or What) to Watch?
Obviously, these games have tremendous division implications. The Yankees sit four games back of Boston. After this weekend, they have just a four-game set at Yankee Stadium in two weeks left with their rivals, so the chance to make up ground head-to-head is scarce.
The thing I've been waiting to see since July 31? Sonny Gray vs. the Red Sox, which we get to see Sunday (which isn't Sunday Night Baseball!). This is part of why they brought Gray in: to win big games, particularly in division. Sonny days are ahead.