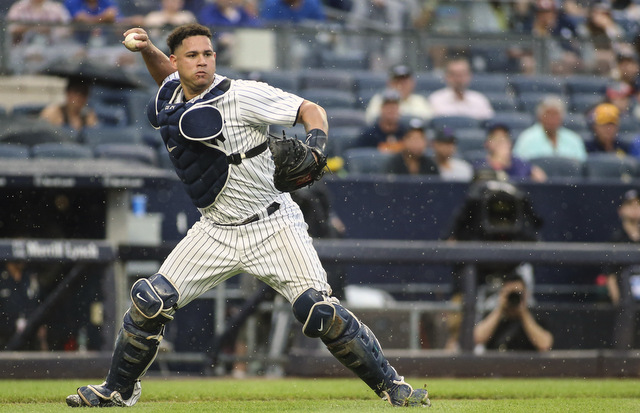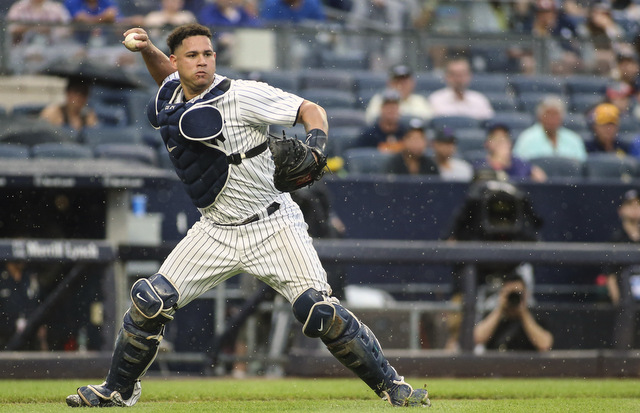 Yesterday afternoon, for the second straight game, Gary Sanchez was not behind the plate for the Yankees. He started at designated hitter Saturday and did not play at all Sunday. Austin Romine caught the day game after the night game. Joe Girardi said Sanchez would catch Sunday after Saturday's game, but nope, didn't happen. "I really loved what Romine did," said Girardi, explaining the change in plans.
Sanchez did not catch Saturday and Sunday for one reason and one reason only: his defense. He's struggled blocking balls in the dirt all season and it all came to a head Friday night, when Sanchez didn't stop a Jaime Garcia fastball and a run crossed the plate. Here's the play:
That was Sanchez's league leading 12th passed ball of the season. He missed about a month with the biceps injury earlier this season, remember. That's 12 passed balls in 553.2 innings. Yasmani Grandal, the only other catcher with double-digit passed balls this year, has eleven in 708 innings. Sanchez is first in passed balls and 20th in innings caught. That's not good.
Sanchez's inability to consistently block blockable pitches is unquestionably a problem. I can't imagine anyone will disagree. Is it enough of a problem that all of this was necessary? The back-to-back Romine starts, all the public comments, and taking Sanchez's bat out of the lineup Sunday? I know the Yankees broke out for eight runs without Sanchez, but still. Let's talk this all out.
1. Yes, this is a message. Prior to yesterday's game Girardi insisted sitting Sanchez in favor of Romine was not a message. Here's exactly what he said, via Andrew Marchand:
"The start is not the message," Girardi said. "The message came from us verbally that, 'Your defense needs to improve. That you need to get better. You need to work at it.' We have stressed how important it is. There are certain situations that some people may not think that something that happens in the game affects the next game. It could if it leads to 10 extra pitches for a reliever."
Come on. This was very clearly a message. You can talk to the player as much as possible and tell him whatever you want. Nothing will get a player's attention quite like taking away his playing time. Girardi did not fall so in love with anything Romine did Saturday that he just had to put him in the lineup Sunday. Nope. Sitting Sanchez yesterday was a message, and that message was you need to be better defensively.
2. Is it possible the passed ball problems are being exaggerated? Like I said, Sanchez has allowed 12 passed balls in 553.2 innings this season. That's one every 46.1 innings. One every five games plus one inning, or thereabouts. One a week, basically, when you factor in rest days and all that. Is one passed ball a week that huge a deal when a guy is hitting .265/.339/.488 (119 wRC+)? Eh, maybe it is.
The real problem isn't 12 passed balls in 553.2 innings. It's three passed balls in the last five games and five passed balls in the last 12 games. Sanchez committed only seven passed balls in his first 52 games, and now it's five in the last 12 games. That's making all this look worse than it really is. That's probably not the right way to put it. Five passed balls in 12 games is a definite problem. Sanchez hasn't been allowing them at that pace all season though.
Perhaps this is a fatigue issue? This is Sanchez's first full season as a starting big league catcher, and while he's caught full seasons in the minors before, it's not really the same thing. There's much more responsibility at this level. Add in the All-Star Game and the Home Run Derby and all that, and I'm guessing the body isn't feeling as fresh these days as it usually does. Sanchez is only 24, but man, catching is brutal.
3. There's more to catching than blocking balls. Defense stats in general are pretty sketchy, and that goes double for catcher defense stats. It's hard to quantify what they actually do back there, especially when it comes to working with pitchers. Here, for the sake of discussion, is where Sanchez ranks among the 87 catchers to play a big league game this season in the various catcher defense metrics at Baseball Prospectus:
Framing: +4.0 runs (13th)
Blocking: -1.3 runs (80th)
Throwing: +0.8 runs (10th)
Total Fielding: +3.5 runs (15th)
Blocking pitches is the only thing Sanchez does poorly according to these stats, which may or may not be accurate. I don't see how looking at these is any different than the pointing out Sanchez leads the league in baseball balls. The more information, the better. These are all tools in the shed. To call Sanchez a bad defensive catcher is unfair. He's bad at blocking balls. He's a quality framer and thrower and that stuff matters too.
4. Sanchez won't improve on the bench. Let me make something crystal clear: Sanchez is the catcher of the present and the catcher of the future. He's not moving to first base or designated hitter anytime soon. Great teams are strong up the middle and Sanchez is the man behind the plate. And that's probably part of the reason these passed balls are so frustrating. You can't help but want him to be that complete player right now.
That's not really how it works though. Catching is very hard and pretty much every young catcher struggles with something. Most struggle offensively because they're so focused on defense. Not everyone comes up and is an immediate two-way impact player like Buster Posey. Posey's going to the Hall of Fame (yup) because there was no learning curve. He had instant success. Not everyone is so lucky.
Sanchez is not going to become that catcher of the future by sitting on the bench. He does all the drills with Tony Pena, arguably the best catching instructor in baseball, but nothing can replicate game action. You want Sanchez to be better at blocking balls in the dirt? Then you've got to put him in the game and make him block balls in the dirt. That's the only way. If Girardi and the Yankees want Sanchez to improve, they can't continue to bench him.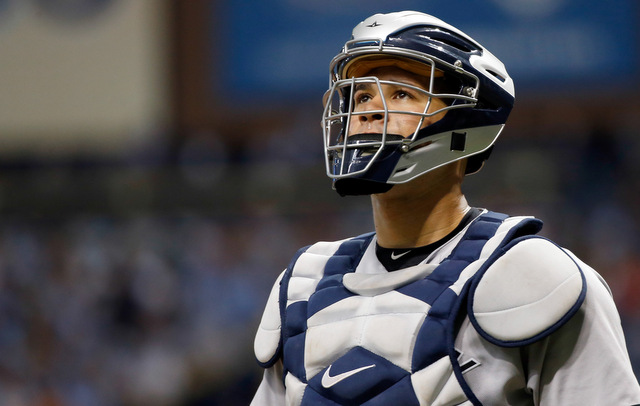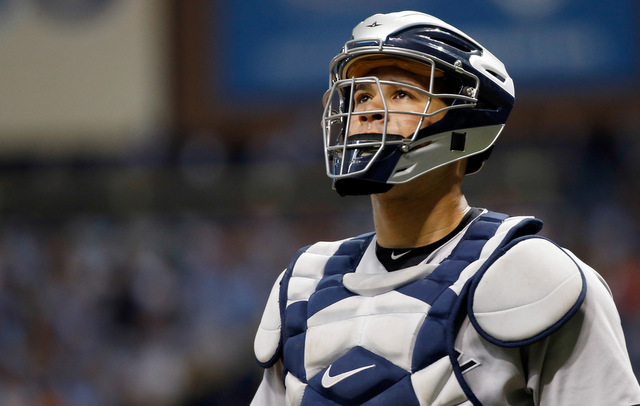 5. Girardi went about this in the best way possible (probably). Think about how long this had to be brewing for Girardi to say what he said Friday — "He needs to improve. Bottom line, he needs to improve" — and to actually go through with benching Sanchez on Sunday. Girardi is very protective of his players. He typically defends them even when they aren't worth defending.
We saw Girardi pull Sanchez aside in Chicago a few weeks ago, when he let a Masahiro Tanaka splitter get through his legs. I can only imagine the conversations we haven't seen. This has been going on for a while now and Girardi finally decided enough was enough, it's time for tough love. Words aren't working so it's time to send a message the most effective way a manager can send a message, and that's by taking away playing time.
Girardi said what he had to say Friday. He let Sanchez serve as the DH on Saturday, then sat him out entirely on Sunday. There's an off-day today, so that's three straight days away from catching for Sanchez. Three days away from catching but only one game completely on the bench. It gets Sanchez away from catching long enough to drive home the "you need to be better" point without hurting the team that much.
* * *
The Yankees and Girardi know Sanchez better than anyone. They know when to be gentle with him and they know when to be tough. The passed ball problems have become extreme of late — again, three in his last five games and five in his last 12 games — and they couldn't go unaddressed any longer. No one actually thinks the Yankees are a better team with Romine behind the plate, right? I mean:
Pitchers with Sanchez: 3.48 ERA (3.43 FIP) with 25.8% strikeouts and 7.2% walks
Pitchers with Romine: 4.22 ERA (4.02 FIP) with 24.1% strikeouts and 8.7% walks
If the pitchers prefer throwing to Romine, it isn't showing up in the stats. Are they more comfortable bouncing a two-strike breaking ball with Romine behind the plate? Yeah, probably. Do they enjoy having a great hitter at the catcher position and getting all that run support? You bet they do. Literally the only thing Romine does better than Sanchez is block balls in the dirt. The numbers say Sanchez is a better framer and thrower, and I'm pretty sure he could out-hit Romine one-handed.
The Yankees are going to continue to work with Sanchez to improve his defense, and, truth be told, he's already worked really hard to get to where he is today. Sanchez was not a great defender when he signed as a teenager. He was never Jesus Montero bad, but he was bad. Now he's not so bad, recent passed ball issues notwithstanding. Sanchez is a core player for the Yankees going forward and the Yankees are going to spend a lot of time and energy helping him get better. The benching this weekend was a timeout intended to remind Gary he can be better, not a sign his days at catcher are numbered.