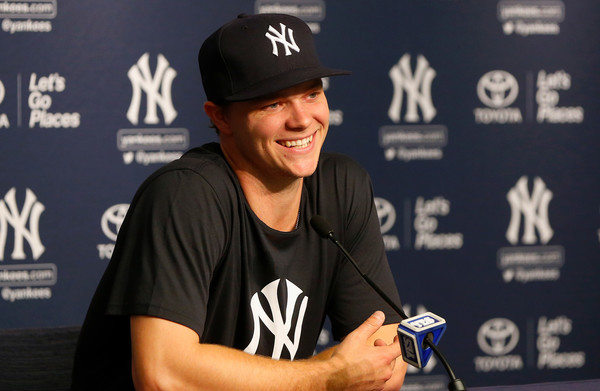 If you're reading this, chances are you know a little bit about me. For those of you who don't, let me tell you that I'm a teacher (high school English) by trade. In my experience as a teacher, I've had to rely on one trait more than any: flexibility. It took me a long time to land a full time position, so I was 'stuck' doing long-term sub positions in southwestern Connecticut from April 2013 to February 2016. In that time, I taught grades 7, 9, 10, 11, and 12 in five different schools (one middle, four high) to different populations, from different courses/curricula, and in five different districts. To boot, most of the time, I was parachuting in after the start of the year and had to find my bearings on the fly. If not for flexibility, I'd've drowned. It might be time to exercise similar flexibility for the Yankees.
All year, I've been saying this is a 'house money' season for the Yankees. Given the roster, expectations weren't high; a second wildcard spot seemed like the ceiling. Of course, early season hotness blew the doors right off of that. Despite some hiccuping in June, the Yankees went into the trade deadline like buyers and came away with a much improved Major League roster and, until recently, a first place position in the AL East. Now, they sit in the first wildcard seat, controlling their own destiny. And with many games left against the first place Red Sox, the division isn't far out of reach.
According to the FanGraphs projection mode, the Yankees have a 69.4% chance of making the playoffs. Using the season-to-date mode, their playoff chances are even higher at 79.8%. If we flip over to the Baseball Prospectus playoff odds table, they're at 81.8%. Coupling this with the Yankees' deadline moves and the general feeling you get, it'd be hard to call missing the playoffs anything aside from a disappointment.
If we allow ourselves some dispassion for a minute, we can rationalize a missed playoff run. Aaron Judge will have had a killer season. Gary Sanchez, too. Clint Frazier came up and held his own. Luis Severino and Jordan Montgomery will have taken huge steps forward. Didi Gregorius, too. With Sonny Gray aboard, the rotation for 2018 feels a lot better than it did even a month ago. Those are all great things for the Yankees in 2017 and 2018, regardless of this year's record.
But dispassionate analysis is for the offseason. Right now, we're in the heat of things, quite literally as August marches on. I want this team to make the playoffs. This team can and should make the playoffs. They've worked hard and gone through some rough patches and 'deserve' to have that rewarded with a real shot at number 28. The rotation and bullpen are stacked for a playoff run and they could do some real damage in a short series, especially if the bats heat back up to support them.
Another important factor of teaching is holding students to high expectations, or at the very least, adjusting those expectations as they perform. The Yankees have performed above and beyond their original expectations for 2017 and it's time to ask more of them. Play today. Win today. That's it.