Remember the no shutout streak? That was fun. The Yankees have now been shut out twice in the last eight games and three times since the All-Star break. Wednesday night's eleven-run outburst was followed with zero runs and RISPFAIL of epic proportions Thursday night. The Yankees lost 4-0 to the Blue Jays in the series finale. They are 39-42 in their last 81 games.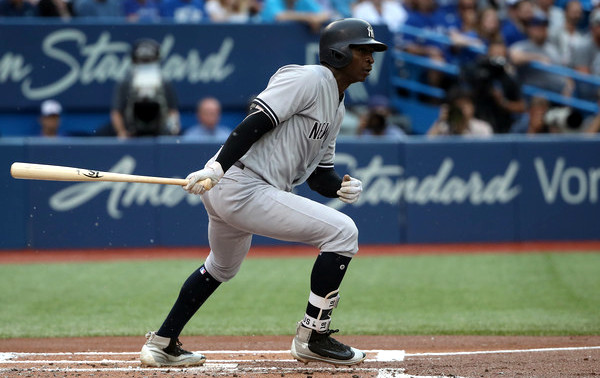 RI(S)P
Is it better to have chances and never score, or to never have chances at all? We've seen a little of both these last few weeks, but Thursday's game was definitely the former. The Yankees has plenty of chances Thursday. Two runners in the first, one in the second, one in the third, two in the fifth, two in the sixth, one in the eighth, two in the ninth. All stranded. Every last one of 'em. Five walks, three doubles, three singles, zero runs.
I'd say the most annoying blown chance came in the fifth inning. Garrett Cooper started the inning with a single and Ronald Torreyes followed with a walk. Toe drew a walk! His seventh of the season. The Yankees were down 3-0 at the time, but the eight and nine hitters reached base to set things up for the top of the lineup with no walks. The next three batters: fly out, pop up, strikeout. Should Brett Gardner have bunted the runners up there? Maybe. I'm not sure it would have mattered anyway.
The Yankees went 0-for-9 with runners in scoring position overall and it was a total team effort. Every regular in the starting lineup had at least one at-bat with runners in scoring position except Todd Frazier. Also, fun fact: the Yankees had eleven baserunners but only one made it as far as third base. That was Aaron Judge in the first inning. He drew a walk and Didi Gregorius doubled him to third. Stranded. Stranded stranded stranded.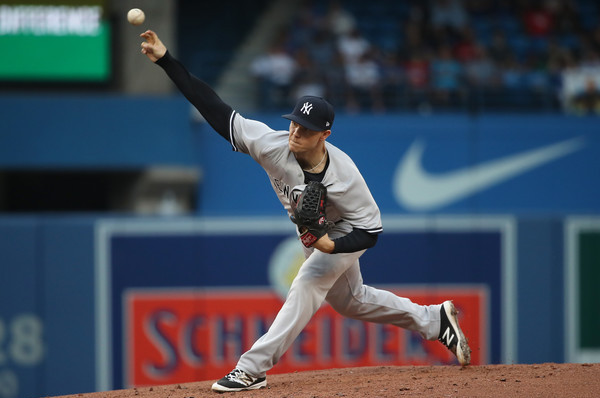 Sonny Grinds
Sonny Gray wasn't particularly sharp in the early innings Thursday, and by time he found it, it was a little too late. He walked four batters and was generally up in the zone. Up and out of the zone at times. The end result: 6 IP, 4 H, 3 R, 2 ER, 4 BB, 6 K. He threw 103 pitches. This was one of those "a lesser pitcher probably gives up six runs early" starts for Gray. He battled to keep the Blue Jays to three.
Toronto scored their first run on a double, an error — Gray threw a pickoff into center field — and a weak tapper back in front of the mound. Gray didn't have time to do anything other than shuffle it to Gary Sanchez with his glove, but he couldn't do it quick enough. Run scores. And inning later a walk, a steal, and a Josh Donaldson single gave the Blue Jays a 2-0 lead. In the fourth a single, a bunt, a walk, and a single made it 3-0. Kevin Pillar went down for a two-strike curveball and chopped a grounder through the left side there.
Gray has now thrown 12 innings as a Yankee and there have been four errors behind him. One was his own error, so I guess it's really three errors behind him. In those 12 innings, the Yankees have scored exactly zero runs. Gray's run support is zero. The Yankees scored one run in his previous start — Sanchez hit a solo after Gray was out of the game — and none tonight. Rough. Sonny probably wishes he was back with the A's to get some run support.
Leftovers
Cooper was the only Yankee with multiple hits. He had a single and a double. Gregorius and Judge each had a double as well. Sanchez and Frazier had singles. The walks belonged to Gardner, Judge, Sanchez, Torreyes, and Jacoby Ellsbury. I'm glad the Yankees are getting runners on base. That's better than nothing, But geez, at some point cash those baserunners in.
Chasen Shreve was the only reliever used Thursday and he allowed a Jose Bautista solo homer in two otherwise uneventful innings. At least the top relievers got to rest. Good thing MLB juiced the ball this year so Bautista could get to 20 homers. (He now has 19.)
And finally, welcome back Aaron Hicks. He went 0-for-5 with a strikeout and looked like a guy still on a minor league rehab assignment. The Yankees did bring him back a day early, so I guess that's to be expected. Welcome back, A-A-Ron.
Box Score, WPA Graph & Standings
Head on over to ESPN for the box score, MLB.com for the video highlights, and ESPN again for the updated standings. Here's our Bullpen Workload page and here's the loss probability graph:

Source: FanGraphs
Up Next
The road trip is over and the Yankees are heading home for a five-game homestand that might as well be a seven-game homestand because they're playing two games at Citi Field. First up: three games against the Red Sox. The most important series of the season so far. Lefties Jaime Garcia and Eduardo Rodriguez will be on the mound in Friday night's opener. RAB Tickets can get you in the door if you want to catch any of the Red Sox games or Mets games in person.