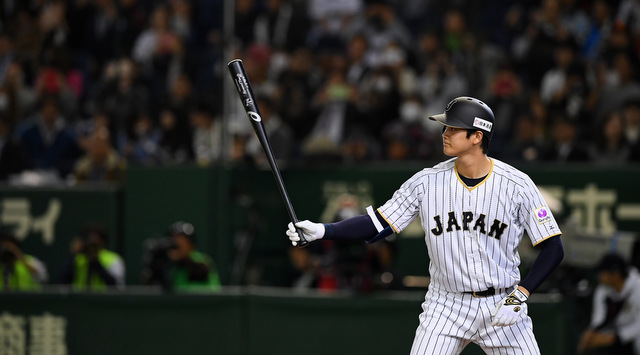 The 2017 regular season is fast approaching the stretch run, meaning rosters will soon expand and postseason races will really start to heat up. Four weeks and three days. That's all that remains in the regular season. I swear, the season goes by a little faster each year. I guess that's a function of getting old.
Anyway, even with the final month of the regular season on tap, clubs are already starting to look ahead to the offseason, either because they're rebuilding and want to reshape their roster, or they're contending and want to bring in more help. All 30 teams, regardless of whether they're rebuilding or contending, figure to be interested in Nippon Ham Fighters ace/slugger Shohei Otani, who may or may not be posted this winter.
According to David Lennon and Erik Boland, Brian Cashman headed to Japan this week to get a firsthand look at Otani, and he is only the latest big name executive to do so. Dodgers president of baseball operations Andrew Friedman recently went to see Otani as well. Otani has been hampered by an ankle injury all season, though Jon Morosi reports he will make his first start today, so I imagine more talent evaluators are going to see him.
It's unclear whether Otani will actually be posting this offseason, though, for what it's worth, Jon Heyman suggests the Yankees and Red Sox could be gearing up for bidding war. (Morosi says the Yankees are among Otani's most serious suitors.). I say a "bidding war" because Otani will be limited to the international hard caps, so the bids can only go so high. Heyman says both the Yankees and Red Sox have traded for the maximum allowable additional hard cap space, giving them $8M to spend internationally during the 2017-18 signing period.
Both teams have, of course, already spent a lot of that money. They both loaded up on Latin American amateurs when the 2017-18 signing period opened on July 2nd. It's impossible to know exactly how much of their $8M bonus pools they've spent so far because so many international deals go unreported. Here's the little we know:
Based on that, the Yankees can make Otani a much larger offer than the Red Sox. That's great. The problem is if Otani does come over this year, it won't be because he's chasing top dollar. If securing top dollar was the priority, Otani would spent 2018 and 2019 in Japan, make more than he'd make here as a pre-arbitration player, then come over once he is no longer subject to the international hard cap.
(The Dodgers, by the way, are limited to $300,000 bonuses this signing period as a result of previous international spending. The same is true for other potential Otani suitors like the Cubs, Nationals, Astros, Cardinals, Braves, Padres, and Giants.)
If Otani does come over — and I still think this is a pretty big if — chances are his decision will come down to factors other than money. Example: who will let him hit? That seems like a potential big one. The team that gets Otani very well may be the one that agrees to let him DH on days he doesn't pitch. Location, chances to win, and things like that figure to be considerations as well. Point is, if Otani does come over, it won't be strictly for money. Being able to offer more doesn't hurt, but it doesn't guarantee anything.
Cashman going to Japan is a pretty good indicator the Yankees are very interested in Otani. Cashman isn't flying halfway around the world for nothing. I'm curious to know who went with him. Cashman is not a scout. He's an administrator, not a talent evaluator. Very few general managers these days came up through the scouting ranks and even fewer played once upon a time (Jerry Dipoto is the only former MLB player turned GM in baseball right now). Times have changed.
Anyway, Mike Mazzeo says Cashman brought assistant general manager Jean Afterman on the trip, which makes sense. She has worked with Japanese players for a long time, both on the team side and agent side. I'm sure Cashman also brought a few of his top lieutenants on the trip. Vice president of baseball operations Tim Naehring, vice president of player development Gary Denbo, pro scouting director Kevin Reese, special assistant Jim Hendry, senior advisor Gene Michael, and so on. The Yankees had eyes on Masahiro Tanaka for a long, long time before he became available. I'm sure they'll have (and have had) many different folks see Otani, though the ankle issue threw a wrench in things this year.
For now, the next several weeks are all about the end of the season and the postseason races, and then hopefully a long postseason run as well. We still don't know whether Otani will come over to MLB this winter. The only thing the Yankees and every other team can do is prepare. Scout him, analyze the numbers, the whole nine. The Yankees have international money to spend, at least in theory, though I suspect money will not be the deciding factor for Otani.