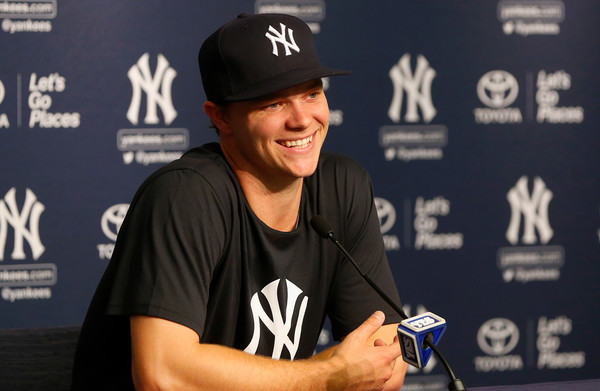 The Yankees will (finally) get a look at their newest starting pitcher tonight. Sonny Gray is making his Yankees debut in tonight's series opener against the Indians, and unless he can drive in a runner from third base with no outs, he's going to have pitch pretty darn well to have a shot to win given the way the offense is going right now. I'm sure Gray is feeling some jitters. I'm excited.
Also, we can't forget this series is something of a homecoming for Clint Frazier. The Indians made him the fifth overall pick in the 2013 draft and he never did get a chance to play in Cleveland thanks to last year's trade. This will be his first game against the club that drafted him. I'm sure he's looking forward to it. That natural "I'll show you what you're missing out on" feeling comes into play. Here is the Indians' lineup and here is the Yankees' lineup:
LF Brett Gardner
RF Clint Frazier
SS Didi Gregorius
DH Gary Sanchez
CF Jacoby Ellsbury
1B Chase Headley
3B Ronald Torreyes
C Austin Romine
2B Tyler Wade
RHP Sonny Gray
Not the best baseball weather in Cleveland tonight. It rained pretty much all afternoon, though it's supposed to stop basically right now, so once they get the field in order, they'll be good to go. It won't rain again until the early morning hours tomorrow. Tonight's series opener will begin at 7:10pm ET and you'll be able to watch on YES. Enjoy the game.