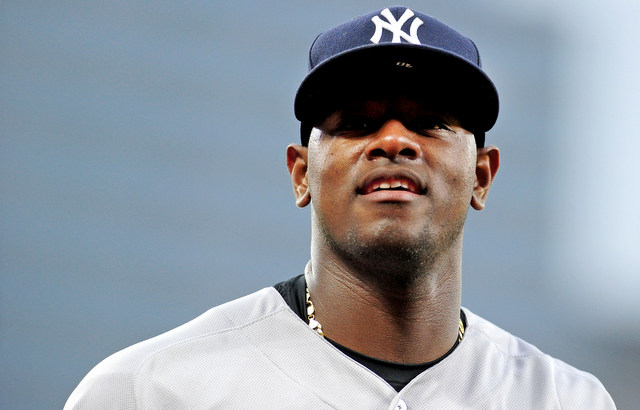 Good win last night. Fun win. Now the Yankees have to do it again. Maybe it doesn't have to be that dramatic — I would like an easy win one of these days, guys — but the goal is another win. The Yankees need to make up ground in the AL East race — they're 3.5 games back coming into today — and there's no better way to do it than by beating the Red Sox head-to-head.
Fortunately, the Yankees have their best starting pitcher on the mound this afternoon. Luis Severino is not just the best starter on his team. He's one of the best in baseball. Severino currently ranks fourth among all pitchers in fWAR (+4.3) and sixth in bWAR (+4.5). He's top ten in basically every pitching stat that matters. What a great season. Go get another win, Sevy. Here is the Red Sox's lineup and here is the Yankees' lineup:
LF Brett Gardner
RF Aaron Hicks
DH Aaron Judge
C Gary Sanchez
SS Didi Gregorius
3B Todd Frazier
1B Chase Headley
CF Jacoby Ellsbury
2B Ronald Torreyes
RHP Luis Severino
Not a great day for baseball in New York. It's cloudy and humid, and that means rain's coming. The internet tells me the thunderstorms are due to arrive around 7pm ET and last for an hour or two. Hopefully they don't interfere with the game. This afternoon's contest will begin at 4:05pm ET, and you'll be able to watch on YES locally and Fox Sports 1 nationally. Enjoy the game.
Rotation Update: In case you missed it earlier, Masahiro Tanaka has been placed on the 10-day DL with shoulder inflammation and Jordan Montgomery was hit in the head by a line drive during batting practice. Montgomery is scheduled to start tomorrow and Tanaka was scheduled to start Monday. The Yankees will definitely need a spot starter for Monday. They might need one tomorrow too.