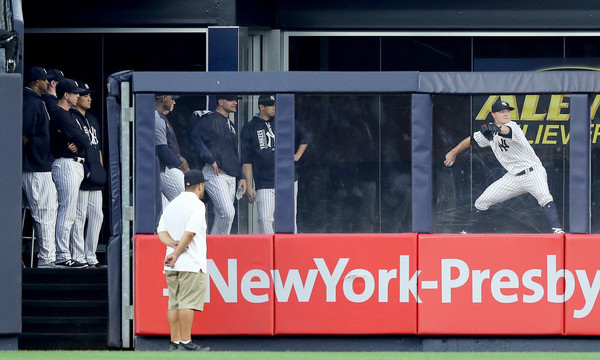 Big game today. They're all kinda big games at this point, but especially today because today's the difference between three games back in the AL East and five games back in the AL East. The Yankees have an off-day tomorrow, so I imagine Joe Girardi won't hold back with the bullpen. If he needs four or five outs from David Robertson or Dellin Betances, he's going to ask for them.
Sonny Gray is getting his first taste of the Yankees-Red Sox rivalry this afternoon and that should be fun. He's thrown at least six innings and allowed no more than two earned runs in nine straight starts, far and away the longest such streak in the AL. The Yankees could use another effort just like that. And runs, too. Lots of runs. The more the merrier. Here is the Red Sox's lineup and here is the Yankees' lineup:
LF Brett Gardner
CF Aaron Hicks
RF Aaron Judge
SS Didi Gregorius
C Gary Sanchez
1B Chase Headley
3B Todd Frazier
DH Tyler Austin
2B Ronald Torreyes
RHP Sonny Gray
Perfect day for baseball in Boston. Nice and sunny and not too hot either. Good day to spend at the ballpark. Today's series finale will begin at 1:30pm ET and you'll be able to watch on YES locally and TBS nationally. Enjoy the game.
Injury Update: Clint Frazier (oblique) is still in rest mode. He is feeling better but has not yet been cleared to swing. Hard to think we'll see him before rosters expand on September 1st.