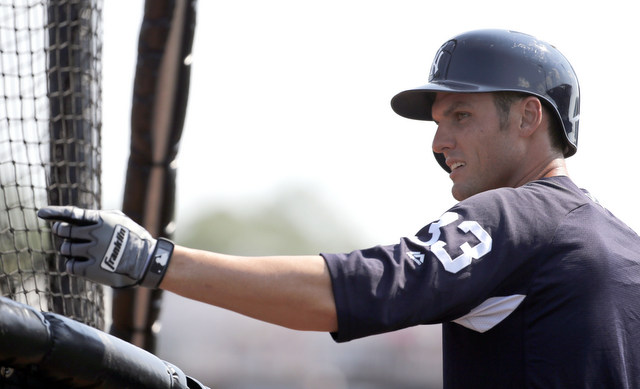 Later tonight Greg Bird will play his first minor league rehab game since last month's surgery to remove a superfluous bone from his right ankle. The ankle injury had sidelined him since early-May and, in all likelihood, it contributed his ugly start to the season. It's hard to hit when your ankle is hurting. You need a strong base underneath you to drive the ball.
Given how much time he's missed, chances are Bird's rehab assignment will be a little longer than usual. This won't be two or three games then bam, he's back with the Yankees. The Yankees start an eight-game road trip tonight — the first two games are at Citi Field, so it's essentially a six-game road trip — and my guess is they're targeting the start of the next homestand (next Friday) as Bird's return date. We'll see.
"Three weeks ago, I was in a boot and on crutches. I'm just really excited to get back to playing," said Bird to Bryan Hoch yesterday. "Everything's been going great. It'll be nice to play. It's great just working out and taking BP, but even in the spring, it gets repetitive. You want to play … I'm ready. I'm right where I need to be and I'm ready to go. It'll be nice to get some at-bats and see live pitching. As simple as it sounds, I'm just excited to play and that's a good thing — and ready to play."
Whenever he does return — after weeks of questions, it sure seems Bird will indeed return at some point this year — the Yankees are going to stick Bird right back into the starting lineup. There's no doubt about it. The DH spot is open thanks to Matt Holliday's injury, but even if Holliday is back by then, the Yankees have shown they'll sit veterans for young players. Jacoby Ellsbury is (mostly) riding the bench right now for that reason.
It's unclear what, exactly, Bird will give the Yankees when he returns simply because he's missed so much time. Not just this year but last year as well. Including Spring Training, Bird has 263 plate appearances since the start of last season. That's not much at all. A week long minor league rehab stint might be enough to shake off all the rust. Bird was unreal in Spring Training, so that impact bat is still in there. Hopefully it shows up sooner rather than later.
Now, that all said, the Yankees have an obvious need for another left-handed power bat. Their lineup is right-handed heavy and at times the other team has been able to exploit that with power right-handed arms. Here's where New York's left-handed hitters rank among the 30 teams this season:
PA: 1,849 (17th)
AVG: .259 (14th)
OBP: .340 (6th)
SLG: .427 (14th)
wRC+: 105 (11th)
HR: 60 (14th)
That's not awful in the grand scheme of things. But middle of the pack in slugging and home runs? In Yankee Stadium? Oy vey. Like I said, the Yankees could really use another left-handed power bat for the middle of the lineup and Bird has the potential to provide it, assuming last year's shoulder surgery and this year's ankle surgery don't hamper him too much right out of the gate.
Essentially, what the Yankees need from Bird in 2017 is what he gave them in 2015. Come up, join the lineup, and contribute right away. That's asking a lot! Maybe too much given the injuries. Then again, the Yankees asked Bird to do it as a rookie with no MLB experience two years ago, and he responded with a .261/.343/.529 (137 wRC+) batting line and eleven homers in 46 games. Bird and Carlos Beltran were the team's best hitters down the stretch.
The 2015 Yankees and 2017 Yankees have one thing in common. They were both in first place at the trade deadline before quickly slipping in the standings, mostly due to a sputtering offense. The similarities pretty much end there. The 2015 Yankees were old. Didi Gregorius was their only regular under 30 and he had yet to find himself as a hitter. The 2017 Yankees are build around 20-somethings Aaron Judge, Gary Sanchez, Aaron Hicks, healthy Starlin Castro, and the hey I can hit version of Didi.
That right there is the biggest difference between 2015 and 2017. That 2015 season felt like the last chance to win with that aging core before things collapsed. This season the Yankees are a team on the rise and it feels like they're about to get started on a run of perennial contention. Of course the Yankees want to make the postseason this year, though it feels like there is less urgency to do so. They won't risk the future for the present.
Remember, when the Yankees called Bird up in 2015, it was to give Alex Rodriguez and Mark Teixeira rest a few days a week. Those two were fading and the Yankees wanted to get them off their feet down the stretch, so Bird was given a chance. Then Teixeira got hurt and suddenly Bird was thrust into a starting role. This year Bird came into the season as the starting first baseman. He hit third on Opening Day! He wasn't some out of nowhere success story.
Given his ongoing injury problems, I wouldn't blame you for being skeptical about Bird's ability to contribute down the stretch. I am myself. It feels like any time he's poised to step in and become a big factor for the Yankees, he gets hurt. It sucks, but it is what it is. The Yankees have stayed in the race without Bird all season, and they've done that while getting some of the worst first base production in baseball. When Chase Headley has been, by frickin' far, your best first baseman, it's a problem.
Bird is going to begin his rehab assignment tonight and it seems he will have a chance to repeat what he did in 2015, meaning arrive late in the season to provide the Yankees a nice offensive lift. The circumstances are different given Bird's injuries and the state of the Yankees in general, but that part remains the same. It would've been pretty great to have a healthy Bird from Opening Day. Getting a healthy Bird down the stretch in August and September is the next best thing.