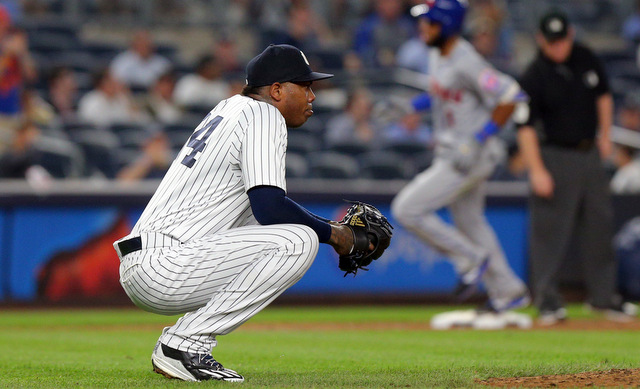 The Yankees have a bit of a closer problem right now. Aroldis Chapman was able to close out last night's game, though not before allowing a two-run home run to Amed Rosario. It was the third straight game in which Chapman has allowed a run. Already this year Chapman has allowed more runs than he did in any season from 2014-16, and that's despite missing a month with an injury and there still being six weeks to go in the season.
The Yankees have had a closer problem pretty much all season, but things are really starting to come to a head now, with the postseason races heating up and every win being so crucial. They're 4.5 games back in the AL East and can't afford to fall any further behind, and they're 3.5 games up on a wildcard spot with about seven teams breathing down their neck. Letting late leads slip away is a good way to blow a postseason spot, and Chapman has done this a few too many times this year.
The facts: Chapman has been more hittable this season and he isn't missing as many bats as he once did. He still misses a lot of bats compared to the average pitcher, but his swing-and-miss rate is way down compared to the rest of his career. The Yankees didn't give Chapman a record contract to be a bit better than average. They brought him in to be super elite and to lock down every late lead. Some numbers:
Strikeout Rate: 32.2% (career 41.6%)
Swing & Miss Rate: 12.4% (career 17.2%)
Opponent's Batting Line: .229/.325/.336 (career .162/.267/.237)
Everything is down — well, up in the case of the opponent's batting line, but you know what I mean — and it goes beyond those three stats as well. Chapman's chase rate is down, so hitters aren't expand the zone as often. His hard contact rate is up too, so when batters do get the bat on the ball, they're hitting it fairly well. Here's what really scares me: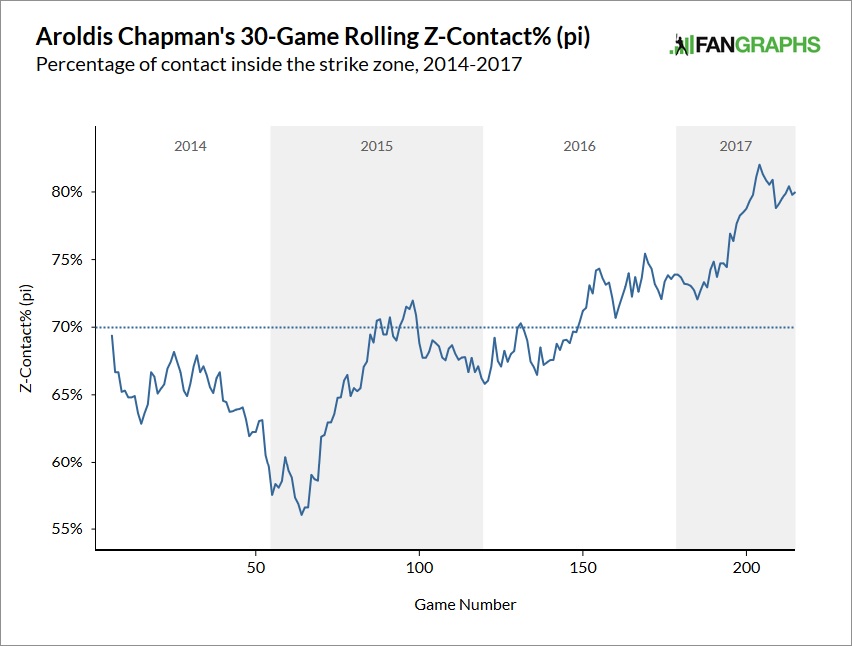 The ability to miss bats in the strike zone, the very essence of what has made Chapman so dominant in his career, has been fading. And this is all related, of course. Chapman's strikeouts are down and his hard contact is up because hitters are making more contact on pitches over the plate. Why is that happening? I don't know. We've tried to figure it out. Whatever it is, something's not right. This clearly isn't the same guy we saw last year.
I don't want this to turn into another "what's wrong with Chapman" discussion, so let's get away from that and get down to the matter at hand: should Chapman remain the closer? I mean, no, because he is clearly not the best (or second best, or third best, or fourth best, or even fifth best at this point) reliever in the bullpen. I'm not sure anyone would argue otherwise. The following two statements are true:
The Yankees have several better options to protect a small lead in the late innings right now. David Robertson is the easy replacement closer candidate, though Monday night, it was Robertson in the eighth and Dellin Betances in the ninth. Both guys are qualified to close.
The Yankees need to get Chapman back on track. As deep as the bullpen is right now — seriously, they could let Robertson and Betances share closing duties, and still have Chad Green and Tommy Kahnle (and Adam Warren!) for all other situations — the Yankees are at their best when Chapman is Chapman.
Chapman said all the right things following the game last night. "My job is to be ready to pitch everyday. As far as where I pitch, that's not up to me. If at some point they need to remove me from the closer's position, I'm always going to be ready to pitch," he said to Brendan Kuty. Does Chapman want to close? Of course. Everyone does. And that's good. You want your players to be motivated.
For the Yankees, however, giving up on Chapman as their closer four months into a reliever record five-year contract would be pretty embarrassing. Also embarrassing: missing the postseason for the fourth time in five years. That's what's at stake here. It's one thing to ride it out with Derek Jeter hitting second in his final season just because he's Derek Jeter. It's another to stick with a struggling Chapman in close games because he's so early into his mammoth contract.
The Yankees may have been thrown a bit of a lifeline last night when Chapman pulled up lame covering first on the final play of the game. He hurt his right hamstring, and while Chapman said it's no big deal, the Yankees are going to send him for tests today. A minor hamstring injury would open the door for a quick reboot on the 10-day DL. Let someone else close for the time being and let Chapman work through some things during his side work without tying up a roster spot. That sort of thing.
Keep in mind the Yankees have resisted these phantom DL stints — this one might not a phantom DL stint given the hamstring, but you know what I mean, those "he's not really hurt but we want him to step back and regroup" DL stints — for whatever reason. Masahiro Tanaka was arguably the worst pitcher in baseball in April and May and we all kept waiting for the phantom DL stint that never came. The Yankees stuck with him and hey, Tanaka turned it around.
Things are slightly different here because a struggling closer means blown leads and wins turning into losses. Closer is a high-profile role, and when that guy fails, it's plastered on the front page the next morning. Blown saves are demoralizing. So maybe the Yankees, knowing they have a deep bullpen and better options available, would be more open to giving Chapman a little ten-day vacation in an effort to sort things out on the side. Assuming the hamstring injury is as minor as Chapman says it is, of course. Hopefully it is.
Ultimately, the Yankees are at their best when Chapman is dominating and closing games out in the ninth inning, freeing up Robertson and Betances and everyone else to handle the middle innings. Right now though, Chapman is a liability, and the Yankees don't have the luxury of rolling the dice in close games. They need those wins to stay in the postseason race and Chapman is not the best man for the closer's job at the moment. It couldn't be any more clear.
"I haven't (thought about making a change at closer) yet," said Joe Girardi to Kuty following last night's game. Obviously, I rethink everything everyday, but it's quite quick after the game and I haven't really thought about it … I still really believe in him. There are other guys in that bullpen who have had tough times this year and we didn't abandon him. If you start doing that every time a player starts having a rough time, it can be risky."
The priorities here are, in order, winning games and getting Chapman back on track. The latter will help you do the former, but the latter hasn't happened yet. If the hamstring doesn't land Chapman on the DL, a temporary demotion to lower leverage relief work is in order. This is not two or three rough outings. It's been pretty much all season. The Yankees have to get Chapman right. Not cross their fingers and hope he protects late leads when better options are available. Until he gets back on track, someone else should handle the ninth inning.