Hooray for a blowout win. A blowout win that wasn't a blowout until the late innings, but I'll take it. The Yankees have been really struggling to score runs the last ten days, so getting runs at any time is appreciated. The offense broke out big time Wednesday night for an 11-5 win over the Blue Jays.
Score Early
Due to an injury to emergency fill-in start Cesar Valdez, the Blue Jays had to turn to super duper emergency fill-in starter Nick Tepesch on Wednesday night, and he seemed like someone a contending team should punish. Tepesch has a 5.58 ERA (4.68 FIP) in 49 Triple-A innings this season, and in his lone big league spot start, he allowed seven runs in 1.2 innings. That's someone you have to beat if you want to get the postseason.
Things were looking good right off the bat. Brett Gardner started the game with a double down the left field line. Alright, okay. Good start. Pop-up, fly ball, ground out. Inning over, Gardner standed at second. Groan. Felt like it was going to be one of those nights again after that. Fortunately, the Yankees did what they had to do against Tepesch thereafter. Gary Sanchez and Todd Frazier strung together back-to-back homers in the second, and Didi Gregorius tacked on a solo shot in the third for a 3-1 lead.
The fifth inning is when the Yankees really got to Tepesch, and they very nearly blew that opportunity. An Aaron Judge walk and a Gregorius double set the Yankees up with runners on second and third with one out, though Sanchez struck out, and suddenly the rally was on life support. Fortunately Frazier came through with a big two-out double to score the two runs, and Jacoby Ellsbury followed with a double to plate Frazier.
Two of those three fifth inning runs were charged to Tepesch — he finished having allowed five runs in 4.1 innings — even though reliever Leonel Campos gave up the back-to-back two-out doubles. The Frazier double was the biggest hit of the game. It felt like the team's biggest hit in weeks, though I also said that after Ellsbury's bases clearing triple in Cleveland over the weekend, so whatever. It was a big hit. That's all that matters. That three-run fifth inning gave the Yankees a 6-2 lead.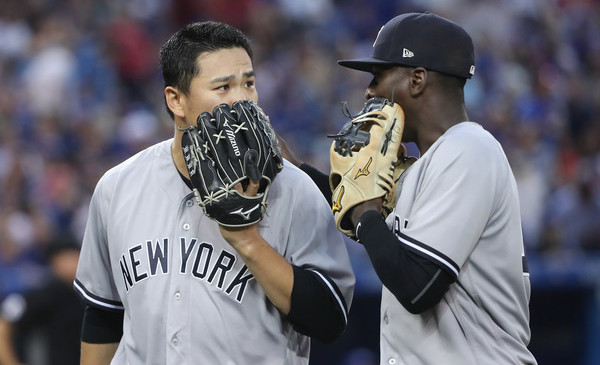 Four & Fly
You could tell right away Wednesday night would be a grind for Masahiro Tanaka. He wasn't locating in the first inning and he didn't have a finish pitch working. The Blue Jays were spitting on his splitter like they knew it was coming. He threw that pitch 18 times and got one swing and miss. That's not Tanaka. Not when he's right. Tanaka had to go to battle without his best stuff or best location Wednesday.
The result? Five walks, a career high. Five walks in four innings plus two batters after five walks in his previous seven starts and 45 innings. Tanaka allowed a second inning run on a walk, a double, and a ground out. He allowed a third inning run on an error (catcher interference), two walks, and a sac fly. He then allowed a fourth inning run on a Jose Bautista solo homer. Too many free baserunners. The toughest two-hit outing you'll see.
Tanaka's final line: 4 IP, 2 H, 3 R, 2 ER, 5 BB, 2 K. He faced 20 batters and eight of the 20 saw at least five pitches in their at-bat. Joe Girardi was smart to pull Tanaka when he did, following the Bautista homer and a four-pitch walk to Josh Donaldson to open the fifth inning. His pitch count was elevated (88) and he was clearly laboring. With the bullpen rested, might as well go to the relievers, right? Right.
Broken Open
Of course the bullpen made it interesting. Chad Green and Tommy Kahnle combined to allow two runs in the sixth inning, so between those runs and the Bautista solo homer, New York's lead had shrunk from 6-2 to 6-5. Of course. David Robertson restored order with a perfect seventh inning, and he offense was able to tack on insurance runs against rookie righty Taylor Cole in the eighth and ninth. Wednesday's game was Cole's big league debut, you know.
Anyway, a single (Frazier) and a double (Garrett Cooper) put runners on second and third for Ronald Torreyes in the eighth, and he drove in both runners with a first pitch single back up the middle. Classic Toe. Two singles (Gregorius and Sanchez) and a hit batsman (Frazier) loaded the bases with no outs in the ninth, and the Yankees brought all three runners home on an Ellsbury ground ball and a Cooper two-run single. That 6-5 lead became an 11-5 lead thanks to those eighth and ninth inning runs.
The offensive hero of the night? Well, the entire bottom two-thirds of the lineup, really. The 4-5-6-7-8-9 hitters went a combined 15-for-27 (.517) with four doubles and three home runs. Frazier had three hits, making this his best game as a Yankee. Cooper had four hits, making this his best game as a big leaguer. Eleven runs and 17 hits in one game after getting eleven runs and 17 hits in the previous 37 games combined, give or take.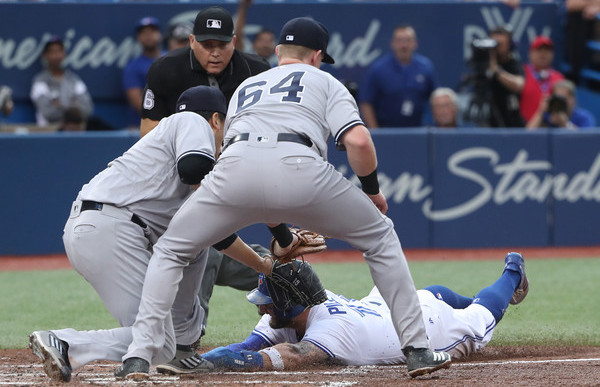 Leftovers
Things got a little dicey for Kahnle in that sixth inning. Green allowed a run on a single and a double earlier in the inning, and Kahnle allowed the runner he inherited from Green to score on a Donaldson single. The score was 6-5 and the Blue Jays had the tying run at third and go-ahead run at first when Kahnle fanned Justin Smoak to end the frame. He threw back-to-back nasty splitters for the strikeout. Robertson, Dellin Betances, and Adam Warren each tossed scoreless innings to put the game to bed.
Like I said, 17 hits for the offense, one short of their season high. Four hits for Cooper, three hits each for Gregorius and Frazier, and two hits each for Sanchez and Torreyes. Everyone in the lineup reached base at least once and six of the nine starters reached base multiple times. The only hitless Yankee? Judge, who went 0-for-4 with a walk and a strikeout. As bad as he's been in the second half, he's still hitting .294/.422/.616 (171 wRC+) on the season.
And finally, the Yankees went 5-for-13 (.385) with runners in scoring position in the game, including 5-for-10 after stranding Gardner in the first inning. Oh, what's that, we only mention RISP stats when the Yankees lose? My bad.
Box Score, WPA Graph & Standings
The box score and updated standings are at ESPN while the video highlights are at MLB.com. We have a Bullpen Workload page. Here is the win probability graph:

Source: FanGraphs
Up Next
The Yankees will wrap-up this seven-game road trip with the series finale against the Blue Jays on Thursday night. Sonny Gray and Marco Estrada are the scheduled starting pitchers.