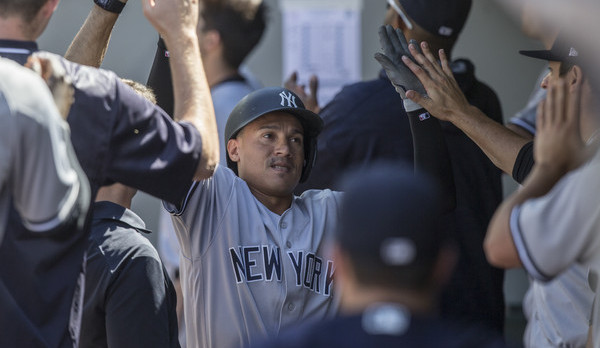 Last night the Yankees ran their Subway Series winning streak to three games, which allowed them to keep pace with the Red Sox in the AL East and keep basically the rest of the league at bay in the wildcard race. Aaron Judge cranked a monster home run and Didi Gregorius came up with a big go-ahead two-run double. Adam Warren was great too. He really covered for the worn out bullpen.
That go-ahead two-run rally in the seventh inning started with a Ronald Torreyes double down the third base line — he kept it just fair inside the bag and it rolled all the way to the wall — and he also added an eighth inning single. That one didn't lead to a run(s). The double sure did though. Torreyes got the rally started and Gregorius finished it off. The two have a little post-win hug celebration now too, and I am 100% here for it:
they have to do this after every win now pic.twitter.com/GDoiirF5Dt

— Sung Min Kim (@sung_minkim) August 17, 2017
Torreyes is, of course, in the starting lineup these days because Starlin Castro is on the disabled list. Castro is due to begin a minor league rehab assignment later this week, so chances are he is still a week away from returning, maybe even longer. Point is, Torreyes doesn't have to look over his shoulder just yet. Castro's return is not imminent and Tyler Wade sure as heck isn't going to play, so the second base job is Toe's.
Right now the Yankees need Torreyes to fill in at second base, and earlier this season, they needed him at shortstop while Gregorius was on the disabled list with his shoulder injury. The Yankees could've gone with Wade then or even Gleyber Torres, or perhaps a boring proven veteran like Pete Kozma, but they went with Torreyes and he was pretty great. His performance in April landed him the second base job in July and August.
Torreyes at short while Gregorius was hurt: .308/.308/.431 in 19 games
Torreyes at second while Castro has been hurt: .301/.316/.382 in 37 total games
Add in his reserve infielder work between the Gregorius and Castro injuries and you get a .293/.313/.379 (83 wRC+) batting line. Is it an empty .293 batting average? Oh yes. Torreyes never walks and he doesn't have much power, and he doesn't really steal bases either. You're getting singles and that's it. And you know what? Torreyes has provided the Yankees with enough singles this year to hold down the fort while Gregorius was hurt and Castro is hurt.
You know who Torreyes is? He's the 2017 version of 1996 Mariano Duncan, only without the catch phrase. The Yankees signed Duncan to be their utility infielder that year and Tony Fernandez's injury pushed him into the starting lineup. It's a common misconception that the Fernandez injury opened the door for Derek Jeter. No. Jeter was slated to start at shortstop all along. The Fernandez injury meant no veteran safety net for the rookie, Duncan at second, and Andy Fox on the bench.
Anyway, Duncan stepped into the lineup for Fernandez and inexplicably hit .341/.352/.500 (114 wRC+) in 417 plate appearances. He hit .272/.297/.407 (89 wRC+) in his previous 2,100 plate appearances. And yet, when the Yankees needed him to cover for the injured Fernandez, Duncan went out and did more than anyone could have reasonably expected. That's what Torreyes is doing now. He's younger than Duncan was in 1996 (33) and isn't hitting for the same power, but he's moved into the lineup and contributed.
"The routine that I have, that allows me to prepare every day. It doesn't matter what base, but if I follow the routine every day, it keeps me ready to play any base everyday," said Torreyes to Chris Ryan. "My job here is to be the utility player here. To be ready to play any base here. We need Castro back, we need his bat in the lineup. You have to know what your job is, and my job is to be the utility player on this team."
A few days ago I said I thought Torreyes was playing too much and I'd like to see Wade play against righties, and I still do, but that's a me problem. Not a Torreyes problem. He's done everything the Yankees could've asked him to do, first when Gregorius was sidelined and now with Castro on the disabled list. Would I want to go into a season with Torreyes penciled in as a starting infielder? No way. He's a very good utility player though, someone who has delivered when the Yankees needed him to cover for an injured regular for weeks at a time this year.