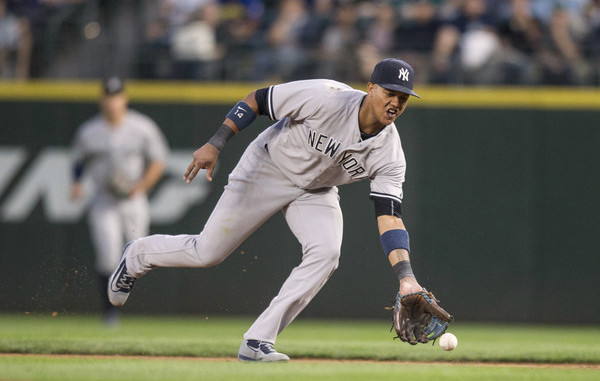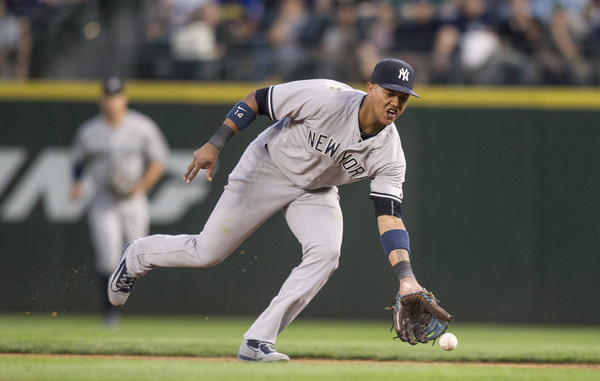 Thanks to a series of hamstring injuries, Starlin Castro has played in only six of the Yankees' last 30 games. He spent two weeks and change on the disabled list in late-June and early-July, then a week after returning, he went back on the disabled list with another hamstring strain. Supposedly it's two different strains. The second wasn't a reaggravation of the first. Whatever. Point is, Starlin is hurt, and he's not coming back anytime soon.
"He is still a ways away. He still hasn't run," said Joe Girardi to Dan Martin yesterday when asked about Castro's status. The Yankees and Castro are in wait and see mode. They have to give him time to heal and then get him ready for big league games, which is a long-ish process. If Starlin were to start running on, say, Friday, he's still roughly two weeks away because he has to run, take batting practice, get in rehab games, etc. That's not good.
With Castro out for the foreseeable future, the Yankees have two options here. One, they could stick with the status quo and keep running Ronald Torreyes and Tyler Wade out there. Torreyes played well as the fill-in shortstop in April and he's playing well right now, so going with him seems fine. At the same time, he played an awful lot earlier this month, and it got old quick. Wade? I like him a lot, though he has looked overmatched at times. (Many times.)
Option two is go out and get another infielder, which is tough to do now that the trade deadline has passed. Maybe the Yankees should have signed Danny Espinosa after the Angels released him and before he hooked on with the Mariners two weeks ago? Eh. He can really play defense, but he also hit .162/.237/.276 (39 wRC+) before being released and is a .207/.282/.354 (70 wRC+) hitter in his last 1,800 plate appearances dating back to 2013. I'm not going to complain about missing out on Espinosa. I was just throwing a name out there.
An August waiver trade to add a stopgap second baseman is certainly possible, though I get the sense the Yankees aren't eager to trade a prospect and/or take on salary for a stopgap. Castro is going to be the second baseman when he returns. Potential August waiver trade candidates include Asdrubal Cabrera, Neil Walker, Jed Lowrie, and Brandon Phillips, so there will be infielders available. It's just a question of whether the Yankees want to trade prospects or (more realistically) take on their salary to facilitate a trade for a stopgap player.
My guess is the Yankees are going to stand pat and roll with Torreyes and Wade for the time being. If Castro's hamstring strain continues to linger or he suffers a setback, then maybe they'll look to make a trade. Their top two middle infielders in Triple-A right now are Cito Culver and Donovan Solano, so yeah. The Yankees can't afford to lose anyone else. Perhaps a small depth trade for a non-40-man journeyman is coming. Another Solano type.
So far the Yankees have not just gotten by without Castro these last few weeks, they've thrived. They've been able to climb back into first place. They added reinforcements at the trade deadline and Torreyes has shown he can be quite productive in short bursts. The ability to get the bat on the ball and run like hell can go a long way. The Yankees are at their best with healthy Castro though, so over these next few weeks, the priority will be getting him healthy for the stretch run. And if his recovery takes longer than expected, the Yankees may to look for some last minute help.