Good start to a series against a bad team. The Yankees came out and took control of Tuesday night's opener against the Tigers in the very first inning, and they never let up. The final score was 13-4 good guys. The Yankees have won six of their last eight games.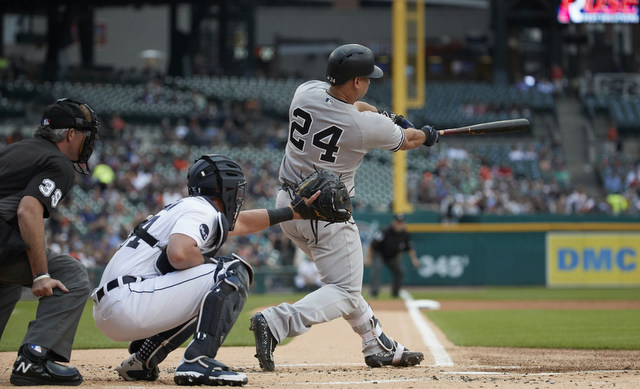 Seven Early Runs
The Yankees did exactly what you want them to do against an objectively bad pitcher: they scored early and often. The first batter of the game, Brett Gardner, hit a rope to right-center field that was caught by Mikie Mahtook, but was a sign of things to come. Hard contact up and down the lineup. The Yankees hammered Matt Boyd.
Following that Gardner line out, Aaron Hicks found outfield grass with a ground ball back up the middle, then Gary Sanchez launched a bomb over the left field bleachers and off the french fry vendor for a two-run home run. Boyd hung the hell out of an offspeed pitch. The official measurement: 493 feet. Second longest homer in baseball this season and the second longest by a Yankee, behind the 495-foot homer Aaron Judge hit against the Orioles. Boyd's reaction: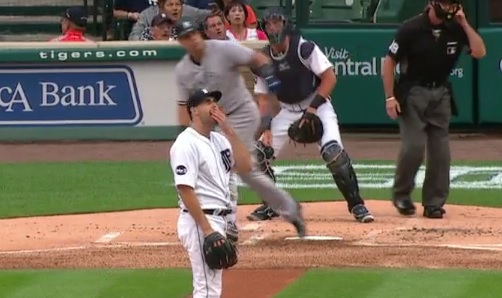 The Yankees scored a third run in that first inning courtesy of a Judge walk, a Didi Gregorius double, and a Tyler Austin sac fly. The Hicks single, Judge walk, and Austin sac fly all came in two-strike counts. Just like that, the Yankees were up 3-0 before Masahiro Tanaka even took the mound. A good start, that was.
Fortunately, the Yankees did not stop at three runs. They ended Boyd's evening with a four-run third. That started with a Judge walk. Gregorius reached on an infield single that probably should've been an error on Boyd — he literally kicked the ball into foul territory when he went to field it — then Austin brought Judge home with a single to shallow right field. It was a little bloop Judge read well, allowing him to score from second.
But wait! There's more. Following the Austin single, Chase Headley ripped a line drive to center for an out, but it was well-struck. Sounded good off the bat and just so happened to be at someone. It happens. Todd Frazier picked him up by inside-outing a two-run triple down the right field line. He looked surprised to hit it. Definitely did not intend to go that way. Ronald Torreyes plated Frazier with a sac fly and boom, 7-0 lead in the third. Love it.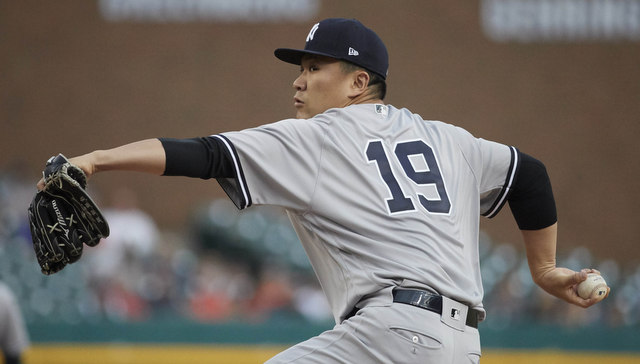 Master Tanaka Returns
Very strong outing for Tanaka in his return from that little shoulder inflammation/dead arm phase. He allowed three runs in seven innings, though it was one run in 6.1 innings before Nick Castellanos found the seats with a garbage time two-run home run. Eh, whatever. The Yankees were up 11-1 at the time. Tanaka held the Tigers to those three runs on six hits and no walks in seven innings. He struck out four.
According to my untrained eye, Tanaka's slider was very sharp and his splitter was just okay. He left a few up in the zone that got hit hard. Some went for hits and some were caught. Tanaka threw only 90 pitches in his seven innings. Ten swings and misses and only one three-ball count to the 25 batters he faced. He looked like Tanaka, which is exactly what I wanted to see. Good start back from the disabled list. Masahiro is sporting a 3.37 ERA (3.49 FIP) in his last 12 starts and 74.2 innings now. Sign me up.
Leftovers
The Yankees did not stop scoring after hanging seven runs on Boyd. Hicks and Judge drove in runs with a fielder's choice and a single in the fifth, respectively, and Hicks clobbered a two-run home run in the seventh. Sanchez added his second two-run home run of the game in the ninth. That was an opposite field shot. The Yankees had men on base in every inning but the eighth. They threatened all night.
Every starter had a hit except Headley, who went 0-for-4 with a walk and three line outs. The exit velocities on the line outs: 95.7 mph, 99.1 mph, and 99.6 mph. Tough night for Chase. He hit the ball hard three times, twice to the opposite field, and had nothing to show for it. There always seems to be that one guy who doesn't get in on the fun in a game like this. That was Headley.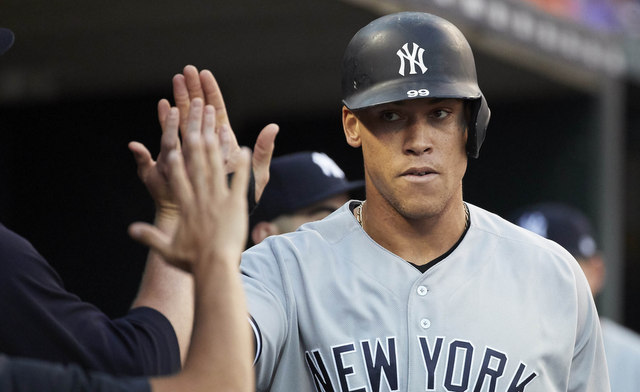 Judge reached base four times within the first five innings. Three walks and a single. He was removed for a pinch-hitter in the seventh inning, once the score was already out of hand. His strikeout streak officially ends at an MLB record 37 games. Cheap it ended because he was removed as a pinch-hitter? Who cares. Judge had his four plate appearances like any other game.
Three hits for Frazier and Sanchez and two hits for Hicks, Gregorius, and Torreyes. Austin had a single and a walk, so he reached base multiple times as well. The Yankees went 4-for-12 (.333) with runners in scoring position. We all have to hear about RISP numbers when they lose and I feel it is my duty to report them when they win, so there.
And finally, Chasen Shreve was the only reliever used, and he allowed one run in two innings. Castellanos hit an inside-the-park home run. Jacoby Ellsbury, who pinch-hit for Judge, tried to make a sliding catch and the ball got by him. Castellanos was off to the races. Womp womp.
Box Score, WPA Graph & Standings
For the box score and updated standings, head over to ESPN. MLB.com has the video highlights and we have a Bullpen Workload page. Here's the win probability graph:

Source: FanGraphs
Up Next
The Yankees and Tigers continue this three-game midweek series with the middle game Wednesday night. Luis Severino and Jordan Zimmermann are the scheduled starting pitchers. Please don't get shut down by Zimmermann again, guys.