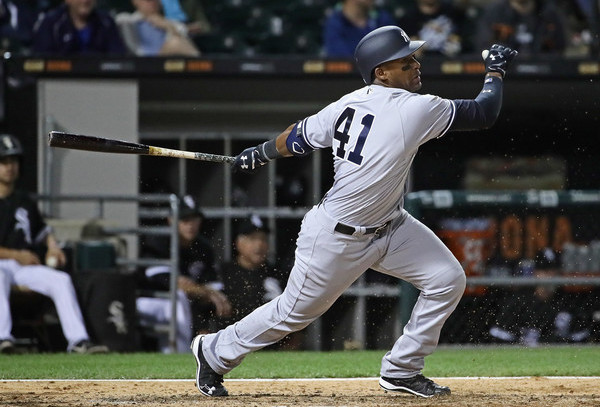 For the first time in a few years the future of the Yankees looks overwhelmingly positive. The roster is not bogged down by aging players on big money contracts. Instead, the roster is now loaded with high-end young talent. Aaron Judge, even with his second half slump, has performed at an MVP caliber pace so far. Luis Severino is a Cy Young candidate. Then there's Gary Sanchez, Clint Frazier, Chad Green, Jordan Montgomery, and more.
The Yankees have more young talent on the way too. Gleyber Torres likely would have been in the big leagues right now had he not blown out his non-throwing elbow sliding into home plate a few weeks back. He'd probably be playing second base while Starlin Castro is on the disabled list. Heck, maybe Torres would be playing third base and the Yankees would have never made the Todd Frazier trade. Either way, Gleyber is the crown jewel of the farm system.
There's also third base prospect Miguel Andujar, who played one big league game earlier this season. The Yankees called him up for one day because they needed a short-term fill-in and he's already on the 40-man roster, and in that one game he went 3-for-4 with a double. Andujar became the first Yankee in history to drive in four runs in his MLB debut.
The 22-year-old Andujar went into last night's game with a .320/.352/.518 (136 wRC+) batting line in 101 total games this season, including a .333/.370/.563 (158 wRC+) line in 34 Triple-A games. His 14 home runs are already a career high, and he's paired it with a 13.6% strikeout rate. Andujar has always been able to get the bat on the ball, and his offense has been trending up for a few years now.
2015: .243/.288/.363 (98 wRC+) with 17.3% strikeouts at High-A.
2016: .273/.332/.410 (111 wRC+) with 12.6% strikeouts at High-A and Double-A.
2017: .320/.352/518 (136 wRC+) with 13.6% strikeouts at Double-A and Triple-A.
Andujar's been a personal fave for a while now and this year he's having the kind of breakout season that makes everyone take notice. Hit like that — again, we're talking career best power output with a very low strikeout rate — at the upper levels of the minors and you're going to force your way into the team's plans. Andujar went from maybe part of the future last year to a serious factor this year.
The question now is where does Andujar fit, both short-term and long-term? The easy answer: this'll work itself out. It always does. That's the boring answer, so let's talk this out.
The Short-Term
The Yankees have an opening at DH! Matt Holliday is on the disabled list and the Yankees could've easily called up Andujar and plugged him into the everyday lineup at DH. Instead, they called up Garrett Cooper for a platoon bat — Cooper is a righty hitter like Andujar — so Andujar could remain in Triple-A to work on his third base defense. It's rough around the edges, though it's more about bad habits than a lack of tools. Point is, he needs work in the field.
The Holliday injury means the Yankees could call Andujar up at any time and get him into the lineup without worrying about his defense. Do the Yankees want him to work on his defense in Triple-A? Yes. Do the Yankees want to win the AL East for the first time since 2012? Also yes. They want that more than anything. At some point soon they could decide Andujar is their best DH option, put his defensive work on hold, and call him up because he'll (maybe) help them win games. Winning at the MLB level is the top priority.
If the Yankees don't call up Andujar while Holliday is on the disabled list, a September call-up is all but a guarantee. He's on the 40-man roster and he's earned it. Andujar might not be a September 1st call-up, he might have to wait until the end of the Triple-A postseason to ensure he gets as much third base time as possible, but he'll be up once rosters expand. How the Yankees use him is another matter. DH? Third base only in blowouts? We'll see.
The Long-Term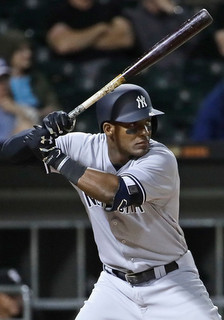 Third base is wide open going forward. Chase Headley has another year on his contract, though I'm pretty sure the Yankees would jettison him in the offseason if the opportunity presents itself. Also, they recently moved Headley to first base full-time, so they're not going to let him block Andujar or Torres or whoever they want to put at third base. So even though he's under contract for next season, Headley's not an obstacle.
The problem the Yankees hope they have is too many infielders. Didi Gregorius and Castro are locked in on the middle infield and Torres and Andujar are coming. The Yankees would love love love to have to figure out how to make Torres and Andujar, two young up-and-comers, co-exist with the established veterans Gregorius and Castro. Too many players is a good thing, and trying to squeeze all these guys into the lineup is something the Yankees could face as soon as next April.
Having all these options — the Yankees could put Torres at third, or Castro at third and Torres at second, or stick with Headley, etc. — puts pressure on Andujar to improve his defense. He doesn't want to have to move to first base and the Yankees don't want that either. Rotating the four infielders at the three positions (second, third, short) and DH sounds great until you realize the Yankees are probably going to need that DH spot for an outfielder.
I don't think Gregorius is going anywhere because he's pretty awesome all around, on and off the field. I could see the Yankees being open to moving Castro, however, but only if Torres and Andujar prove capable. Gleyber is the priority here. He's a special player and the Yankees will make room for him. It's up to Andujar to displace Castro or possibly even Gregorius. Probably Castro. First base is the fallback option should Greg Bird never get healthy.
* * *
In a weird way, there's a greater opportunity for Andujar in the short-term than there appears to be long-term. Usually a prospect is blocked and has to wait for some veteran to go away to get playing time. The Yankees could plug Andujar in at DH tomorrow to fill in for Holliday. Where does he fit beyond this season? Eh, that's difficult to answer given his defense and the team's other infielders.
As always, Andujar himself could be trade bait. You sign and develop prospects for two reasons. To plug into your MLB roster and to trade. When you have as many close to MLB ready prospects as the Yankees, inevitably some guys get squeezed out. That's why Dustin Fowler and Jorge Mateo are now Athletics, and why Blake Rutherford is a White Sox. The Yankees have depth at their positions.
Andujar made the leap from talented and interesting prospect to bonafide big league option this season. He's forced his way into the conversation long-term. Maybe his defense never improves to the point where the Yankees are comfortable running him out there at third base regularly and this is all moot. I don't think that'll be the case though. He's got the skills, he just needs refinement. And when he's ready, the Yankees will have to figure out how to get him into the lineup on a daily basis.