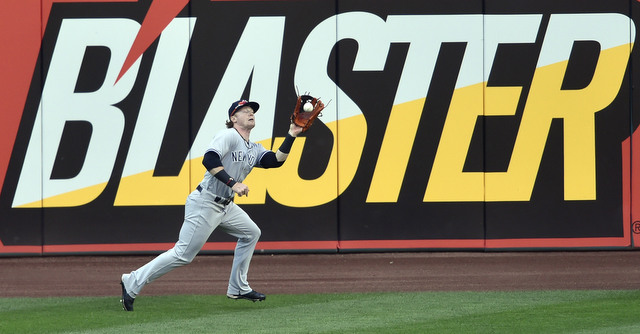 The Yankees had a mid-road trip off-day yesterday, and tonight they'll begin a three-game series with the last place Blue Jays. The Blue Jays being in last place doesn't mean these games will be easy though. They never are. It sure would be nice to gain some ground in the AL East race this week before the Red Sox come to New York for a three-game set this weekend. Anyway, let's get to some thoughts.
1. Given how crummy he's been the last few weeks, I can't help but wonder whether the Yankees will just keep Matt Holliday on the 10-day DL until rosters expand on September 1st. Probably not, but they did do something similar with Dustin Ackley in 2015. Ackley was placed on the disabled list with a right lumbar strain on August 4th — Holliday was put on the disabled list with a left lumbar strain on August 6th — and the Yankees didn't activate him until September 1st even though he'd been on a rehab assignment and was ready to go before rosters expanded. What's the upside here? Not tying up a 25-man roster spot with a designated hitter who stopped hitting, basically. The difference is Holliday is a respected veteran while Ackley was a change of scenery reclamation project guy, so maybe the Yankees don't want to treat Holliday like that. I guess it depends how the offense performs between now and then. If they're still slumping, the Yankees might bring Holliday back to see if he can give them a spark with a healthy back. If they're clicking, they might extend that disabled list stint a little bit until they have those extra roster spots in September.
2. Obvious thought is obvious: the Yankees are going to use a rotating designated hitter while Holliday is out. Holliday's injury buys Clint Frazier more time in the big leagues (I think), which means when Aaron Hicks returns, the Yankees will have five outfielders on the roster. The Yankees will be able to get four of them into the lineup every game going forward. A designated hitter rotation also means more rest for Gary Sanchez, whose passed ball issues could be fatigue related, and don't forget about Chase Headley or Starlin Castro either. Being able to keep Castro in the lineup while getting him off his feet so soon after the hamstring injury seems beneficial. I guess the same is true with Greg Bird, should he make it back before the end of the month. Point is, I don't see anyone taking over that designated hitter spot full-time with Holliday out. Everyone is going to get time there, and given the current roster, that's not a bad thing at all. Once Hicks comes back the Yankees will have four outfielders worth playing every day, and now they can do that.
3. Speaking of Hicks, I am really looking forward to seeing him back in the lineup. Hopefully it happens later this week. I totally understand why someone would be worried he will revert to the 2014-16 version of Hicks after the injury — as great as he was before the injury, it was only 242 plate appearances — and hey, it might happen, but I'm all-in on the new Hicks. I think the 2017 version is here to stay. That doesn't mean he'll sustain his current .290/.398/.515 (145 wRC+) batting line forever and ever, but I buy him as a true talent .380 OBP hitter with 20+ homer power going forward. A switch-hitter who can do that, steal some bases, and play strong outfield defense is one heck of a ballplayer. Hopefully Hicks hits the ground running when he comes back. The Yankees could use another legit bat, especially from the left side of the plate. Hicks and Bird would really help balance the lineup, though one thing at a time. Get Hicks back first and go from there.
4. How about Chad Green? I thought he had a chance to be a real nice short reliever — it was one of my ten bold predictions before the season, after all — but never did I think he would be this. What is this, exactly? This is this:
| | ERA | FIP | K% | BB% | GB% | HR/9 | Opp. AVG/OBP/SLG |
| --- | --- | --- | --- | --- | --- | --- | --- |
| 2017 Green (as reliever) | 1.41 | 2.31 | 39.3% | 6.8% | 32.1% | 0.81 | .133/.205/.243 |
| 2014 Dellin Betances | 1.40 | 1.64 | 39.6% | 7.0% | 46.6% | 0.40 | .147/.218/.224 |
That 2014 season was Dellin's huge breakout season and his most dominant season to date. It's one of the best reliever seasons of the century. And yet, the only real difference between 2017 Green and 2014 Betances is ground ball rate and, by extension, home run rate. Otherwise the two are indistinguishable. That's how good Green has been this season. I understand the temptation to make him a starter again, though as far as I'm concerned, he should never start another game. Some guys are just built for the bullpen. Wade Davis is that way. Untouchable in relief but decidedly mediocre as a starter. Green doesn't have a changeup and he probably wouldn't be able to continue throwing his fastball 70% of the time when he has to turn a lineup over a second (and third) time. The Yankees have, for all intents and purposes, dug up another Betances. Green's been that good.
5. The Yankees are going to have to get a new backup catcher this offseason. I like Austin Romine. Seems like a nice guy. He was magnificent when the Yankees need him to play everyday in April. But he's not very good. Not even by backup catcher standards. He's hitting .221/.283/.297 (55 wRC+) and that's awful. Runners are 18-for-21 (86%) — 18-for-21! — stealing bases against him and that too is awful. Go back to last year and it's 38-for-45 (84%). The catcher defense stats at Baseball Prospectus say he's is a tick above average at framing pitches (+2.4 runs) and exactly average at blocking (+0.0 runs). Romine is a classic Nichols Law catcher. What's the carrying tool here? You want your backup catcher to be able to do something well, right? Usually it's throw and play defense, but some clubs have gone offense first with their backup. Romine doesn't give you any of that. He doesn't hit and his defense is just okay, both according to the numbers and the eye test. There's something neat about a homegrown guy overcoming a litany of injuries in the minors to carve out a big league career, but neat stories don't win games. The drop off from Sanchez to his backup is always going to be substantial. That's unavoidable because Sanchez is so good. But the Yankees can do better than Romine. They can and they should. We'll have all offseason to talk about potential trade and free agent backup catcher targets. Right now, all I'm saying is Romine isn't very good, even by backup catcher standards. That roster spot has a lot of room for improvement.
6. I am really curious to see how the Yankees are going to handle Luis Severino's workload down the stretch. Joe Girardi has pushed Severino a little harder and a little deeper into the game than I expected the last few times out. He threw 116 stressful pitches in five innings against the Tigers last Monday, then threw 107 pitches in 6.2 innings against the Indians on Sunday. Severino started the seventh inning with 95 pitches and a seven-run lead Sunday. If you're looking to save bullets wherever possible, that seems like a spot to do it. The Yankees know Severino and his health better than anyone, so maybe they're comfortable letting him throw 200-something innings this season. Other 23-year-olds have done it — Felix Hernandez (238.2 innings in 2009), Clayton Kershaw (233.1 in 2011), and Madison Bumgarner (201.1 in 2013) are the most notable recent examples — and been perfectly fine short and long-term. (Others like Patrick Corbin and Jair Jurrjens haven't been as lucky.) Severino threw a career high 161.2 innings two years ago, so the push up to 200 might not be that big a deal. There is no standard blueprint for this stuff. Some guys can handle it and some can't. I have no doubt whatsoever the Yankees will do whatever they believe to be best for Severino long-term. I just never considered the possibility that it could be letting him pitch with no real restrictions.