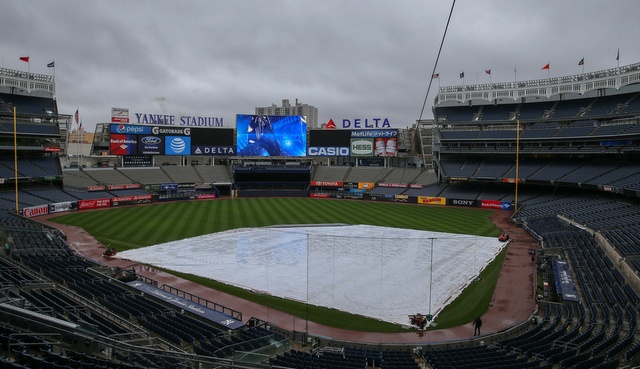 Tonight's game with the Indians has been rained out, the Yankees announced. The two teams will play a single admission doubleheader tomorrow beginning at 1:05pm ET. Joe Girardi said Jaime Garcia will start the first game and Jordan Montgomery will come up from Triple-A to start the second game.
The weather forecast in New York is ugly and has been all day. It's been raining for several hours and it's supposed to continue raining right until tomorrow morning. Playing tonight was never really an option. The Yankees and Indians do not have any common off-days remaining this season, and since Cleveland will not visit Yankee Stadium again, a doubleheader tomorrow was the only real option.
Needless to say, playing a doubleheader immediately prior to a hugely important four-game series with the Red Sox is less than ideal, but what can you do? Could be worse. The Indians have to play a doubleheader tomorrow and another one Friday. Anyway, here is the ticket information, if you were planning to go tonight or tomorrow. Today's tickets are not good for the doubleheader.
Because the doubleheader was scheduled less than 48 hours in advance, the Yankees and Indians can add a 26th player for the second game only. I imagine Montgomery will be the 26th man, which means he'll have to go right back to Triple-A Scranton after the game. And then he'll be back once rosters expand Friday. Montgomery might not even go back to Scranton. He might stick around New York.
Thanks to the rainout, the Yankees will now start CC Sabathia, Sonny Gray, Masahiro Tanaka, and Luis Severino in the four games against the Red Sox. The rainout pushes everyone back a day and conveniently lined up New York's four best pitchers for the series with Boston. That's good. I'd rather the Yankees not play the doubleheader and push everyone back by starting Montgomery tomorrow, but that's not an option. Alas.
Tomorrow's doubleheader will be the third of the season for the Yankees. They split two games with the Astros on May 14th, and split two games with the Red Sox on July 16th. The Yankees last played three doubleheaders in one season back in 2014 (Cubs, Pirates, Orioles). It's worth noting the Yankees have a makeup game with the Royals scheduled for September 25th, though that's one game, not a doubleheader. The two teams gave up an off-day.