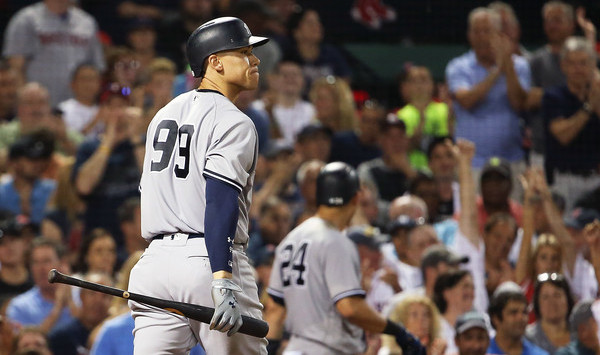 There's a weird dynamic in Yankeeland right now. The two most vilified players on the roster are the runaway Rookie of the Year favorite and the best young catcher in baseball. Gary Sanchez, who is hitting .270/.346/.519 (127 wRC+) with 23 home runs this season, has been catching grief for his league leading 12 passed balls. He was even benched for a game two weeks ago.
Aaron Judge, meanwhile, is hitting .282/.413/.593 (163 wRC+) with an AL leading 37 home runs this season, though it really has been a tale of two seasons for him. He hit .329/.448/.691 (197 wRC+) in the first half and has slumped down to .169/.329/.355 (80 wRC+) in 35 games since the All-Star break. Over the weekend Judge went 1-for-12 with five strikeouts in the three games against the Red Sox.
"I'm not getting the job done. I want to be there. I'm the three hitter, the middle of the order. I've got to be that guy for the team," said Judge following yesterday's game (video link). "I trust the guys behind me to get the job done, but as the three hitter, I want to be that guy in the position with runners on every single time. It's a little disappointing not being able to get the job done but you can't pout, you can't cry. You've just got to keep working and move on."
Not surprisingly, Joe Girardi was asked about moving Judge out of the third spot in the lineup prior to yesterday's game. That's usually what happens then the three hitter has struggled as much as Judge has the last few weeks. And, again not surprisingly, Girardi shot the idea down entirely. He's always been a very patient manager who sticks with his guys, sometimes to a fault.
"He's going to stay (in the third spot)," said Girardi prior to yesterday's game (video link). "I'm not going to move him. He's still dangerous. He's still getting on a pretty high clip and he's on in front of some other guys that are swinging the bat well so, yeah, he's going to stay there … I think you fall into a roulette, if you're just moving guys all over the place (based on hot and cold streaks) … We're kinda going on what he's done this year, and we're letting him fight his way out of it."
Girardi is patient and will stick with his guys, but not indefinitely. Just this weekend Aroldis Chapman was demoted out of the closer's role. Literally one day after Girardi said he was sticking him with as a closer. It took four straight pretty terrible outings, but it happened. Jacoby Ellsbury has been riding the bench for weeks. Eventually Tyler Clippard was moved into low-leverage situations. Girardi will make changes when he feels they are necessary, and right now, he doesn't feel a lineup change is necessary.
That said, I believe they've reached the point with Judge where it's not best for the team to continue hitting him third. That's the goal here, right? To put the team in the best position to win. This isn't a one or two-week slump. He's batted 155 times in the second half. That's nearly 30% of his season plate appearances. I'm not saying Judge should bat ninth or be demoted to Triple-A or anything like that. But bump him down a bit below some presently better hitters? Sure. This lineup makes sense to me:
LF Brett Gardner
CF Aaron Hicks
C Gary Sanchez
SS Didi Gregorius
RF Aaron Judge
3B Chase Headley
1B Todd Frazier
DH … uh … Tyler Austin? Jacoby Ellsbury?
2B Tyler Wade Ronald Torreyes
Nice and easy. Basically flip Sanchez and Judge in yesterday's lineup. Sanchez is swinging very well of late and deserves more at-bats than Judge. Same with Gregorius. It wouldn't be very difficult to argue Headley should hit ahead of Judge as well, though I'm not sure I'd bat Judge any lower than fifth given his power. He can still change a game with one swing and he could snap out of it at any time.
Girardi says he's going to stick with Judge as the three hitter for the time being, so I don't expect him to be moved down even though I think it should happen. The Yankees do, however, have several players nearing a return from the disabled list, and perhaps their returns will make Girardi more open to batting Judge lower in the lineup. The return of Starlin Castro and Greg Bird will give the Yankees more weapons and Girardi more lineup options. For example:
LF Brett Gardner
CF Aaron Hicks
C Gary Sanchez
SS Didi Gregorius
2B Starlin Castro
RF Aaron Judge
1B Chase Headley
DH Greg Bird
3B Todd Frazier
See? Much deeper lineup. We really have no idea what Bird will give the Yankees once he returns because the guy's missed close to two years, and the last time he was in the big leagues, he didn't hit at all. You know how bad Judge has been since the All-Star break? Bird was even worse in April. So yeah, batting him down in the lineup and moving him up once he's shows he's capable of producing at a high clip works for me.
Anyway, the addition of Castro — I should mention I'm not too optimistic Matt Holliday will come back and be an impact hitter again, though I'm hoping to be completely wrong — gives the Yankees another quality bat, and another hitter to bolster the middle of the lineup. It's one thing to stick with Judge as the three hitter when so many regulars are hurt. Once everyone is healthy though, it's much easier to bump him down in the lineup.
The Judge lineup demotion is intended to do two things. One, to give more productive hitters more at-bats. That's simple enough, right? And two, to take some pressure off him. Judge does look like he's pressing now, and that's normal when a guy is in a slump. They all press and try to hit a five-run home run each at-bat. Maybe dropping him in the lineup won't alleviate any of that pressure and Judge will still press. I don't think that's a good enough reason not to do it though.
Girardi doesn't want to demote Judge in the lineup because he believes he's going to turn it around and soon, and that's great. A manager should have confidence in his guys. At the same time, Judge's slump is going on six weeks now, and there comes a time when action is necessary. If Girardi wants to wait until Castro and Bird return and he has more lineup options, fine. Maintaining the status quo doesn't seem like a viable option anymore, however. Judge hasn't produced for too long now and it's time to de-emphasize him in the lineup, and hopefully it's only temporary.