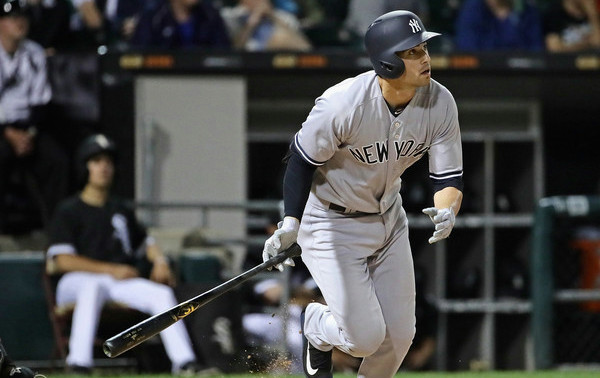 Last night, for the first time since last Thursday, Tyler Wade got into a game with the Yankees. He played one half-inning in the field at the end of a blowout. That's all. Wade has not started a game since last Thursday and he's played only one full game in the last ten days. He is the quintessential utility infielder right now. Use only when absolutely necessary.
Wade has been glued to the bench basically since that ugly 0-for-5 with three strikeouts game against the Rays, in which the big spot kept finding him and he couldn't come through. Predictably, Joe Girardi has gone with Ronald Torreyes almost exclusively at second base since then, and hey, Torreyes has played well. He's gone 12-for-42 (.286) in eleven games since Wade's disaster against Tampa.
Starlin Castro is currently working his way back from his hamstring injury, and given the way things have gone the last week and a half, there's no real reason to believe Girardi won't continue to stick with Torreyes at second base in the interim. Torreyes is in the position player Circle of Trust™. Wade has been an overmatched rookie. It happens. The Yankee are trying to contend and Torreyes gives them a better chance to win.
That said, is sitting on the bench the best thing for Wade at this point of his career? I don't think so. I totally believe being in the big leagues can be a great learning experience for a young player, even when he's not playing, but is that experience so valuable that the lost at-bats don't matter? Maybe it is. I'm not so sure. Wade is a 22-year-old kid who hasn't played a full Triple-A season yet, and lately he hasn't been playing at all.
Castro is tentatively scheduled to start a minor league rehab assignment next week, which means he's probably two weeks away from the returning to the lineup, give or take. Unless Girardi reverses course and starts playing Wade — he hasn't even been playing against right-handed pitchers — that's another two weeks on the bench on top of the two weeks he's been sitting on the bench already. That's an awful lot of sitting.
The solution here is pretty clear. Send Wade down to Triple-A so he can actually play, and call up a different player to serve as the utility infielder for the time being. Someone with no real long-term future with the Yankees. Someone who won't make you lose any sleep if he goes two weeks between at-bats. Donovan Solano, Jonathan Diaz, and Cito Culver are with Triple-A Scranton and they all fit the bill. (I'd go with Solano, but that's just me.)
There are 40-man roster considerations that are relatively minor. The Yankees do have an open 40-man spot, so adding Solano or Diaz or Culver would be a piece of cake. They would have to be removed once Greg Bird is activated off the 60-day DL, and since Bird is reportedly ahead of Castro in his rehab, there's some conflict here. You can't not have a utility infielder. The Yankees might have  to call Wade back up for a few days in that case. Point is, the 40-man roster aspect of calling up a different utility infielder is workable.
Anyway, the point here is Wade has not played much at all, and there's little reason to believe he will get much playing time going forward. Sitting on the bench for a month isn't the best development plan for a 22-year-old prospect. I know Wade has looked overmatched, and he has been, but he's awfully talented. He's good defensively, he's athletic, he's fast, and he can really work an at-bat. We're not seeing it right now, but it's in there. The skills have to be honed.
My preference would be Wade playing second base against righties, but since that's not going to happen, sending him down is the next best thing. Let someone else rot on the bench. A 22-year-old kid with a chance to be part of the long-term future shouldn't be the one stuck sitting for weeks on end. Teams go out and get journeymen like Solano and Diaz for exactly this reason. So kids like Wade wouldn't be in the position he's currently in.