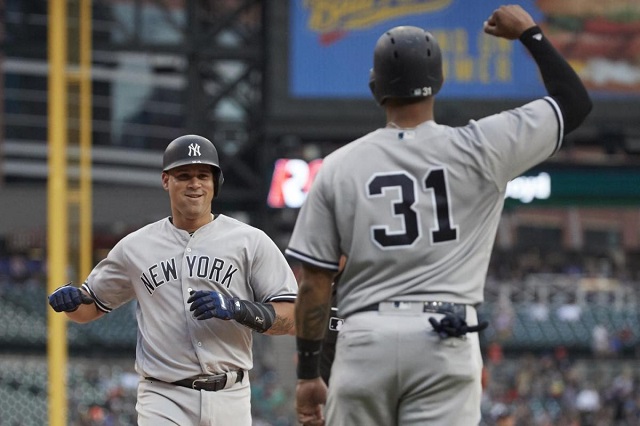 El Kracken Show
It's been quite an emotional rollercoaster for the Yankees and their fans over the past month, making the drama-free night on Tuesday in Detroit even sweeter. Backed by a relentless and powerful attack combined with solid starting pitching, the Bombers pummeled the Tigers, 13-4.
This was their 14th game scoring more than 10 runs, which led the majors through Tuesday's slate, and incredibly, it's also twice as many such games as they had all of last year. Over the last six decades, 1998 and 2000 were the only other seasons that the Yankees had 14 games scoring at least 11 runs at this point in the schedule (before game number 125). Boom-tastic.
The offensive onslaught was fueled by Gary Sanchez's red-hot bat as he crushed a monstrous 493-foot homer in the first inning to put the Yankees up 2-0. It was the second-longest homer by any player in 2017, and tied for the fourth-longest that Statcast has recorded over the past three seasons.
| | Name | Distance | Date |
| --- | --- | --- | --- |
| 1. | Giancarlo Stanton | 504 | Aug. 6, 2016 |
| 2. | Aaron Judge | 495 | June 11, 2017 |
| 3. | Kris Bryant | 495 | Sept. 6, 2015 |
| 4. | Gary Sanchez | 493 | Aug. 22, 2017 |
| 5. | Michael Taylor | 493 | Aug. 20, 2015 |
But Sanchez wasn't done lighting up the scoreboard. He drilled an opposite-field blast into the right field seats in the ninth inning, his 25th homer of the season, and a nice round number for the record books. He is the …
Third catcher in American League history to hit at least 25 homers in his age-24 season or younger, joining a couple Tigers backstops, Matt Nokes (1987) and Rudy York (1938).
First Yankee since Don Mattingly (1985) with 25-plus dingers in a season before age 25.
And the third right-handed batter in franchise history to reach the 25-homer milestone in his age-24 season or younger. The others? Hall of Famers Joe Gordon and Joe DiMaggio.
El Gary also deserves a cool #FunFact: He joined Yogi Berra (June 19, 1952) as the only Yankee catchers to hit at least two homers and drive in at least four runs in a game in Detroit.
The other Baby Bomber that shined in this rout was Aaron Judge, who reached base four times in four plate appearance with three walks and a single. Yes, you did the math correctly, he didn't strike out, ending his streak at 37 games, the longest ever by a position player. And thankfully the last time we'll ever mention it.
The stat that's most important is the three walks. It's not a shocking number even during his slump, during which he's maintained mostly the same approach at the plate since the break. Did you know that after Tuesday's game … Judge had a higher walk rate in the second half (20.1%) than the first half (16.7%); or that only Joey Votto (41) had more walks among all MLB players in the second half than Judge (32).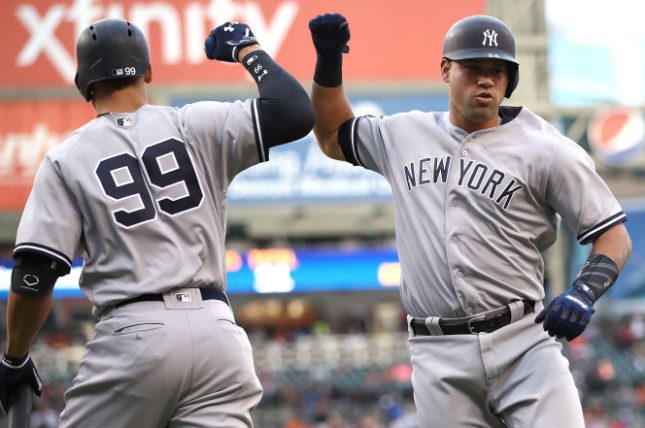 Sharp Sevy, Scorching Sanchez
The offensive fireworks were on display again Wednesday as Yankee bats delivered another lopsided win, 10-2.
It's the first time in more than 20 years that they've lit up the Tigers for 10-plus runs in consecutive games within the same series, since a blowout-filled three-game sweep at Yankee Stadium on May 6-8, 1996. A 21-year-old rookie named Derek Jeter went 6-for-13 (.462) with a triple and 3 RBIs, while veteran outfielder Paul O'Neill reached base nine times in 15 plate appearances and drove in five runs during that three-game romp.
Gary Sanchez ignited the offensive fireworks again on Wednesday, with a solo homer in the first inning and two-run bases-loaded single in the third. That gave him 10 homers and 21 RBIs in 20 games this month, a nearly unprecedented encore to the amazing August that he produced last season (11 homers, 21 RBIs in 24 games).
Only four other players in franchise history have put together multiple months of at least 10 dingers and 20-plus RBIs before age 25: Don Mattingly, Mickey Mantle, Joe DiMaggio and Lou Gehrig.
While El Gary extended his August Assault, Luis Severino bolstered his resume as the staff ace and legit Cy Young candidate with another gem. He pitched into the seventh inning, holding the Tigers to a single run while striking out eight. It was his 13th start this season allowing one run or fewer, which led all major-league pitchers through Wednesday.
Perhaps the most impressive part of the 23-year-old's season is the poise and consistency he's shown pitching in hostile environments. He's put up video-game-like numbers in his last five road games — 0.80 ERA, 38 strikeouts and eight walks – and is the first Yankee since Whitey Ford (1964) to pitch at least six innings while giving up no more than one run in five straight road games.
Overall, he's surrendered one or fewer runs in 10 of his 14 outings away from the Bronx, becoming the only Yankee pitcher in the last 100 years with 10 such road starts in a single season.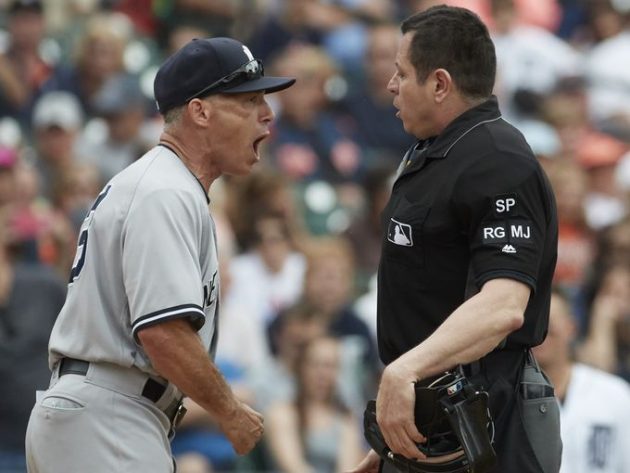 Basebrawl in Detroit
Amidst the boxing match between the Yankees and Tigers on Thursday at Comerica Park, an actual baseball game broke out, and the Yankees lost, 10-6.
The final tally from the chaotic, brawl-filled afternoon was eight ejections between the two teams and a whole lot of ugliness. It was the most total ejections in a game since the infamous Blue Jays-Rangers slugfest on May 16 last year.
Back to baseball.
Gary Sanchez and Brett Gardner did their best to make up for a horrid performance by the Yankee pitching staff, combining to go 6-for-9 with three RBIs while the rest of the lineup had two hits in 23 at-bats.
Mr. August continued his ridiculous power binge with another mammoth home run in the fourth inning and an RBI single in the seventh. He is the first Yankee since Tino Martinez to homer in three straight games in Detroit. And if you're looking for a definition of a hot streak, he now has …
– six homers in his last 7 games,
– eight homers in his last 10 games,
– nine homers in his last 12 games,
– 10 homers in his last 15 games
The solo blast was also the 47th of his big-league career, making him one of two players in the last 100 years (along with Tigers catcher/first baseman Rudy York) to hit 47 homers before their 150th career game.
Gardner celebrated his 34th birthday in style with a season-high four hits, earning himself the coveted Obscure Yankeemetric of the Series and a place on one of the most unique lists we've ever produced. Three players in franchise history have gotten at least four hits and drove in a run on his birthday: Gardner, Jerry Mumphrey (1981) and Lou Gehrig (1931).