Different ballpark, same result. The Subway Series shifted to Citi Field on Wednesday and the Yankees won yet again, this time by the score of 5-3. They've won three straight games, all against the Mets, and seven of their last eleven games overall.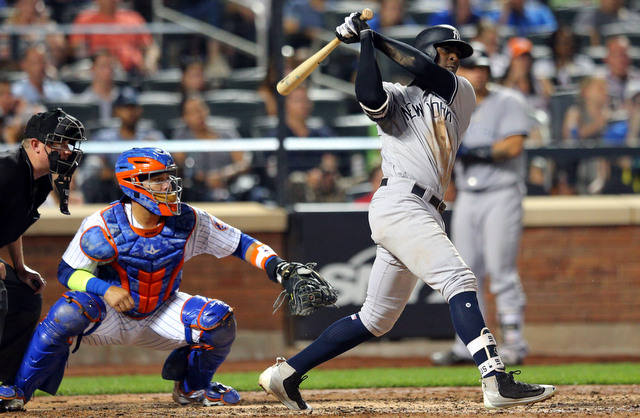 Yes In-Didi
Might as well start with the late innings. The Yankees and Mets traded runs through six innings, so when the Yankees came to the plate in the seventh, the score was tied 3-3. The game-winning rally started with a Ronald Torreyes leadoff double. He yanked it fair inside the third base bag and it rolled all the way to the wall. A Brett Gardner pinch-bunt followed. A pinch-bunt. Gotta love NL ball.
Anyway, the pinch-bunt moved Torreyes to third with one out, and two walks later, the bases were full of Yankees and the batter's box was full of Aaron Judge. Alas, our large adult hero popped up on the infield for the second out, and the rally was on life support. Fortunately, Didi Gregorius was able to get himself into a fastball count, and he hooked a Paul Sewald offering into the right field corner for a two-run double. Torreyes and Jacoby Ellsbury scored, and Aaron Hicks stopped at third. How could anyone not love Didi?
Underrated moment of that seventh inning really: home plate umpire Chad Whitson totally blowing a strike three call on Hicks. Look at this thing:
What should've been strike three was called ball four. Of course, it was called ball four because Sewald missed his spot by the entire width of the plate. Catcher Rene Rivera set up outside, the pitch was way inside, and he had to reach across the plate. Usually the umpire calls it a ball when that happens. Blame Sewald and Rivera, not Whitson. The walk loaded the bases and set up Gregorius for the game-winning double.
Long Leash For Jaime
Kind of a weird start for Jaime Garcia, who allowed two runs through the first five innings, but was behind almost every batter. Only eleven of the 22 batters he faced saw a first pitch strike — I'm surprised it was that many — and seven of those 22 saw a three-ball count. Somehow Garcia only walked three. Two runs in five innings is fine. I'd take that from my fifth starter any day.
The problem is Garcia was sent back out for the sixth inning even though he was about to go through the lineup the third time. Batters against him the third time around this year: .329/.404/.573. Yeah. I mean, Garcia's pitch count was sitting at 80 when he went out for the sixth, plus his lineup spot was due up in the bottom half of the inning, so I understand why Joe Girardi sent back out. I was hoping he'd take the two runs in five innings and go to the bullpen.
Garcia did not retire a batter in the sixth inning. Asdrubal Cabrera led off with a single, then was thrown out trying to advance on a ball in the dirt. Yoenis Cespedes worked a walk, and Michael Conforto followed with a double into the left-center field gap. That gave the Mets runners on second and third with one out, and ended Garcia's night. The Yankees led 3-2 at the time. Garcia's final line: 5.1 IP, 5 H, 3 R, 3 ER, 3 BB, 3 K. Meh. Next time don't try to squeeze one more inning out of Jaime, Joe.
All Rise (And Watch The Ball Sail Over Your Head)
Is Judge coming out of his slump? He reached base multiple times for the fourth straight game, and one of his times on base Wednesday was a classic Aaron Judge jaw-dropping home run. He put a ball into Citi Field's third deck in left field. To the director's cut:
Good gravy. I've seen players hit balls up there in batting practice, mostly Cespedes and Giancarlo Stanton, but in a game? I've never seen that before, either on television at the ballpark. The official distance: 457 feet. The exit velocity: 117 mph. Been a while since we've seen Judge hit a bomb like that. Since he nearly hit a ball out of Safeco Field, right? Judge just put his head down and ran the bases too. Didn't look to see where it landed. The next homer I see him admire will be the first.
The Judge home run gave the Yankees a 2-1 lead in the fourth inning. They tied the game 1-1 in the third inning thanks to some shoddy defense. Chase Headley drew a walk, moved to second a wild pitch, and then moved to third on a passed ball. Garrett Cooper brought Headley home with a run-scoring ground out. I prefer monster homers into the third deck, but to each his own.
The B-Team Bullpen
The Yankees did not have Aroldis Chapman (hamstring) or Dellin Betances (workload) on Wednesday, and presumably not Chad Green (workload) either, which meant Girardi had to rely on his B-Team relievers. Those guys are pretty good too, fortunately. Tommy Kahnle replaced Garcia and allowed a sac fly to tie the game, but otherwise limited the damage after being brought in with runners on second and third and one out.
Adam Warren handled seventh and eighth inning duties like a boss. He retired six of seven batters faced — the one baserunner was a Juan Lagares bunt single — including striking out Brandon Nimmo, Cabrera, and Cespedes. Warren is now sitting on a 1.73 ERA (2.56 FIP) this season and he is maybe the fourth best reliever in the bullpen. David Robertson served as the closer du jour and slammed the door in the ninth. He's the third different Yankee to record a save in their last five wins.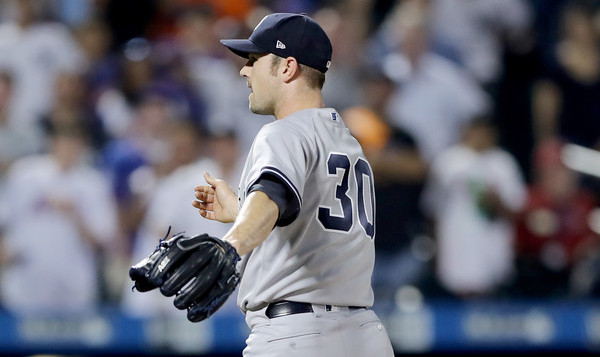 Leftovers
Two hits for Judge, two hits for Headley, and two hits for Torreyes. Ellsbury and Gregorius each had one hit as well. The Yankees went 1-for-10 with runners in scoring position and the one hit was Didi's two-run double. Timing is everything. Ellsbury, Hicks, Gregorius, Headley, and Gary Sanchez drew the walks. Ellsbury stole a base. Turn back the clock game for him.
I am Mad Online the Yankees did not bunt towards Travis d'Arnaud. The Mets had to scratch both Wilmer Flores and Jose Reyes before the game, forcing them to play d'Arnaud a third base, a position he'd never played before. I was expecting Ellsbury to bunt at him the first pitch of the game. Alas. The Mets had Cabrera and d'Arnaud swapping positions all game. Cabrera played second against left-handed hitters and third against righties, so if the hitter pulled the ball with authority, it'd be hit at the experienced infielder. Smart!
And finally, Judge struck out in his final at-bat, and has now struck out in 33 consecutive games. That breaks Adam Dunn's record for position players. (Bill Stoneman holds the overall record at 35 games.) Am I the only one who doesn't care? Did anyone even know who held the "most consecutive games with a strikeout" record until, like, last week?
Box Score, WPA Graph & Standings
For the box score and updated standings, go to ESPN. For the video highlights, go to MLB.com. We have a Bullpen Workload page that may or may not be relevant to your interests. Here's the win probability graph:

Source: FanGraphs
Up Next
The Yankees are going for the Subway Sweep. They've already clinched the series win and now it's time to get greedy. Luis Severino and Steven Matz are the scheduled starters for Thursday night. The Yankees head out on the road for a week after that, so check out RAB Tickets if you want to catch them live for the last time for a little while.