For the sixth time in seven games since the trade deadline, the Yankees scored no more than three runs Tuesday night. They've lost 3.5 games in the standings in those seven games. Really could've used a bat at the deadline, huh? The Yankees lost 4-2 in Tuesday night's series opener against the Blue Jays. They've lost six of their last nine games, almost exclusively because of the offense.
Sabathia's Short Start
I have no idea how CC Sabathia managed to get through three innings. He had nothing. Less than nothing. His fastest fastball of the night clocked in at 89.7 mph and his average heater sat 87.9 mph. There were also a ton of pitches up. I mean way up and above the strike zone, as if Sabathia were trying to muscle up and overthrow to generate velocity. He looked terrible. Sure enough, after the game we learned he exited with pain in his right knee, and he'll go for tests. Yuck.
Sabathia allowed four runs in his three innings and they came on two two-run home runs by Josh Donaldson. Somehow Donaldson had never taken Sabathia deep prior to Tuesday night. Here are the home run pitch locations: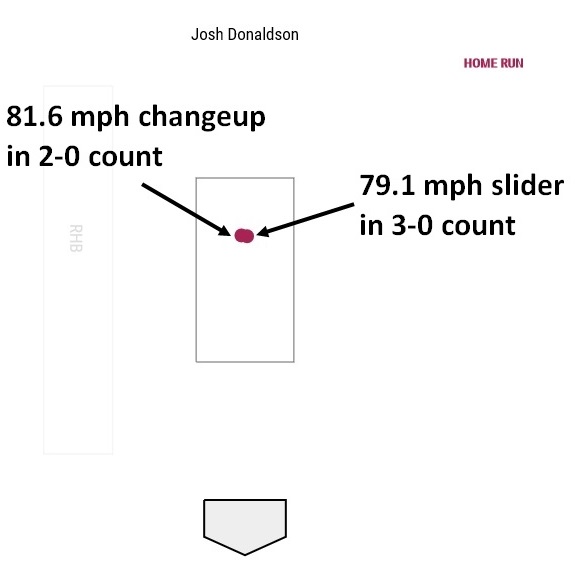 Woof. Donaldson has not had a typical Josh Donaldson year, but still. Leave cement mixers there to a guy like Donaldson and he'll park them over the wall. The first, the 2-0 changeup, was an opposite field shot with plenty of distance. The second was yanked down the line and fair by maybe a seat or two. The Yankees needed a little more hook to get it to carry foul, but no luck.
Sabathia's final line before the knee forced him out of the game: 3 IP, 6 H, 4 R, 4 ER, 1 BB, 3 K. Five of those six hits went for extra bases. The two homers by Donaldson and doubles by Jose Bautista, Kendrys Morales, and Steve Pearce. Sabathia now has a 5.67 ERA (5.99 FIP) in six starts and 27 innings since coming back from the disabled list. That includes one start with six shutout innings. Good thing the Yankees got two starters at the trade deadline, huh?
Cooper Can't Do It All
Garrett Cooper managed to drive in New York's two runs and also not come through in their two biggest chances. Well, that's not fair, because he did get a run in with a sac fly with the bases loaded in the eighth inning. It was a good at-bat too. He fell behind 0-2, worked the count back full, then had the sac fly. The Yankees were down three runs at the time though. Needed a little more than a productive out there.
The Yankees did have plenty of baserunners Tuesday night. Fourteen in nine innings. The big spot always seemed to find Cooper though. Chase Headley and Didi Gregorius opened the second with back-to-back singles, though before you even had a chance to say "at least Chris Carter isn't up," Todd Frazier banged into a 6-4-3 double play. Sigh. Cooper picked him up with a two-out single to right field to score the run to cut Toronto's lead to 2-1.
In the sixth the Yankees loaded the bases with two outs on two walks (Gary Sanchez and Headley) and an infield single (Frazier). Cooper was left in to face the right-hander Dominic Leone, a questionable decision at best, and he flew out to strand all three runners. Maybe rethink your roster construction if you have no left-hander to pinch-hit for Cooper against a righty pitcher with the bases loaded? I mean, if you don't trust to Jacoby Ellsbury to hit there, what purpose does he serve?
Cooper found himself again facing a righty with the bases loaded in the eighth, though this time there was only one out. Two hit-by-pitches (Sanchez and Headley) and a walk (Frazier) set that rally up. Cooper worked a strong at-bat and did get the sac fly, but that was the Yankees' last best chance against a pitcher not named Roberto Osuna, and a sac fly was basically the bare minimum there. It's not Cooper's fault the Yankees lost, of course. You can't count on the up-and-down platoon bat to get all the big hits. The offense stalled out weeks before the trade deadline.
Leftovers
Nice job by Bryan Mitchell to spare the bullpen. He tossed four scoreless innings after Sabathia exited the game. Mitchell made two goofy errors too. He misjudged a soft chopper and let it hop over his glove — the glove he was holding chest high — and then he got his feet twisted up and fell down fielding a chopper later on. Heh. We can laugh because he escaped unscathed both times.
The 1-2-3-4 hitters: 1-for-15 with three walks and six strikeouts. Judge had two walks and Clint Frazier had the hit (a single) and three of the strikeouts. Tough to win when the top of the lineup does that. The 5-6-7-8-9 hitters went 6-for-16 (.375) with two walks and no strikeouts. Cooper was the only Yankee with multiple hits. He had two. Headley, Gregorius, Ronald Torreyes, and the Frazier had one hit each.
Box Score, WPA Graph & Standings
For the box score and updated standings, go to ESPN. MLB.com has the video highlights and we have a Bullpen Workload page. Here is the loss probability graph:

Source: FanGraphs
Up Next
The Yankees and Blue Jays will continue this three-game series with the middle game Wednesday night. Cesar Valdez, who was originally scheduled to start that game for the Blue Jays, was placed on the disabled list prior to Tuesday's series opener. Nick Tepesch is getting the ball now. Masahiro Tanaka will be on the bump for the Yankees.