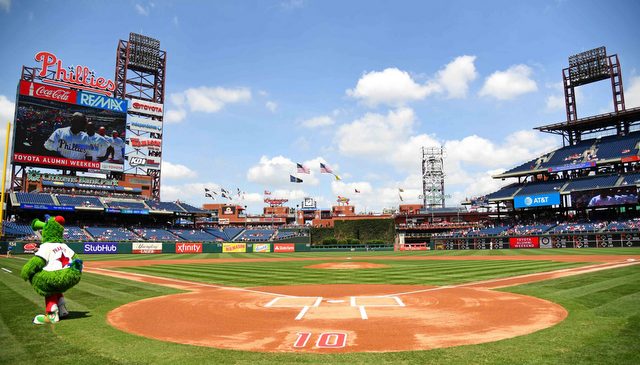 At some point next month MLB will release the 2018 regular season schedule, though bits and pieces are already starting to leak out. The Yankees are due to face the NL East during interleague play next year, and according to Ryan Lawrence, they are tentatively scheduled to visit the Phillies next summer. It'll be the first time the Yankees visit Citizens Bank Park since the 2009 World Series.
The three-game series in Philadelphia is scheduled for Monday, June 25th, through Wednesday, June 27th. Aside from the 2009 World Series, the Yankees have visited Citizens Bank Park for an interleague series only once. They took two of three from the Phillies back in June 2006. The Yankees starting pitchers that series: Randy Johnson, Mike Mussina, and Jaret Wright. Prior to that, their last trip to Philly was to Veterans Stadium in 2001.
The Yankees and Phillies have played two series at Yankee Stadium since the 2009 World Series. The Phillies took two of three in June 2010 and again took two of three in June 2015. They also played three regular season games at Yankee Stadium in May 2009. The Phillies won two of three that series too. Eh, whatever. That has no bearing on what happens next year. (Also, kiss the ring.)
With the NL East on tap next year, the Yankees figure to get a firsthand look at Bryce Harper before his impending free agency, possibly even in Yankee Stadium. Harper went deep when the Nationals visited the Bronx back during his MVP season in 2015.
Chances are the Yankees will visit new SunTrust Park in Atlanta next year, a ballpark they helped open with an exhibition game back earlier this spring. Greg Bird hit the first (unofficial) home run at the new building. The Yankees play the Mets during the Subway Series every season, so that's nothing new. Visiting the Phillies and getting to see Bryce Harper up close don't happen to often for the Yankees, so that'll be fun. If nothing else, at least interleague travel will be easy next year.