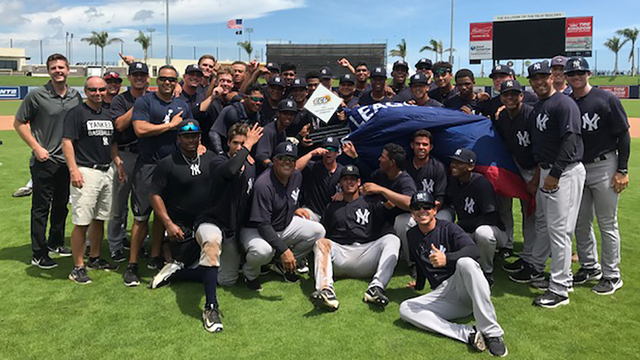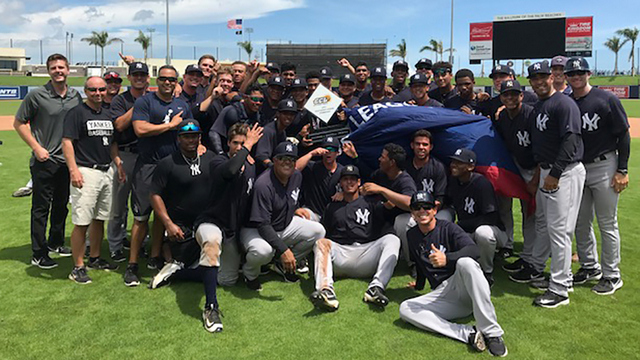 The last 18 months or so have been a whirlwind down in the farm system. Last year the Yankees decided to sell at the trade deadline for the first time in nearly three decades, which gave them arguably the game's best and deepest farm system coming into this season. All the scouting publications ranked New York's system second best behind only the hard tanking Braves this spring.
This season, the Yankees started to turn that highly ranked farm system into MLB players. Aaron Judge graduated to the big leagues and broke the rookie home run record. Jordan Montgomery graduated to the big leagues and became a solid back-end starter. Chad Green graduated to big leagues and emerged as a lockdown reliever. Others like Clint Frazier, Miguel Andujar, Tyler Wade, and Domingo German made their MLB debuts as well.
Then there are the trades. The purpose of a farm system is to produce MLB players and trade chips, and the Yankees did both this year. Blake Rutherford, Ian Clarkin, and Tito Polo went to the White Sox for David Robertson, Todd Frazier, and Tommy Kahnle. Jorge Mateo, James Kaprielian, and Dustin Fowler went to the Athletics for Sonny Gray. Zack Littell and Dietrich Enns became Jaime Garcia. The farm system had a ton of big league impact in 2017.
Despite the graduations and trades, the Yankees still have a very strong farm system with one of the two or three best prospects in the game in Gleyber Torres. "(Farm system head) Gary Denbo has done a terrific job. They have the best minor league system, by far," said one rival scout to Jon Heyman recently. The Yankees minor league affiliates went a combined 491-325 this year, far and away the best record among the 30 teams, and seven of their eight affiliates qualified for the postseason. Lots of prospects and lots of winning.
Now that the minor league postseason is over, it's time to hand out some awards for the minor league season. As always, these awards are totally subjective and completely meaningless. I have no authority whatsoever. This is just my look back at the season and a recognition for those who played well. This isn't any sort of top prospects list. It's a best performers list regardless of prospect status. Got it? Good.
Here are my 2007, 2008, 2009, 2010, 2011, 2012, 2013, 2014, 2015, and 2016 awards posts. Ten years already. This is year eleven. Crazy. Time to dive into this season's minor league awards.
Minor League Player of the Year: OF Estevan Florial
Not an easy call this year! Not at all. It came down to Florial and Andujar, both of whom had tremendous seasons. Ultimately, I went with Florial because while they had comparable offensive numbers, Florial did it as a 19-year-old in full season leagues. That to me is more impressive than a 22-year-old having a big season at Double-A and Triple-A. Andujar was essentially repeating Double-A for the first half of the season. Florial played a handful of Low-A (and High-A) games last year, but only a handful. Andujar was with Trenton for the second half last year. Again, both had amazing seasons! I think Florial's was a little more impressive, despite the unsightly 31.1% strikeout rate. He hit .298/.372/.479 (145 wRC+) with 10.5% walks, 23 doubles, seven triples, 13 homers, and 23 steals in 31 attempts, which earned him a spot in the Futures Game and will land him in the various top 100 prospect lists next spring.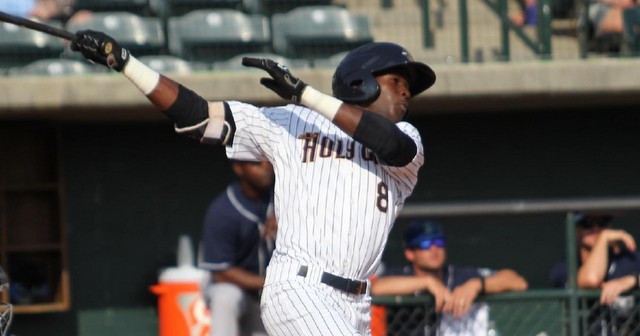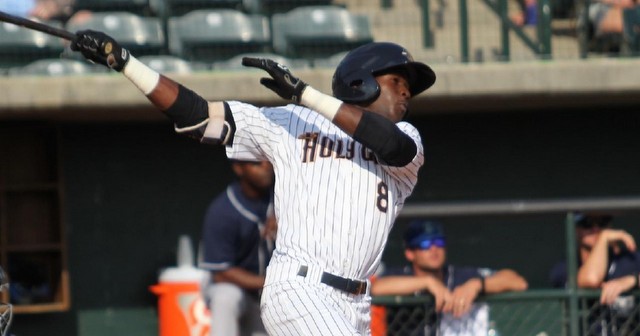 Minor League Pitcher of the Year: RHP Chance Adams
Adams was not quite as good this year as last year, though he was still the most consistently excellent pitcher in the farm system in 2017. He started the season back at Double-A before a quick promotion to Triple-A, and overall, he threw 150.1 innings with a 2.45 ERA (3.70 FIP) with 22.3% strikeouts and 9.6% walks. The walks are the only real negative. Adams led the farm system in innings and his 135 strikeouts were third most behind Brian Keller (157) and Domingo Acevedo (142). Among the 17 pitchers to throw at least 100 innings in the system this year, his 1.078 WHIP was second lowest behind Caleb Smith (1.063). I nearly went with Keller here, though a 23-year-old four-year college guy against Single-A kids isn't really a fair fight. Adams would've carved up Low-A too.
Minor League Hitter of the Year: 3B Miguel Andujar
Florial is the Minor League Player of the Year and Andujar has to settle for being the Minor League Hitter of the Year. Not a bad consolation prize. Andujar authored a .315/.352/.498 (132 wRC+) batting line between Double-A and Triple-A and led the farm system in hits (151), doubles (36), and extra-base hits (54). He also struck out only 13.6% of the time against the best pitching he's ever faced. Forty-seven players posted a 130 wRC+ or better in at least 500 minor league plate appearances this season, and among those 47, Andujar had the fifth lowest strikeout rate. And, as an added bonus, he went 3-for-4 with a double in his MLB debut. Quite a season for Andujar.
Breakout Player of the Year: OF Estevan Florial
Really easy call here. When you make the jump from interesting yet relatively unheralded short season prospect to the Futures Game and top 100 lists and my Minor League Player of the Year in the span of a season, you're the obvious Breakout Player of the Year. Just an incredible all-around season for Florial. Jorge Guzman and Taylor Widener deserve an honorable mention here. Freicer Perez and Jonathan Loaisiga as well. The Yankees graduated several top prospects to the big leagues and traded away several others, yet they replenished the pipeline by helping more than a few guys take their game to the next level, none moreso than Florial
Comeback Player of the Year: RHP Domingo German
Surprised? You shouldn't be. In his first full season back from Tommy John surgery, German threw 109.1 minor league innings around big league call-ups, during which he posted a 2.88 ERA (3.29 FIP) with 26.3% strikeouts and 7.1% walks. He was at his best late in the season, as he got further away from elbow reconstruction and actually got a chance to pitch rather than sit in the big league bullpen as the little used eighth reliever. Little Sunday pitched to a 2.34 ERA (2.84 FIP) in his final ten Triple-A starters after being sent down for good. Jake Cave and Billy McKinney deserve a mention for their strong comebacks seasons. In my opinion, German coming back from major surgery to do what he did is more Comeback Player of the Year worthy than a couple bats bouncing back from down seasons.
Bounceback Player of the Year (started slow, finished strong): SS Kyle Holder
Second straight Bounceback Player of the Year award for Holder. The defensive wiz played 104 total games this season, all with High-A Tampa. His first 52 games: .187/.232/.242 (37 wRC+) with seven extra base hits (four doubles, two triples, one homer), 16.0% strikeouts and 4.7% walks. He started the season in a 1-for-34 (.029) slump. Yikes. His last 52 games though: .351/.396/.452 (151 wRC+) with 15 extra base hits (12 doubles, three homers), 12.2% strikeouts, and 7.0% walks. The end result is a .271/.317/.350 (95 wRC+) batting line. Would be nice to see Holder put together a full productive season at some point rather than continue the "bad first half, great second half" trend.
Best Pro Debut: OF Steven Sensley
Plucked from Louisiana-Lafayette in the 12th round of this year's draft, Sensley received a straight slot $125,000 bonus, then went on to hit .292/.370/.584 (157 wRC+) with 15 doubles and 13 homers in only 50 pro games. Although his season didn't start until late-June, Sensley finished ninth in the farm system in homers and 22nd in extra-base hits. The Yankees started him in the Rookie Gulf Coast League, then bumped him up to Rookie Pulaski, then again to Low-A Charleston. Sensley kept forcing the issue. Outfielder Canaan Smith (4th round) and right-handers Trevor Stephan (3rd) and Glenn Otto (5th) get the honorable mentions here.
Most Disappointing Player of the Year: SS Wilkerman Garcia
Not many candidates to choose from — that's a good thing! — so Wilkerman gets the nod almost by default. A shoulder issue early last year slowed Garcia's season, during which he hit .198/.255/.284 (52 wRC+) in 54 rookie ball games after getting back on the field. This year the hope was Garcia would bounce back with a healthy shoulder and continue his rise up the prospect rankings. Instead, Wilkerman hit .222/.256/.296 (64 wRC+) with 26.0% strikeouts and 4.3% walks in 67 games with Short Season Staten Island. His big breakout 2015 season — Garcia hit .299/.414/.362 (140 wRC+) with more walks (25) than strikeouts (19) in 39 rookie ball games that year — feels like so long ago.
All-Minor League Teams
| | First Team | Second Team | Third Team |
| --- | --- | --- | --- |
| Catcher | Donny Sands | Gustavo Campero | Jorge Saez |
| First Base | Mike Ford | Brandon Wagner | Ji-Man Choi |
| Second Base | Nick Solak | Donovan Solano | Billy Fleming |
| Shortstop | Tyler Wade | Gleyber Torres | Thairo Estrada |
| Third Base | Miguel Andujar | Dermis Garcia | Gosuke Katoh |
| Outfield | Estevan Florial | Isiah Gilliam | Alex Palma |
| Outfield | Clint Frazier | Billy McKinney | Jhalan Jackson |
| Outfield | Jake Cave | Steven Sensley | Zack Zehner |
| Starting Pitcher | Chance Adams | Domingo German | Caleb Smith |
| Starting Pitcher | Brian Keller | Freicer Perez | Justus Sheffield |
| Starting Pitcher | Domingo Acevedo | Taylor Widener | Jorge Guzman |
| Relief Pitcher | Nestor Cortes | Jose Mesa Jr. | Anyelo Gomez |
| Relief Pitcher | Ben Heller | Cody Carroll | Nick Rumbelow |
Lifetime Achievement Award: IF Cito Culver
The Cito Culver story is well known by now. The Yankees selected Culver with their first round pick, the 32nd overall selection in the 2010 draft, even though he was considered more of a third or fourth round talent. Baseball America ranked him 168th (!) among their top 200 draft prospects that year. Lists are just lists, they don't mean anything, but the pick sure led to some head-scratching.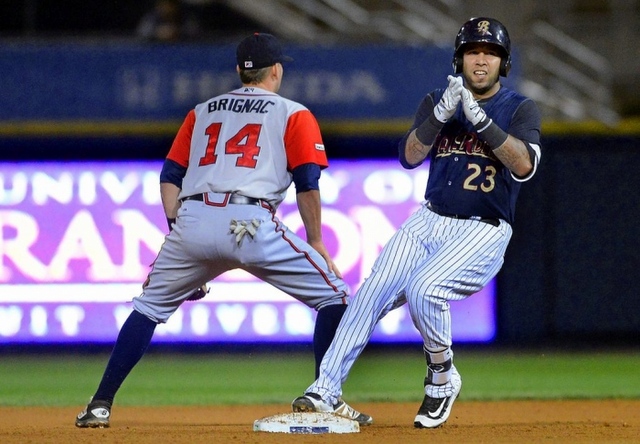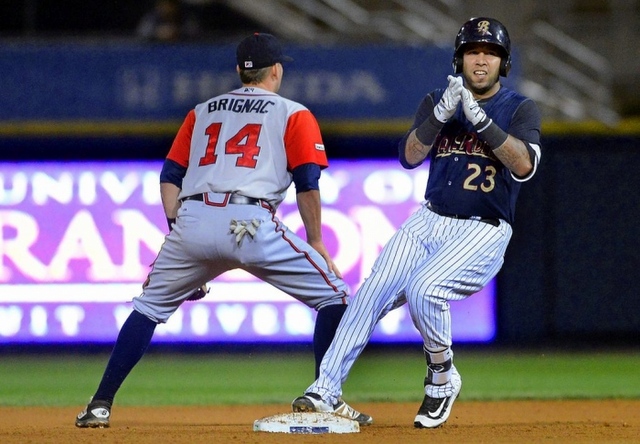 Culver never did anything to justify his draft spot — he dropped out of my top 30 prospects list (and Baseball America's as well) by the middle of 2013 — though he has remained in the organization and become a super utility player. "It was about the halfway point last year where we decided Cito was more of what we call an Infield 5 player, which means he can play shortstop, third base, second base," said farm system head Gary Denbo to Chad Jennings last spring.
This season Culver, with Triple-A Scranton, played 46 games at shortstop, 25 at first base, 17 at third base, 12 at second base, and three in left field. Plus three others at designated hitter. Culver set a career high with 12 home runs this season, and while he faded in the second half, he did manage a .246/.317/.463 (114 wRC+) batting line before the All-Star break. In parts of eight pro seasons, Cito has played in 833 games and batted 3,453 times.
As best I can tell, Culver is the longest tenured player in the organization who has yet to play in the big leagues. He hasn't even been added to the 40-man roster yet. Last winter Culver became a minor league free agent and decided to re-sign with the Yankees despite (likely) knowing they would continue to use him as a utility man. Cito never did reward the Yankees for the high draft slot and $954,000 bonus, though he has stuck around for the better part of the decade as an organizational role player, and those are the players the Lifetime Achievement Award is intended to honor.