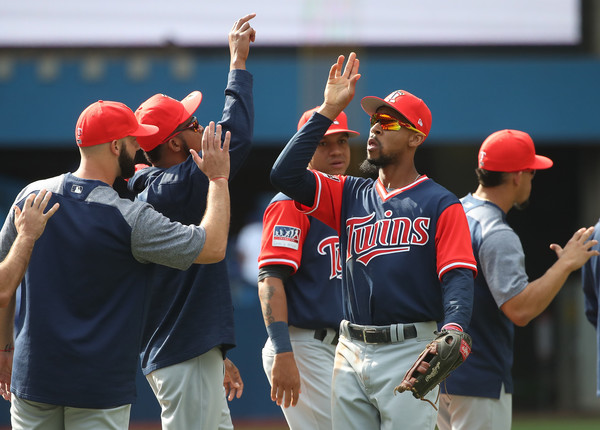 The Last Time They Met
The Yankees visited Minnesota for a three-game series in mid-July, and dropped two of three. That was the last of the interminably lengthy stretch of series losses, thankfully, and the Yankees have gone 34-22 since. Some series notes:
The trade for David Robertson, Tommy Kahnle, and Todd Frazier was made in the midst of this series, and the latter two made their Yankees debuts in the third game. Kahnle threw a scoreless eighth inning, notching two strikeouts, and Frazier went 0-for-1 with a strikeout as a pinch hitter.
Caleb Smith made his big league debut in the first game, relieving Bryan Mitchell in the 6th. He took the loss after allowing two runs in the bottom of the 8th.
This was the first series that the Yankees lost in Target Field … it was their 8th season visiting the stadium.
Check out Katie's Yankeemetrics post for more information.
Injury Report
Miguel Sano's injured left leg has been one of the biggest storylines in Minnesota this summer, as the slugger has been sidelined since August 19. He was hitting .267/.356/.514 (126 wRC+) with 28 home runs when he went down with a stress reaction in his shin, and he was the foundation of the team's lineup. As of this writing, his return is still up in the air.
Joining Sano on the DL are pitchers Phil Hughes (possibly done for the season), Hector Santiago (probably done for the season), and Trevor May (definitely out for the season).
Their Story So Far
The Twins are 78-71 with a +9 run differential on the season, and they currently control the second Wild Card spot. They're four games behind the Yankees for home field advantage in that game, so that adds an interesting layer of intrigue to this series. A white-hot August propelled the Twins into the race, as they went 20-10; six of those wins did come against the tanking White Sox, though.
Byron Buxton has been the poster boy for the team's turnaround, as the former number one prospect has begun to make good on his promise. He has a .323/.365/.622 slash line (145 wRC+), to go along with 11 HR and 10 SB (0 CS) since the All-Star break. And, despite all of the hand-wringing about his struggles prior to this stretch, he's still three months shy of his 24th birthday.
The Lineup We Might See
Manager Paul Molitor has a fairly steady hand with his lineup, though he does juggle the order a bit to get the platoon advantage. With LHP taking the mound for the Yankees today and tomorrow, we'll probably see something like this:
Brian Dozier, 2B – .260/.346/.480, 31 HR, 15 SB
Joe Mauer, 1B/DH – .306/.385/.424, 7 HR, 2 SB
Jorge Polanco, SS – .251/.307/.403, 11 HR, 10 SB
Eduardo Escobar, 3B – .254/.312/.448, 19 HR, 5 SB
Byron Buxton, CF – .258/.320/.430, 16 HR, 26 SB
Eddie Rosario, RF – .295/.333/.521, 26 HR, 9 SB
Kennys Vargas, DH/1B – .251/.311/.453, 11 HR, 0 SB
Jason Castro, C – .234/.327/.380, 9 HR, 0 SB
Ehire Adrianza, LF – .270/.335/.383, 2 HR, 8 SB
And Tanaka will probably face something like this on Wednesday:
Dozier, 2B
Mauer, 1B
Polanco, SS
Rosario, LF
Buxton, CF
Max Kepler, RF – .243/.314/.420, 17 HR, 6 SB
Escobar, 3B
Castro, C
Robbie Grossman, DH – .249/.369/.393, 9 HR, 2 SB
The Starting Pitchers We Will See
Monday (7:05 PM EST): LHP Jaime Garcia vs. RHP Ervin Santana
This is the 13th season of what has been a fairly productive career for Santana, who is still just 34-years-old. His 133 ERA+ is the best mark of his career, as are his five complete games and three shutouts. There are signs that this is more than a bit fluky – notably his 4.53 FIP and .241 BABIP – but he has been good more often than not for quite some time now, and this is his second big year in a row.
Santana's mid-90s four-seamer and mid-80s slider account for nearly 80% of his offerings, so it would be fair to label him as a (mostly) two-pitch guy. He'll mix in a low-90s sinker and a mid-80s change-up, but usually no more than a handful of each per game.
Last Outing (vs. SDP on 9/13) – 6.0 IP, 3 H, 0 R, 1 BB, 7 K
Tuesday (7:05 PM EST): LHP CC Sabathia vs. RHP Jose Berrios
The Yankees matched-up against Berrios on July 19, and the 23-year-old more than held his own, pitching to the following line: 6.2 IP, 6 H, 1 R, 2 BB, 5 K. It's worth noting that that was in Minnesota, though, and that he has massive home/road splits. To wit, he has a 2.45 ERA (2.78 FIP) at Target Field, and a 5.14 ERA (5.00 FIP) everywhere else.
Last Outing (vs. TOR on 9/14) – 5.2 IP, 5 H, 1 R, 4 BB, 5 K
Wednesday (1:05 PM EST): RHP Masahiro Tanaka vs. RHP Bartolo Colon
Father Time has seemingly caught up with Colon, whose 6.39 ERA ranks 124th among 126 pitches with 100-plus IP. The Yankees tuned him up pretty well in July, scoring 4 runs in 4 innings, en route to a 6-3 victory.
Last Outing (vs. TOR on 9/15) – 6.0 IP, 5 H, 4 R, 2 BB, 1 K
The Bullpen
The Twins traded All-Star closer Brandon Kintzler at the trade deadline, in the midst of their soft-sell (which also included Garcia being sent to the Yankees). It was a group that ranked among the worst in baseball at that time, and it seemed destined for failure following the Kintzler deal. Instead, it has been rock-solid for the last six or seven weeks.
Matt Belisle (2.01 second-half ERA) has taken over as the closer, and rookie Trevor Hildenberger (3.11 ERA on the season) has taken over as the set-up man. Most of the pieces are the same as the last time these teams met – those pieces have just been better.
Who (Or What) To Watch
Buxton has done his best Mike Trout impression for two-plus months now, and he is one of the most fun players to watch right now. He's a brilliant defender in center, a fearless and efficient base-runner, and far more powerful than his frame portends. The longer this goes on, the more folk buy-in – and that's not too shocking, given his pedigree and prospect history.