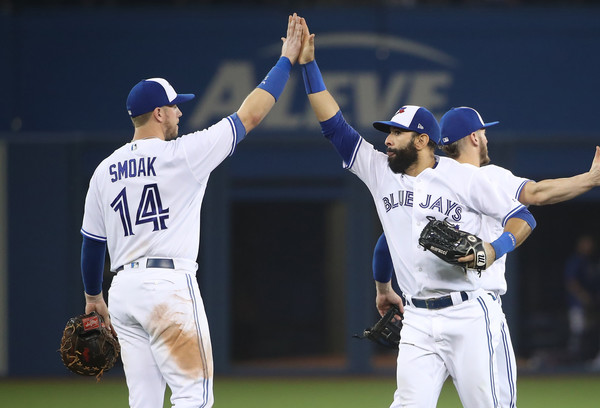 The Last Time They Met
The Yankees dropped two of three in Toronto back in August, falling to 60-53 in the process. It was a frustrating series that resulted in the team falling 4.5 games out of first (a season high to that point), and also led to both CC Sabathia and Clint Frazier hitting the disabled list. Some additional notes:
Sabathia tried to pitch through an achy right knee, but it didn't work out. His fastball averaged just under 88 MPH, and he allowed 4 runs in 3 IP on a couple of two-run home runs to Josh Donaldson.
Garrett Cooper – remember him? – had a heck of a series. He went 8-for-12 with with 2 doubles and 4 RBI, and scorched the ball in all three games.
The Yankees offense broke out in a big way in the second game, an 11-5 win. They combined for 17 hits, including 3 home runs, and had at least one base-runner in seven innings. Every starter reached base at least once, too.
Game three was a frustrating #RISPfail affair, as the team went 0-for-9 with runners in scoring position, leaving 11 runners on-base in total. Ugh.
Check out Katie's Yankeemetrics post for more fun (or not so fun) facts.
Injury Report
Aaron Sanchez, Devon Travis, and Troy Tulowitzki have all been ruled out for the season. All three have been injured more than once this season, with setbacks aplenty. Steve Pearce hasn't played since September 8, but he's still listed as day-to-day, and could conceivably be back for this series.
Their Story So Far
The Blue Jays secured a sub-.500 record with last night's loss, and currently sit at 71-82. Their -98 run differential ranks 13th in the American League (23rd in the majors), and their 650 runs scored places them in the bottom-five of all of baseball. Their pitching staff has clung to average-ish for most of the season, but it hasn't been nearly enough to make up for the horrific offense.
Jose Bautista's season is Exhibit A in the case of explaining the Blue Jays year as a whole. He's having the worst full-season of his career, despite staying healthy throughout, slashing .203/.309/.369 (80 wRC+) with the worst BB%, K%, and ISO of his Blue Jays career. The combination of his poor hitting and awful defense has him pegged at -1.8 bWAR in 148 games.
It's also worth noting that Bautista's numbers are mildly inflated due to his performance against the Yankees this year. He's hitting .260/.362/.480 with 3 HR against the Yankees, and .198/.304/.358 against everyone else.
The Lineup We Might See
Ezequiel Carrera, LF – .283/.355/.412, 8 HR, 9 SB
Josh Donaldson, 3B – .264/.386/.546, 30 HR, 2 SB
Justin Smoak, 1B – .275/.358/.544, 38 HR, 0 SB
Jose Bautista, RF – .203/.309/.369, 22 HR, 6 SB
Kendrys Morales, DH – .249/.306/.448, 27 HR, 0 SB
Kevin Pillar, CF – .258/.303/.410, 16 HR, 14 SB
Russell Martin, C – .222/.349/.382, 12 HR, 1 SB
Darwin Barney, 2B – .237/.276/.329, 5 HR, 7 SB
Richard Urena, SS – .224/.286/.345, 1 HR, 1 SB (16 games)
The Starting Pitchers We Will See
Friday (7:07 PM EST): RHP Masahiro Tanaka vs. RHP Marco Estrada
Estrada might be the pitching version of Bautista this season, with his 95 ERA+ representing a tremendous drop-off from the 127 ERA+ he posted over his first two seasons in Toronto. He also has full-season worsts in H/9, BB%, and GB%.
Last Outing (vs. MIN on 9/16) – 8.0 IP, 3 H, 2 R, 1 BB, 4 K
Saturday (4:07 PM EST): RHP Sonny Gray vs. RHP Joe Biagini
Biagini spent all of 2016 as a reliever, but was pressed into starting duty in May due to mounting injuries in Toronto. It was a role that he was accustomed to in the minors, but going from a one-inning reliever back to a full-time starter in the span of a couple of weeks can't be too easy. He has unsurprisingly struggled as a starter, pitching to a 5.77 ERA (4.31 FIP) in 16 starts.
Last Outing (vs. MIN on 9/17) – 1.1 IP, 5 H, 6 R, 1 BB, 0 K
Sunday (1:07 EST): LHP Jordan Montgomery vs. RHP Marcus Stroman
Stroman has been excellent this season, pitching to a 3.01 ERA (153 ERA+) in 191.1 IP. His 61.8 GB% leads the majors by nearly three percentage points, as batters beat sinker after sinker into the ground. The Yankees have done well against him this year, though, scoring 9 runs in 14 IP.
Last Outing (vs. KCR on 9/19) – 7.0 IP, 4 H, 1 R, 2 BB, 5 K
The Bullpen
It's been a rough season for Toronto's bullpen. They've blown 25 saves, tied for worst in the majors, and their 87 meltdowns finds them in the bottom-five. Closer Roberto Osuna has been a borderline disaster in the second-half, pitching to a 5.54 ERA and blowing seven saves, but his job is nevertheless secure (and it probably should be, given his resume and age).
Beyond Osuna, however, the bullpen has been more than passable these last two months. Dominic Leone, Aaron Loup, Ryan Tepera, and Matt Dermody may not be a noteworthy group of names, but they've held down the fort in the middle and late innings quite well. Three of those four pitched last night, though, and all four have pitched multiple times this week.
Who (Or What) To Watch
This is quite likely to be Bautista's last season with the Blue Jays, as they're all but a lock to decline his mutual option for 2018. The Yankees will see him in Yankee Stadium next week, so this may not be a big deal for us; however, this is the Blue Jays last home series of the year, so we could see something special.