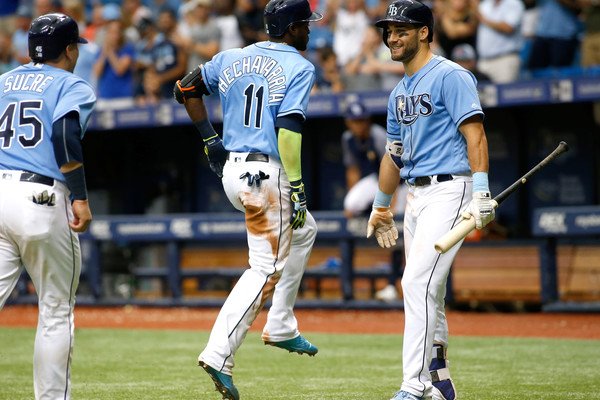 The Last Time They Met
Citi Field was the venue the last time these teams met, as a result of Hurricane Irma. The Yankees took two of three from the Rays in Flushing, and helped to create and then take ownership of a late-season meme. Some notes from the series:
David Robertson had a phenomenal outing in the first game, coming in in the fifth to bail CC Sabathia out of a two-on, one-out jam with no damage. All told Robertson went 2.2 IP, allowing one hit, no runs, and no walks, while striking out 4.
Sonny Gray pitched like an ace in game two – 8 IP, 5 H, 2 R, 1 BB, 9 K. And the Yankees lost 2-1. The less said about this game the better.
The third game of the series was one of the more stressful wins in recent memory, with the Yankees struggling to take advantage of a slew of base-runners, and the Rays threatening in nearly every inning. It was a 3-2 victory in the record books, but it was not fun to watch.
Check out Katie's Yankeemetrics post for more fun facts.
Injury Report
The Rays are mostly healthy – better late than never, I suppose. Their only noteworthy players on the disabled list are Matt Duffy, Nathan Eovaldi, and Shawn Tolleson, and none of them have appeared in a single game this season.
Their Story So Far
Tampa Bay is 76-80, and are a loss or a Twins win away from being eliminated from Wild Card contention. They've been a largely middle-of-the-pack team board this season, checking in at 11th in the majors in park-adjusted ERA and 15th in wRC+, with their outstanding defense (4th in the majors in defensive efficiency) oftentimes serving as a difference maker. They're also 20-24 in one-run games, which ranks 21st in the league. You can look at the Rays season from any number of angles, but it all boils down to them being a remarkably average team.
The Yankees are 10-6 against the Rays this year, so they've already clinched the season series.
The Lineup We Might See
Manager Kevin Cash seems to play roulette with certain slots in the lineup, but by and large you can expect to see something like this:
Kevin Kiermaier, CF – 276/.338/.455, 15 HR, 14 SB (409 PA)
Lucas Duda, DH -.221/.321/.507, 30 HR, 0 SB (476 PA)
Evan Longoria, 3B – .265/.317/.427, 19 HR, 6 SB (656 PA)
Logan Morrison, 1B – .243/.352/.515, 37 HR, 2 SB (580 PA)
Steven Souza, RF – .236/.344/.459, 30 HR, 16 SB (600 PA)
Corey Dickerson, LF – .278/.322/.487, 26 HR, 4 SB (612 PA)
Wilson Ramos, C – .263/.293/.444, 10 HR, 0 SB (211 PA)
Brad Miller, 2B – .198/.326/.328, 8 HR, 4 SB (396 PA)
Adeiny Hechavarria, SS – .249/.284/.398, 6 HR, 3 SB (265 PA)
The Starting Pitchers We Will See
Tuesday (7:05 PM EST): LHP Jordan Montgomery vs. LHP Blake Snell
Snell has had a disappointing and disjointed sophomore season, having spent much of it in the minors as he attempts to learn the finer points of controlling where the baseball is going. His walk rate has dropped by two full percentage points from last year (from 12.7% to 10.7%), but it remains two-plus percentage points worse than league-average (8.5%). He has great stuff and has flashed brilliance for parts of two seasons now, so he shouldn't be underestimated; but Snell is still very much a work in progress.
Last Outing (vs. CHC on 9/20) – 7.0 IP, 2 H, 0 R, 3 BB, 5 K
Wednesday (7:05 PM EST): RHP Luis Severino vs. RHP Matt Andriese
The Yankees have faced Andriese twice this year. He got the better of them the first time around (6.0 IP, 5 H, 1 R, 3 BB, 5 K), but they solved him the next time out (5 runs in 5 IP). Andriese has been a serviceable fifth starter/up-and-down guy for the Rays this year, pitching to a 4.33 ERA (94 ERA+) in 16 starts.
Last Outing (vs. BAL on 9/21) – 6.0 IP, 7 H, 3 R, 1 BB, 8 K
Thursday (7:05 PM EST): RHP Sonny Gray vs. RHP Alex Cobb
Mike wrote everything you need to know about Cobb – a free agent to be – just last week. Give it a read, won't you?
Last Outing (vs. BAL on 9/22) – 6.0 IP, 9 H, 3 R, 1 BB, 4 K
The Bullpen
Tampa's bullpen was something of a horror show in the first half, blowing lead after lead, and allowing small deficits to grow into large ones. The group has done an about-face in the last two months, though, with closer Alex Colome, set-up man Tommy Hunter, and new additions Steve Cishek and Sergio Romo combining for a 1.84 ERA in 107.2 IP since the All-Star break. They're a bit shallow beyond that big four, but this is a group that ranks 3rd in the majors in bWAR in the second half, and 5th in WPA.
Who (Or What) To Watch
Alex Cobb may well be auditioning for the Yankees on Thursday, and a strong final start could help his cause a bit.
Taking a more Yankee-centric approach this time around, it's also worth mentioning that some scoreboard watching is in order. A win for the Yankees or a loss for the Twins will wrap-up homefield advantage for the Yankees in the Wild Card game, and that's significant. The Yankees are 47-28 at home and 40-41 on the road, which isn't too far off from their split last year. This is a team that utilizes Yankee Stadium to the fullest, so we should have one more cause for celebration during this series.