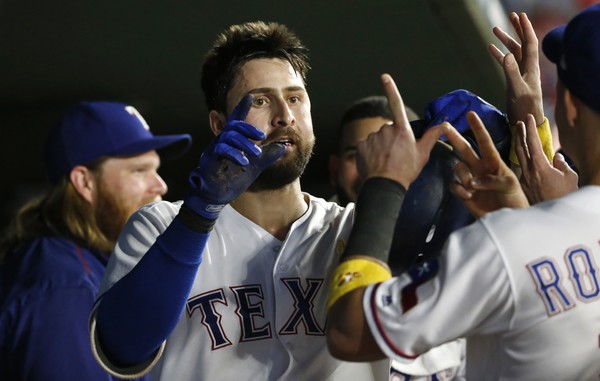 The Last Time They Met
The Yankees played host to the Rangers from June 23 through June 25, and dropped two of three. That series was in the midst of the Yankees roughest stretch of the season, when they went 7-18 in their last 25 games of the first half. Some notes:
The first game was incredibly tense, with the teams trading zeroes for the first 8 innings. Elvis Andrus scored on a passed ball to give the Rangers a 1-0 lead in the top of the ninth, but Brett Gardner tied it up with a home run in the bottom of the frame. Ronald Torreyes was the next hero up, with a walk-off, two-out single in the bottom of the 10th.
Masahiro Tanaka's start in that game shouldn't be understated, though – he went 8 scoreless, allowing just 3 runs and 2 walks, while striking out 9.
Texas won the second game 8-1, and the Yankees offense was shut down by Austin Bibens-Dirkx for 7 innings. That was also Tyler Clippard's third straight abomination of an appearance, in which he allowed 3 hits, 4 runs, and 2 walks in a single inning. Moving on…
Michael Pineda had an awful start in game three, allowing 7 runs in 4 innings. Two start later he would leave the game early, only to be diagnosed with a torn UCL shortly thereafter. The Yankees lost that game 7-6.
Check out Katie's Yankeemetrics post for more fun facts.
Injury Report
Adrian Beltre, the latest entrant to the 3,000 hit club, was placed on the 10-day DL on September 3 with a hamstring strain, so he won't be available for this series; there are some rumblings that he may be done for the season. Relievers Matt Bush and Keone Kela are on the disabled list, as well, and neither is expected to be back for this series.
Nomar Mazara left the team's last game with quadriceps tightness. No announcement has been made, regarding a stint on the DL, but he's questionable for tonight's game.
Their Story So Far
The Rangers are currently 70-69, and within a couple of games of the second Wild Card spot. Their +42 run differential is good for 10th in the majors, which is something of a testament to how unlucky they've been this season. That run differential leads to a Pythagorean record of 73-66, which would have them in the driver's seat right now. Of course, that ignores several mitigating factors – but they have been a bit snake-bitten this season.
Despite floating around .500 throughout the season and remaining within striking distance of the playoffs, the Rangers elected to sell at the trade deadline. They sent Yu Darvish to the Dodgers and Jonathan Lucroy to the Rockies, and caught a bit of flack for the returns. Darvish yielded Willie Calhoun (a top-75ish prospect with a big bat and no position) and not much else, and Lucroy was essentially given away for a player to be named later.
The Lineup We Might See
The Rangers lineup has been in a state of flux for much of the season, due to both injuries and poor performance. They also utilize a couple of platoons. With a couple of righties starting today and tomorrow, though, this is what we'll probably see:
Delino DeShields, LF – .280/.357/.382, 4 HR, 28 SB
Shin-Soo Choo, DH – .263/.365/.415, 18 HR, 12 SB
Elvis Andrus, SS – .304/.345/.494, 20 HR, 24 SB
Nomar Mazara, RF – .259/.334/.439, 18 HR, 2 SB
Carlos Gomez, CF – .251/.339/.462, 17 HR, 13 SB
Joey Gallo, 3B – .211/.336/.561, 37 HR, 7 SB
Mike Napoli, 1B – .196/.290/.437, 29 HR, 1 SB
Rougned Odor, 2B – .213/.255/.410, 28 HR, 14 SB
Robinson Chirinos, C – .259/.367/.536, 16 HR, 1 SB
With CC Sabathia taking the mound on Sunday, Choo will likely be on the bench, with Napoli shifting to DH and Will Middlebrooks (.429/.429/1.000 in 7 PA) taking over at first.
The Starting Pitchers We Will See
Friday (8:05 PM EST): RHP Masahiro Tanaka vs. LHP Martin Perez
We are only seven years removed from Martin Perez being one of the most highly-touted pitching prospects in the game, when he peaked as Baseball America's 17th overall prospect. He was only 19 then, and he was an ace in the making. He's still only 26, but he has yet to look the part, posting a 4.43 ERA (99 ERA+) in parts of six seasons. Perez has made 27 starts of 4.87 ERA (96 ERA+) ball this year, with a well below-average 14.2% strikeout rate. And, as young as he is, it's difficult to look at his lack of progress and expect much more going forward.
Perez is a four-pitch guy, featuring a low-to-mid 90s four-seamer, a low-to-mid 90s sinker, a low-80s slider, and a mid-80s change-up. He'll sprinkle in a curveball every now and again, but he's largely shelved it over the last few months.
Last Outing (vs. LAA on 9/3) – 6.0 IP, 9 H, 3 R, 2 BB, 4 K
Saturday (1:05 PM EST): RHP Luis Severino vs. RHP Andrew Cashner
The Rangers signed Cashner to a 1-year, $10 MM deal fairly early in the off-season, which was viewed as a head-scratching move by some. It was a low-risk deal, to be sure, but he was a pitcher with a scary injury history coming off of a bad season, and the Rangers were looking to compete. That deal looks fantastic in hindsight, as Cashner is currently 5th in the AL with a 142 ERA+, and 6th with 4.4 bWAR. He missed a few starts with injuries, as per usual, but he has been quite good when he steps on the mound – and he now seems like a lock for a qualifying offer.
Cashner is a five-pitch guy, though he varies his arsenal from outing-to-outing. He throws a mid-90s four-seamer, a low-90s cutter, a high-80s cutter, a mid-80s change-up, and a low-80s curve.
Last Outing (vs. ATL on 9/4) – 6.0 IP, 6 H, 2 R, 2 BB, 5 K
Sunday (3:05 PM EST): LHP CC Sabathia vs. RHP A.J. Griffin
Reviewing Griffin's stat line is a fine reminder of just how elevated offensive levels are this season. His 5.09 ERA is good for a 92 ERA+, whereas last year's 5.07 ERA translated into an 89 ERA+; and he pitched for the Rangers in both seasons. Griffin is a flyball pitcher (just 27.5% grounders this year) with below-average strikeout numbers in a hitter's park. That's not a great recipe for success.
Griffin is a three-ish pitch junkballer. He mostly throws a high-80s four-seamer, a low-80s change-up, and a high-60s curveball. He'll also flash a mid-80s cutter, but that's more of a show-me pitch than anything else.
Last Outing (vs. LAA on 9/2) – 5.2 IP, 4 H, 2 R, 2 BB, 6 K
The Bullpen
Closer Matt Bush and set-up man Keone Kela are both on the DL as of this morning, so the bullpen isn't in great shape right now. And the bullpen wasn't particularly strong to begin with, checking-in within the bottom third of the majors in ERA, FIP, K%, BB%, bWAR, fWAR, and WPA.
Tony Barnette has served as the closer since those two went down, and he's 2-for-2 in save opportunities. He has a 4.91 ERA (95 ERA+) in 51.1 IP. Jason Grilli (6.46 ERA in 39.0 IP) is the set-up man for the time being, with Jose Leclerc (4.32 ERA in 41.2 IP) and Alex Claudio (2.33 ERA in 69.2 IP) also chipping in in the late innings. Tyson Ross was moved to the bullpen at the end of August, as well – he allowed 3 hits and 2 runs in 0.2 IP in his first relief appearance.
Who (Or What) To Watch
The Rangers currently have two hitters with 25-plus home runs and a negative fWAR, in Mike Napoli and Rougned Odor. That's not necessarily something to watch, but it's endlessly fascinating to me. They've combined to hit .205/.270/.422 in 1050 PA thus far.
I compared Joey Gallo and Aaron Judge last time around, and they've trended in opposite directions since then. Gallo is batting .236/.402/.649 (168 wRC+) with 18 HR since they last met; Judge, on the other hand, is at .209/.380/.412 (112 wRC+) and 12 HR. Perhaps Judge can take this opportunity to get his mojo back…