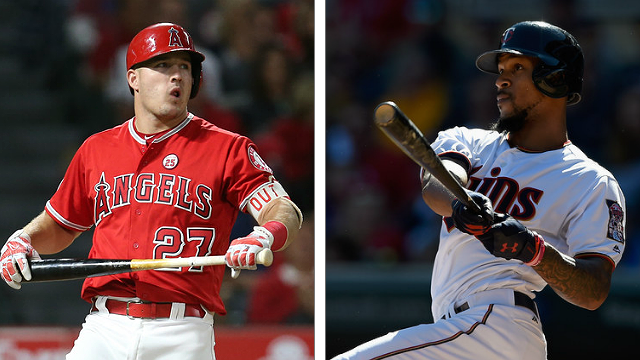 With a week and a half left in the season, the Yankees appear set to host the American League Wild Card Game.
The team is still in hot pursuit of the division crown, but the Red Sox's extra-inning escapes against the Rays, Orioles and Blue Jays in recent weeks have kept the Yankees from catching up.
Therefore, it's time to look at the two likely potential opponents for the Wild Card Game: the Los Angeles Angels and Minnesota Twins. The Yankees are 4-2 this season against the Twins and 2-4 against the Angels. While these are very different teams from past iterations of the Angels and Twins that the Yankees faced in the postseason, those records certainly mirror recent history between each franchise.
So which team is a better matchup for the Yankees in a one-game scenario? Let's take a look at the pros and cons for each matchup.
Pros for facing the Twins
We've seen the case for why the Yankees would want to face the Twins this week. With Minnesota visiting Yankee Stadium, the Bombers were able to beat both of their top starters — Ervin Santana and Jose Berrios — while holding the Twins' hot lineup at bay. Budding star Byron Buxton went 0 for 10 with a walk and was a non-factor in the series.
Perhaps the best reason to face the Twins is their bullpen. The Yankees got into the bullpen quickly against Berrios, who has significant home-road splits and therefore may not be the choice for a WCG. Rookie Trevor Hildenberger has been a revelation in recent weeks, but the rest of the bullpen is highly beatable. Matt Belisle is their closer and has converted just 7 of 12 save opportunities.
Their best reliever was Brandon Kintzler. He was traded at the deadline to the Nationals. That deal shows what the front office expected this team to do in the second half. Instead, they're 28-20 since Aug. 1 and appear to be playing over their heads, although they're 11-24 this season against the current AL playoff teams. The Angels are a more respectable 14-19.
They've had a lot of their success without slugger Miguel Sano. Sano struggled with injuries and is now on the 10-day DL with a stress fracture in his left shin, which likely has him out for the year. That should be a relief for Yankees fans: He's the type of player that can turn a single game with his bat and is objectively Minnesota's best hitter.
Cons for facing the Twins
There's a lot to make the Twins a good matchup, but there's also plenty of reasons to not to face them. A big reason to avoid them? Power. Even without Sano, the team has power up and down the lineup. They have five players with at least 15 home runs. They've hit the fourth most home runs in baseball since the All-Star break. And in the second half, they're fourth with a 109 wRC+. They're third in WAR thanks to a strong defensive unit.
Buxton epitomizes their resurgence. He returned from the disabled list on Aug. 1 and has batted .302/.348/.581 with 11 home runs and 21 total extra-base hits in 190 PAs. He's still struck out 51 times, but he's been a better hitter. What makes Buxton special is how he affects the game on both ends. He may be the best defensive center fielder in the game and he ranks at the top of the Statcast leaderboards for sprint speed.
In a WCG, the Twins could eschew their normal bullpen and simply use Santana followed by Berrios or vice versa, limiting the need for their parade of sub-par middle relievers. The Yankees can get to both, but they've each been special at times this year. Of any pitcher on the Angels and Twins, I would least want to face Berrios, who has a fastball-curveball combo that is unhittable when he's rolling.
Pros for facing the Angels
Why would you want to face the Angels? Pitching, pitching, pitching. This team doesn't have a clear starter for a one-game playoff, let alone a staff that you could see an easy path through nine innings. Three of their best starters — J.C. Ramirez, Matt Shoemaker and Alex Meyer — are out for the year. Their closer, Huston Street, threw four innings this year and is out for the season.
So who do the Angels turn to for a winner-take-all game? Parker Bridwell?? Bridwell is 8-2 with a 3.71 ERA through 102 innings, but his peripherals indicate he isn't that good. He also has a 4.69 ERA over his last nine starts. Bridwell did hold the Yankees to three runs in 8 2/3 innings in two June outings, but he allowed nine hits and walked five to just four strikeouts.
Yusmeiro Petit has been the key cog in their bullpen and could throw multiple innings in a one-game playoff. Former Yankee Blake Parker has been solid this season with elevated strikeout numbers. But if the Yankees face anyone else in that bullpen, they should feast.
In the lineup, Albert Pujols still bats in the middle of the lineup despite batting just .242/.287/.392 (79 wRC+) and is an enormous negative on the basepaths. Teams have begun using extreme shifts to limit him further. The more he bats in the middle of the order, the worse things go for the Angels.
Cons for facing the Angels
Mike Trout? Mike Trout!!!! Why would you want to face Mike Trout in a one-game playoff?!?!
Having a stud starting pitcher is the best weapon for a one-game playoff (Luis Severino!). Outside of that, having a once-in-a-generation type talent that can dominate with his bat and glove is paramount. Trout is that. It's like having a right-handed hitting Mickey Mantle for a one-game playoff. I'm not going to reel off his stats because Trout's name should be synonymous with otherworldly success at this point in his career.
Unlike recent seasons, there is actually offensive talent around Trout. The Angels acquired Justin Upton at the August waiver deadline and he's been mashing for three weeks in Anaheim. You'll still want to avoid Trout beating you, but Upton makes you think twice before pitching around him.
Andrelton Simmons, the best fielding shortstop in baseball, has also turned back into an above-average hitter with power and helped turn one of the Yankees-Angels games earlier this season with a home run. The presence of Simmons extends their lineup, as does Brandon Phillips and the power of C.J. Cron and Luis Valbuena. It's not exactly murderer's row, but it's more than the nothingburger the Angels had flanking Trout since their 2014 playoff appearance.
—
Ultimately, the Yankees should win a one-game playoff if they get there. They have the best lineup, the best starting pitcher — perhaps the top four starting pitchers — and the best bullpen of any wild-card contender. However, anything can happen in a one-game playoff.
My take? While Twins look to be a more complete roster, I'd rather not face Mike Trout and co. in a one-game playoff. It's kind of irrational because one player can't beat you unless you let him. And in a five- or seven-game series, I feel like the better overall roster is a bigger advantage. Yet in a one-game series, having the best player on either side could be magnified, particularly if that player can do what Trout does.
Which team is a better Wild Card Game matchup?