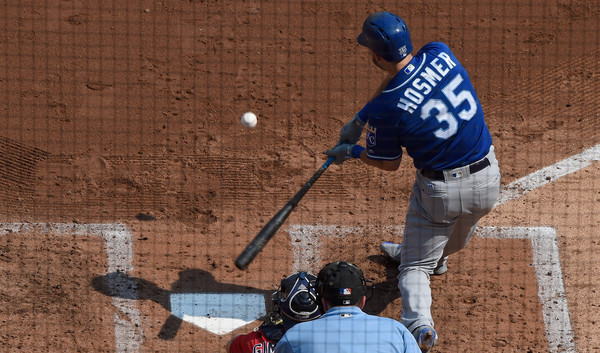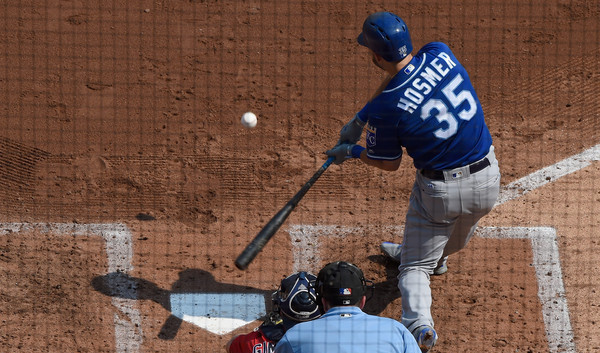 The Royals took a really big gamble this year. So many of their core players are due to become free agents after the season, but they decided to hang on to everyone at the trade deadline and try to make a run in the second half. Kansas City was in the second wildcard spot on July 31st so hey, it wasn't an unreasonable decision. It was still a gamble.
That gamble has not worked out. The Royals are 17-23 since the trade deadline and they are now three games behind the second wildcard spot with 18 games to play. They're not out of it by any means, but things aren't looking great right now. FanGraphs puts their postseason odds at 9.1%. General manager Dayton Moore was hoping for a big second half and another deep playoff run. Probably not going to happen.
Among Kansas City's impending free agent core players are center fielder Lorenzo Cain (this offseason's Jacoby Ellsbury and Jason Heyward) and third baseman Mike Moustakas, as well as first baseman Eric Hosmer. Hosmer has been a household name for a while now, ever since his days as a prospect and top three draft pick, though it wasn't until this season that he's really lived up to the hype. He's hitting .328/.394/.517 (141 wRC+) with 24 homers in 2017.
According to Jon Heyman, the Yankees like Hosmer "very much," and usually when the Yankees like an impending free agent "very much," it means they're going to go after him in the offseason. And the Yankees might pursue Hosmer. Who knows? The plan to get under the $197M luxury tax plan is a real thing though, and that might stand in the way of a Hosmer pursuit. A few things about this.
1. On paper, Hosmer is a great fit for the Yankees. Chase Headley has been, far and away, the best Yankees first baseman this season. It's not even close. And that's a problem because ideally Headley wouldn't be your best anything. Hosmer, despite his up-and-down track record, offers the following, in no particular order:
A left-handed bat. New York's lineup leans right-handed these days and it's only going to get worse as righties Gleyber Torres and Clint Frazier work their way into the full-time lineup.
Youth, relatively speaking. Hosmer will turn 28 in October, so whichever team signs him will get several peak seasons, at least in theory. This isn't a 30-something. He'll spend all of 2017 at 27.
World Series experience. This isn't nothing! It's not everything, but it's not nothing either. Hosmer has been a key member of two AL pennant teams and one World Series champ. He knows all about winning and how ridiculously difficult it is to win a championship.
Contact skills. Hosmer's worst single season strikeout rate is 19.8% last year, which was better than league average. It's 15.6% this year and 16.3% for his career. Putting the ball in play is good.
Quality defense. The defensive stats don't like Hosmer for whatever reason, but defensive stats struggle with first basemen anyway. The eye test tells me he's above-average, especially at scooping the ball. He's a vacuum over there.
My concern with Hosmer is that he's the first base version of Heyward, a 20-something who gets overrated based on name value and potential. Whoever signs Hosmer will be doing so hoping his offense ticks up the next few years — and it very well might as a lefty hitter in Yankee Stadium — rather than hoping he maintains his decidedly meh .284/.344/.440 (111 wRC+) career batting line. I wanted the Yankees to sign Heyward for that reason and boy was I wrong.
Adding a young-ish left-handed hitter who doesn't strike out a ton and plays a strong first base and knows what it takes to win the World Series sounds pretty great, doesn't it? It does. On paper, Hosmer really fits what the Yankees need going forward. How would it actually play out? Who knows. Big name free agent signings have a way of disappointing.
2. The Yankees have luxury tax space for a big signing (probably). My real quick back of the envelope math suggests the Yankees have about $40M to spend this offseason even if Masahiro Tanaka doesn't opt-out. Some of that money will be earmarked for a new starting pitcher given CC Sabathia's impending free agency. Also, the Yankees aren't to spend right up to the luxury tax limit. They need some wiggle room for in-season additions.
Point is, there appears to be enough space under the luxury tax threshold to sign Hosmer, who is surely looking at $20M+ per year. Elite players are getting $30M+ per season these days, but I don't see that happening, even with Scott Boras calling the shots. If Tanaka opts out, the Yankees will definitely be able to afford a prime free agent. That said … Bryce Harper and Manny Machado. Imagine not being about to sign one of those dudes because you're paying Hosmer big bucks. Oy vey. Anyway, yes, there looks to be payroll space to sign Hosmer, should the Yankees choose to go in that direction.
3. The free agent compensation is nothing. The Royals are of course going to make Hosmer the qualifying offer. The Yankees will pay luxury tax this year, so according to the new Collective Bargaining Agreement, they will have to surrender their second and fifth highest draft picks, plus $1M in international bonus money to sign any qualified free agent this offseason. That's not bad at all. You do lose draft bonus pool money, but you get to keep your first rounder, and you could always trade for more international money. As far as I'm concerned, the new free agent compensation rules are negligible. They're not going to deter anyone from anything.
4. Don't forget about Bird. The Yankees still have a pretty talented young first baseman in Greg Bird, and they'd love love love him to develop into a left-handed complement to Aaron Judge and Gary Sanchez. Remember, Brian Cashman said Bird is still the first baseman of the future a few weeks ago. The Yankees really like this kid. Maybe a little too much. Signing Hosmer would presumably turn Bird into trade bait or a full-time designated hitter, which might not be such a bad thing given his ongoing injury issues. The youth movement is real though. Signing someone else's big name to block your talented young kid is an old Yankees move.
* * *
An undeniable fact: Greg Bird has not been a productive big leaguer in two years now. Not since his 2015 debut. He missed last season with the shoulder injury and most of this season with an ankle injury. And he's missed the last two games with lower back tightness, which might not seem like such a big deal, except a back injury is what led to him transitioning from catcher to first base back in the day. Bird, two years after that big debut, is still an unknown.
My guess is yes, the Yankees do like Hosmer as a player, but not enough to displace Bird and potentially put the luxury tax plan in jeopardy. Hosmer is a good player, not a truly great one, and tying up considerable payroll space on a good player when you already have a talented youngster at that position doesn't seem like a great idea. Bird's injuries worry me. How could they not? I'm still not ready to move on and spend big on a first baseman though.