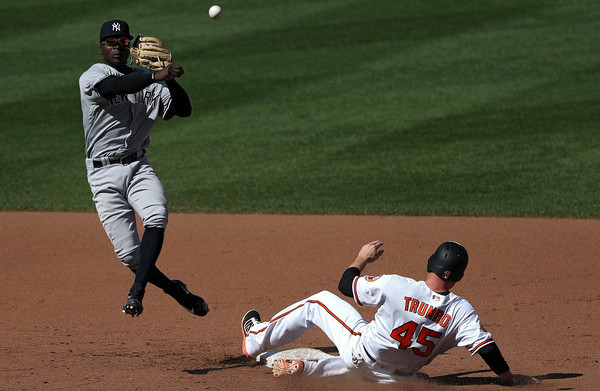 The Yankees have gained three games on the dirty cheatin' Red Sox the last three days thanks to three wins and three Red Sox losses. They're now only 2.5 games back in the AL East, and although the two teams don't have any head-to-head games remaining, the Yankees are still a good weekend away from being in first place. It could happen.
Anyway, forget about the Red Sox for now. The Yankees have to focus on the task at hand and that is beating the Orioles, one of the teams trying to catch them in the standings. The Twins are three games back, the Angels are 3.5 games back, and the O's are 4.5 games back. Also, the Yankees haven't won a series at Camden Yard since September 2013. It would be cool to clinch a series win tonight. Here is the Orioles' lineup and here is the Yankees' lineup:
LF Brett Gardner
RF Aaron Judge
2B Starlin Castro
SS Didi Gregorius
DH Matt Holliday
1B Greg Bird
3B Todd Frazier
CF Jacoby Ellsbury
C Austin Romine
LHP CC Sabathia
Now, the bad news: the weather in Baltimore is pretty bad. There's rain in the forecast throughout the night and even a thunderstorm warning in the area. It looks like maybe it'll hold off long enough to get the game in. I suppose we'll find out. Tonight's game is scheduled to begin at 7:05pm ET, and you can watch on YES locally and MLB Network out-of-market. Enjoy the game.
Roster Move: Tyler Austin was called up from Triple-A Scranton today, the Yankees announced. His ten days since being sent down were up. The Yankees now have 32 players on the active roster.
Hurricane Irma Update: Next week's series in Tampa "might be in jeopardy," said Joe Girardi. The Yankees will be there next Monday through Wednesday. Hurricane Irma is expected to hit Florida later this week. The Yankees and Rays have two series remaining, one at each ballpark, so I suppose they could trade home series if necessary.
Weather Update (6:30pm ET): The game will start in the delay, the Orioles announced. No word on a start time yet.
Weather Update (8:37pm ET): The game will begin at approximately 9:15pm ET, the Orioles say.