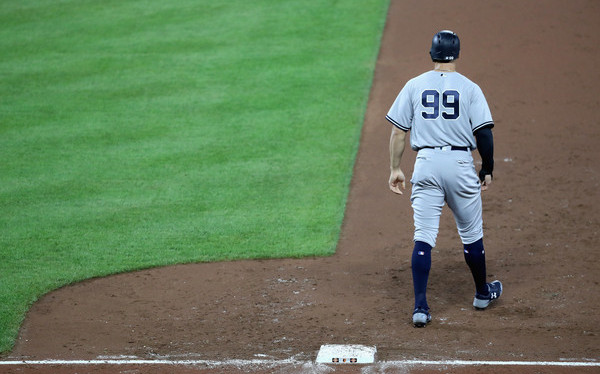 Thankfully, the weather is not an issue this afternoon in Baltimore. The Yankees and Orioles waited out a long rain delay two days ago and were rained out last night, forcing them to give up today's off-day to play this makeup game. There's only one off-day left this season now. One off-day and 24 games. Pretty wild, eh?
Tuesday's loss was one of the worst of the season, and while the Manny Machado walk-off homer was the big blow, that game was lost in the middle innings, when a 6-1 lead became a 6-5 lead and the Yankees never tacked on runs against a suspect pitching staff. Whatever. What's done is done. Win the makeup game and actually win a series in Camden Yards for once. Here is the Orioles' lineup and here is the Yankees' lineup:
LF Brett Gardner
1B Chase Headley
2B Starlin Castro
SS Didi Gregorius
RF Aaron Judge
DH Matt Holliday
CF Jacoby Ellsbury
3B Todd Frazier
C Austin Romine
RHP Sonny Gray
It is nice and sunny in Baltimore and on the cool side too. Pretty much a perfect September afternoon for baseball. Today's game is scheduled to begin at 1:35pm ET and both YES and MLB Network will have the broadcast. Enjoy the game.
Injury Updates: The Yankees placed Adam Warren on the 10-day DL retroactive to Saturday with lower back spasms, the team announced. That explains why he hasn't pitched in typical Adam Warren spots the last few days. He's going to be shut down completely for two weeks, and if this thing lingers, there's a chance he'll miss the rest of the regular season. That's not good … CC Sabathia received a lubrication injection in his right knee yesterday. He's been getting those for a while now. They're part of his regular maintenance.
Schedule Update: MLB is still evaluating options for next week's series in Tampa, reports Marc Topkin. Joe Girardi said the two teams will not trade home series this month, essentially leaving two options: play the series at a neutral site, or postpone Monday's game and play a doubleheader either Tuesday or Wednesday if the area doesn't get hit hard by Hurricane Irma. Baltimore and Chicago's south side have been mentioned as neutral site possibilities. MLB's decision isn't expected until Friday.